Getty Images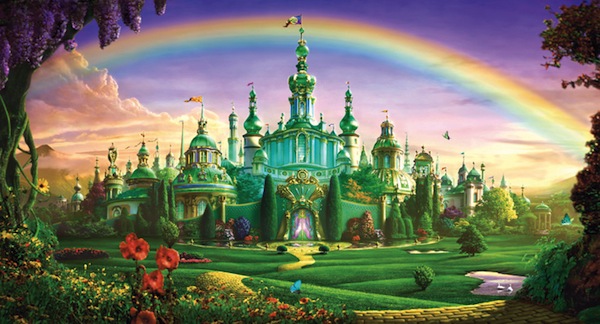 Image via Gail's Tales
Whether you're off to Emerald City to see the Wizard or not -- one thing's for sure! Emerald is in!
While many of us are still digging out of blizzards, escaping south to warmer temperatures, and embracing our winter accessories, spring is in the air. Well, in the fashion world at least.
As spring styles and trends hit our stores and add a little warmth to the shopping experience in the cold that is winter, we're noticing one huge trend that seems to be everywhere. Green! And more specifically, emerald green!
Not only a St. Patty's day staple item, this colour was everywhere at New York Fashion Week in February. Just look at these designer frocks straight off the runway.
We're so excited about this new emerald trend, we wanted to share some of our favourite looks that will not only set you apart but grant you Emerald City access any day!
1) Casual Emerald
Planning a casual night on the town? Catching a flick? Meeting friends for drinks? A pop of emerald will add the perfect touch to your outfit! If you're going for the dressy look (maybe it's date night or dancing with the girls), why not rock an emerald sleeveless top (we love this Rebecca Taylor one!) or an embellished tank with skinny jeans and heels. Cover up with a blazer that you can easily remove later in the evening if the mood hits you! Want something more casual? May we suggest an emerald cardigan with a pair of dark jeans? When paired with brown boots or flats -- you'll look casual and in-style in no time.
2) Office Emerald
Looking to add a pinch of spring to your look at work? Why not consider an emerald blouse paired with black or grey dress pants for the boardroom? Whether worn alone or underneath a black blazer, the emerald will transform any office outfit into one that get's noticed. Want to make an even bolder statement? Rock an emerald blazer for an extra eye-catching look. We're loving this one by Candie's at Kohls.
3) Sexy Emerald
If a classy night on the town is in your calendar or an upcoming soiree at a charity event or dinner, the look that will turn the most heads is definitely the sparkling emerald one. While sequins and bedazzling reminiscent of the roaring '20s have been special occasion favourites for a while now, turning heads in emerald sequins is the new game changer. Dazzle in this belted frock by Ellen Tracy.
4) Emerald Accessories
Whether you're wearing it or carrying it, you too can rock the emerald city look simply by adding one accent piece to your entire ensemble. Looking to dress up a trenchcoat? Why not opt for an emerald scarf? Ready to retire your winter bag and opt for a pop of colour for the spring? We love Coach's Legacy Leather Large Duffle. Are you looking to sneak in a splash of emerald without being too obvious? Try a sparkling pair of emerald rhinestone drop earrings.
5) Emerald Walk
Lastly, if you're a fan of coloured shoes, then the addition of a pair of emerald pumps is a must but if you're known for playing it safe with black and browns, now is the time to take the leap! The Zoee heel in emerald by Coach is a low heel, perfect for the office or a casual night on the town. Want something a little sexier? Why not try emerald snake skin, as seen in these Kate Spade pumps. Hoping to stay closer to the ground? Try an emerald ballet flat -- similar to these clover flats by Tieks!
Have you purchased your first emerald item for the spring? Already a fan of the colour? Undecided? We invite you to share your favourite emerald finds with us on BeauCoo! Not sure if you're ready to take the plunge? Snap a photo of your emerald item and share with our community! We're confident we'll give you the positive nudge you need to rock your emerald style this spring! Oh and don't forget to check us out on Android! Available now on Google Play!
Green Wedding Inspiration: Emerald