This Spring, it's all about the shorts suit!
Don't let the name fool you! This suit won't always be office appropriate but rock this look for lunch and shopping with the girls by day and hitting up martini hour at night and you'll steal the show! No wardrobe or shoe change necessary!
If we lost you at shorts suit, here's the 411. Much like a normal business suit, blouse and blazer still apply but instead of your dress pants -- your bottoms are dress shorts! Short-shorts or knee length, you can be as modest or flirty as you want!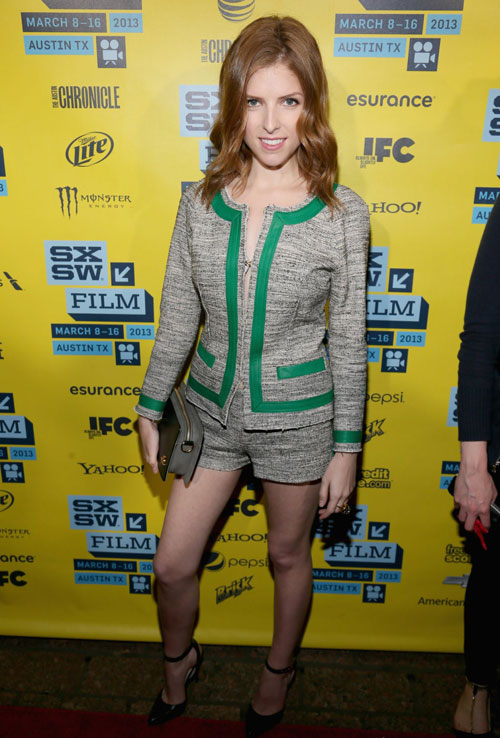 Image via Tom and Lorenzo
Still need convincing? Here's how to rock the look either way!
1) The Modest Look -- Office Chic
If your workplace has a relaxed dress code, or just so happens to be very fashion-forward, the shorts suit will be the perfect spring and summer alternative to the usual business suit with dress pants! For short's length, look for just above the knee (for fashion-forward workplaces) or knee length, to stay office appropriate. Additionally, try to find shorts that are relaxed and loose! While tight shorts may be great for a night of dancing, they probably won't fly at the office!
If you're trying to stay modest, avoid bright colours and stick to traditional suit colours such as black, white, grey or dark blue. We love these sateen belted shorts by Express. Bright colours may draw attention to the look and bring office appropriateness into question! To keep it classy, wear with a closed toe pair of flats or heels. Not comfortable showing much leg at the office? Pair with opaque tights to complete the look.
Friendly BeauCoo tip? If you're not sure if this look will impress or distress your boss, always check with your company's dress code first!
2. The Afternoon Look -- Lunch Date Chic
If you're heading out for lunch and shopping with your best friends for the day, the shorts suit is a great choice this spring and summer. Because you're answering to no one, feel free to go as short as you'd like in length for the shorts and rock those bright colours such as neons and pastels that are in this spring! We're nuts about these high-waisted mint metallic tweed shorts!
If the forecast is calling for a warm day, choose a three-quarter sleeve blazer and a tank top to wear underneath. The blazer will keep you warm in the air conditioned stores and will be easily removable as you stroll down outdoor shopping plaza sidewalks. If you're planning to be on your feet all day, opt for a cute pair of matching flats or sandals or look for a stacked or wedge heel to keep your feet comfortable! Want to add a fun old-school touch? Complete this look with a Cher Horowitz inspired knee-sock!
3) The Flirty Look -- Night Out Sexy
If you're heading to a club opening, date night at a wine or sushi bar or just flying by the seat of your pants (or should we say shorts) this look will take you wherever you need to go for your night on the city. Go as short as you'd like for your shorts and choose from a variety of sexy colours to be a show stealer. We love these faux-leather shorts from Forever 21.
Whether you go black and white or vixen red, wearing a shorts suit on the town will draw attention to all the right places but especially your legs! Elongate them with a pair of matching or coloured pumps! If you're not comfortable showing that much skin on the town, add a pair of patterned or lace tights to finish the look!
Are you a fan of the shorts suit? Will you be rocking it this spring? Already rocking it? Snap a photo and share with our community at BeauCoo.com! We'd love to hear what you think and how you're sporting the look!