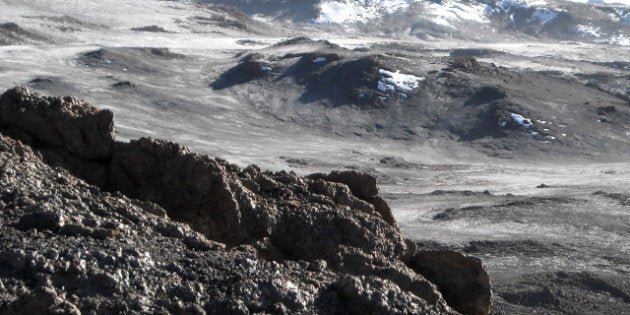 It's been almost a year since a group of 22 relative strangers, including myself, excitedly accepted the challenge of scaling Mount Kilimanjaro. And on Friday, October 12, we will have begun our journey towards the summit in celebration of WaterCan's 25th anniversary.
To mark this milestone, WaterCan approached me to take on duties as their National Ambassador and lead their inaugural Kilimanjaro Climb for Life campaign. I couldn't have been prouder to accept this honour and to help rally the amazing volunteers that have signed on for this journey. Over the past year, we have all taken drastic steps towards preparing ourselves mentally and physically for this climb. I know my gym membership has definitely been working in overtime! The support from my wife, family and friends has been a great reminder of what's at the core of this campaign -- bringing people together for a great cause.
It's very simple: without water there is no life. As Canadians, we live in an economically and socially progressive country. It is sometimes easy to take for granted the basic necessities that are crucial to the betterment of our lives, yet one billion people lack clean drinking water. That's a sixth of our global population. WaterCan is a national 100 per cent Canadian charity that has been implementing vital clean water and sanitation initiatives and hygiene education to eastern African communities since 1987. Their efforts have helped change the lives of over 1.2 million children, women and men.
Now, as I sit and write this, I'm no longer counting down the year or the months until this adventure -- I'm counting down the hours! In fact, as you read this, we will have already touched down in Tanzania, and will have embarked on the first leg of our quest with the help of renowned expedition leaders, Thomson Safaris. We'll have seen first-hand the clean water programs that WaterCan has helped fund over the years in the region. And will have had a chance to meet the people whose lives have been touched by these efforts. Then, we set forth on our five day hike to the peak of Africa's notorious mountain -- towering a whopping 19,341 feet above sea level. That's far more substantial than the few flights of stairs I normally hike!
At this very moment we are most likely excited, probably very nervous -- maybe even downright terrified! Above all else, myself and the fellow climbers feel honoured to be a part of this incredible campaign.
With the help of generous Canadians, the Kilimanjaro Climb for Life campaign has not only reached its $250,000 goal -- but we have surpassed it! Words cannot express how thankful we are from the support received from around the country. The ongoing generosity from Canadians will continue to help bring WaterCan's live-saving programs to those in need.
It's never too late to help join us on this mission. We will be doing a daily podcast to keep Canadians involved. WaterCan will also continue to accept contributions during the climb through their website. And a quick and easy $10 donation can also be made by texting H2O to 45678. The $10 donation will automatically be made on your mobile phone bill. All money raised through this effort goes to further funding clean water programs in impoverished regions.
All of us involved in this climb are not only climbing for WaterCan -- but for all Canadians. We are a country that has shown the world time and time again that we can make a difference. With this climb, we are making a big difference one brave step at a time.
RELATED: Climbing Mount Kilimanjaro