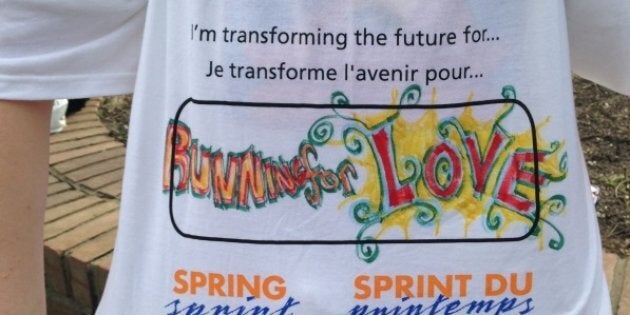 In my inaugural posting I introduced myself and my journey, to demonstrate how it has brought me to where I am today. I also explained how and why I was inspired to give back to the brain tumour community.
After lacing up (my fancy orange shoes) to participate in ten Spring Sprint events across Canada, I wanted to take the time to introduce you to some of the people I met along the way.
London, ON: The London Spring Sprint kicked off the series this year. London is both where I grew up and the hometown of the Brain Tumour Foundation of Canada and brought in the largest crowd - I had the pleasure of leading the charge with 1,100 following behind me. The energy in the park was incredible; an amazing way to start my cross-Canada adventure. The cold weather and even snow couldn't put the brakes on my first 5 k!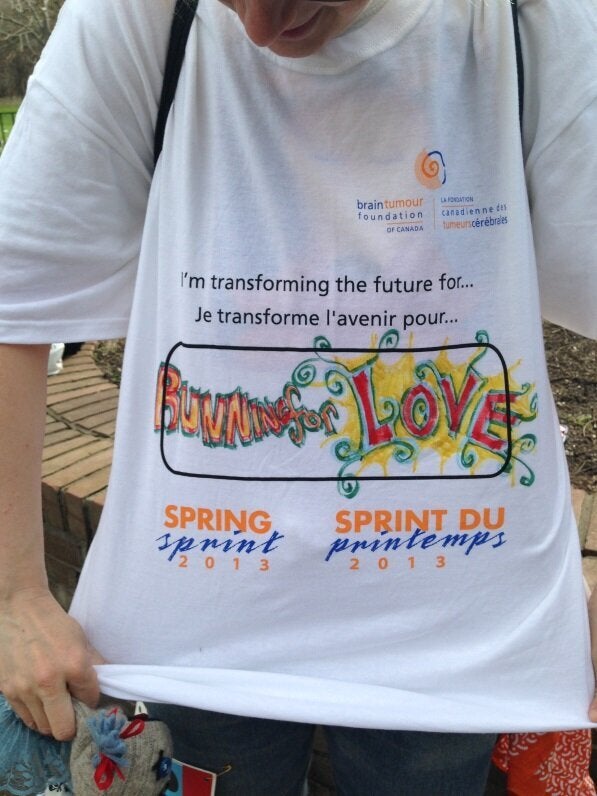 Toronto, ON: In Toronto I heard Stacy's inspiring story. This soft-spoken but determined new mom organized a team in memory of her own mother. Growing up, Stacy was taught the importance of giving back by her mother, which she plans to pass along to her young son. Above is some inspiring t-shirt art in Toronto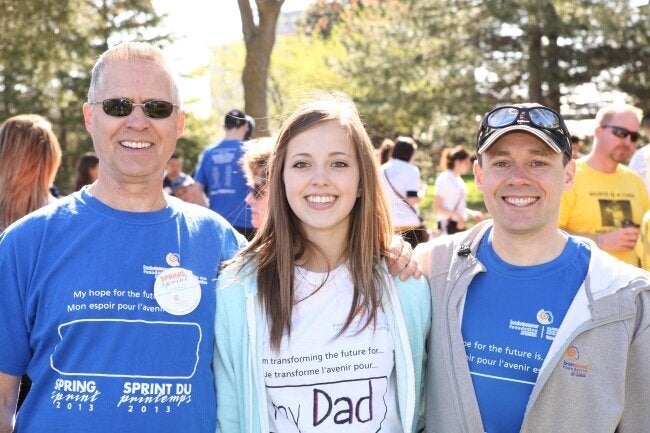 Kitchener-Waterloo, ON: Tom and I connected in KW. He is a fellow survivor who joined the Kitchener-Waterloo volunteer team in 2012. In 2013, Tom took on eight events, so I saw him in London, Toronto, Chatham, Ottawa, and Belleville as well. Pictured is Tom, his daughter and me in KW.
Brampton, ON: I met Jessica, a woman who has been participating in the Brampton Sprint since its inception 13 years ago. Jessica walks alongside her father, Paul, who was diagnosed in 1999 with a grapefruit-sized meningioma brain tumour in his frontal lobe.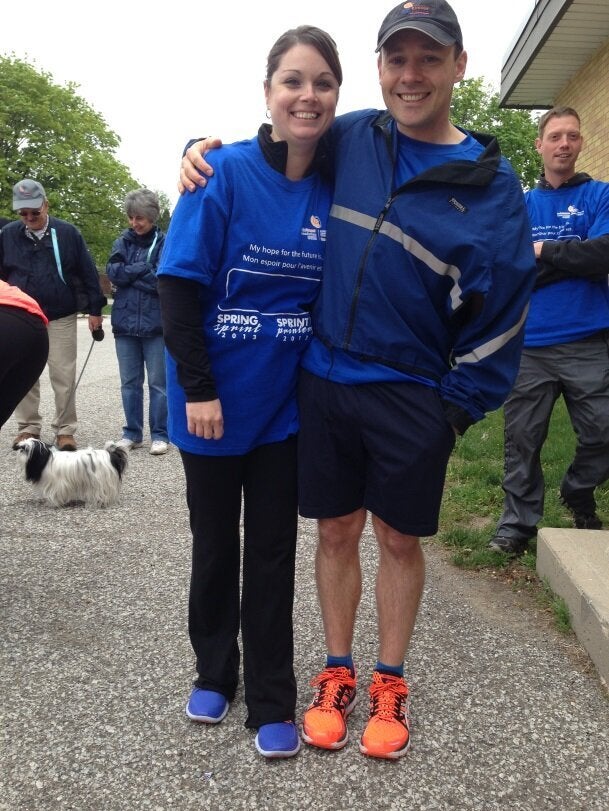 Chatham-Kent, ON: Sharon's blue shirt (and blue running shoes!) amongst a group of kids caught my eye. This mom of four (ages 12, 10, 8 and 3) was diagnosed in 2011. After waking from surgery with no significant complications her doctor declared her "one in a million". Her miracle continues to inspire the brain tumour community and her smile warmed everyone on a chilly day. That's Sharon and I above.
Vancouver, BC: In Vancouver I saw a team that hailed from across the West Coast, running under the moniker "Hook, Line and Sprinters". Team captain Stacey is a Vancouver-area blogger who recently lost her father to a brain tumour. Stacey told me she runs so that one day no one will have to endure the loss of a loved one, and no family will be any less than whole.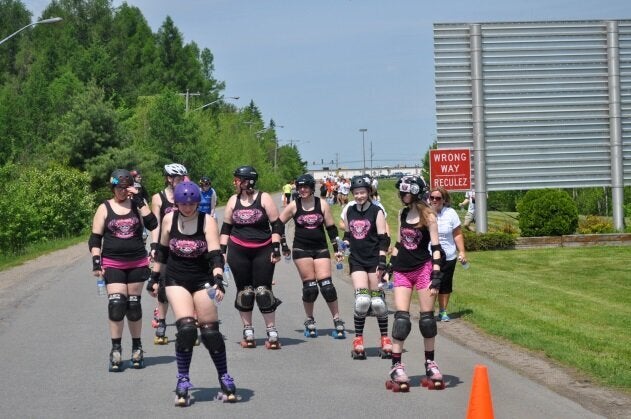 Fredericton, NB: It was great to have some company at the front of the pack with that speedy Roller Derby team. With the humidity (felt like 38 degrees!) I needed a bit of help, but still managed to pace the pack. You'll see them in action above!
Ottawa, ON: A lad named Trevor made his mark on me in Ottawa. Not only is he the top individual Spring Sprint fundraiser in the country, but he is also a part of Brain Tumour Foundation of Canada's advocacy committee. In 2010 at the age of 24, Trevor was diagnosed with a brain tumour. He was so well spoken and had such a great attitude - he is a true ambassador for the survivor community.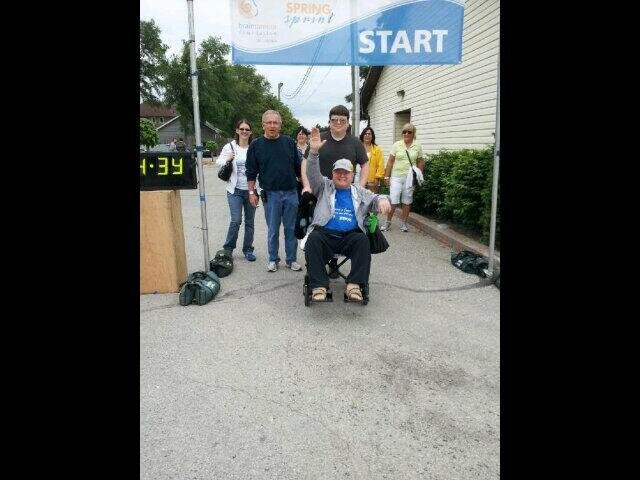 Windsor, ON: My favourite part of the Windsor Sprint was seeing Andy Kovosi and his team cross the finish line. I learned that April 2, 2013 marked 31 months of life and love since his brain tumour diagnosis. In those months, Andy has experienced so much: spending time with his three children, celebrating milestone birthdays, walking his daughter Jyllian down the aisle in November 2012, and welcoming his first grandchild in June. I can't wait to pack more living into my life, too! A photo of Andy and his team as they cross the finish line is above.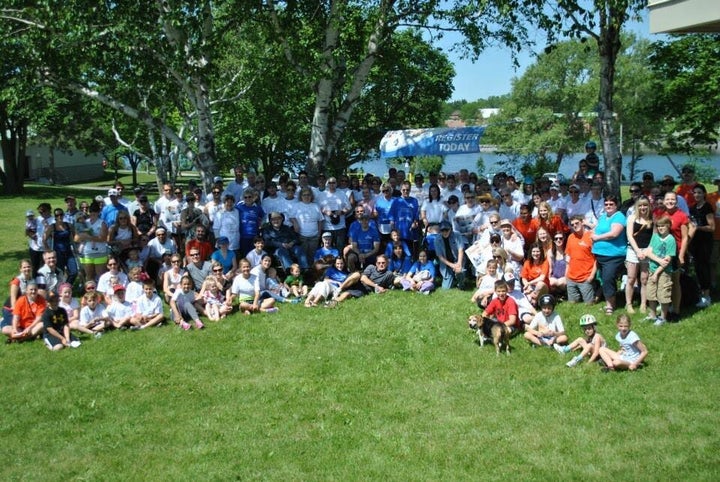 Belleville, ON: I was able to chat with so many survivors in Belleville, in fact the community is so connected that everyone can gather together for one group photo, which I have included above, before starting the walk. Belleville is close to home for me, just a short drive down the 401 from Kingston so to me, it's a reunion of old friends and comrades in arms. What an incredible way to end my journey.
The age-old adage that home is where your heart is rings true. I really felt a sense of home with the people I met anew, those I connected with from long ago and those who were running with me in spirit. Each smile, nod of recognition and embrace re-affirmed my dedication to this community and the people who live within it. I was so happy (and a bit exhausted) to have literally run all over this great country, seeing the strength, courage, and hope that exists in the brain tumour community and those that support them. It was overwhelming to meet so many heroes and hear so many inspiring stories during my seven weeks that I can feel nothing but pure gratitude! Together, we truly are working towards finding a cure for brain tumours while improving the quality of life for those affected.
I participated alongside thousands of Canadians in this nation-wide movement to transform the future for brain tumour patients and survivors. Through unity we raised $1.66 million. This means funding is available for essential research that looks into the cause of and cure for the disease. It also means support for the specialized programs and services this unique community needs.
It's not too late for to add to our efforts - donations will be accepted until July 31 2013 at SpringSprint.ca.