You may have seen my posts on social media recently about the fact that I am crowdfunding for a book I want to write about lessons learned from the pipeline fight in B.C. I want to use this moment to focus on the choice we have between pipelines and alternatives projects that would create more jobs and help us move beyond fossil fuels.
This project is something I have been thinking about for a long time. The seeds of this idea were planted almost a decade ago. I was barely 30 years old and up in Prince Rupert on tour as a leadership candidate for the Green Party of B.C. I had been there before but it's funny how running in an election changes your perspective a bit. I was thinking a lot about how the Greens could be the pro jobs party and what real world solutions we could put on the table.
Changing the frame: From 'anti-everything' to positive alternatives
For years the Greens had been seen as the "anti-everything" party that cared more about protecting spotted owls than people's ability to feed their families. This was frustrating to me because I was also strongly motivated by social issues too and knew that this was a false choice.
I saw common foes and opportunities to collaborate with the social justice movement and peace activists who wanted to end wars for oil. Environmental justice issues have always particularly outraged me: why did poor communities have to deal with the worst environmental health and safety issues? So it actually came as a bit of a surprise to me that I was now being accused of not caring about people after being more focused on social issues than most people I encountered as a young adult.
Before I got involved in the Green Party, I spent four years in college fighting for lower tuition fees and increased financial aid and had worked on anti-war and fair trade campaigns. Even then I was writing papers and speaking out about the intersection between social and environmental issues, but being on the ground in a community is a whole different thing.
So there I was in Prince Rupert thinking about what opportunities there might be to create good jobs for people and the answer literally hit me in the face. Would it be too cheesy to say it really blew me away to realize how windy it was? We were in one of the windiest places in our province and yet where were the jobs for local people? This place was like the Saudi Arabia of wind, yet this clean and renewable resource was going untapped. Why?!?
I made a YouTube video with the help of a friend on my big old Hi8 video camera (this was long before iPhones). The premise of my video was that money was blowing away in the wind.
"Every time the wind blows up here we are losing money and power," I said, standing amid the mountains of the northwest with the wind blowing my hair several directions at once. I wanted people to think about the lost opportunity of not exploring better alternatives before we even consider dangerous fossil fuel projects. That idea is the core of what I want to talk about in my book.
I ended up being the runner up in the Green Party of B.C. leadership race, serving as a deputy party leader for a short while and then shifting my focus to non-partisan issue based campaign work. That's what I have been doing now for almost seven years.
I love campaign work because I can focus directly on the issues without getting wrapped up in party politics. That being said I haven't been able to shake the anti-everything framing. It's one of the most common critiques pointed at people like me from the likes of Gwyn Morgan and in editorials in the National Post.
Frankly I think it's at least partially our fault as an environmental movement that this framing has stuck. We haven't focused enough on specific solutions over the years. We have opposed bad ideas like pipelines with vague notions of carbon taxes or non-specific alternative energy projects. We have rarely proposed or even broadly supported specific alternative projects.
Instead of going from bad to worse, we need to move beyond fossil fuels
In our defence we have been faced with a never-ending onslaught of bad ideas and dangerous project proposals. Environmentalists have played the role of watchdog. It's hard not to be seen as anti-everything when it seems like every mega project proposed in your community is so fundamentally flawed.
In the age of climate change we simply can't afford to move from conventional fossil fuels to even more dangerous unconventional fuels like tar sands. This is moving us from bad to worse yet that is exactly what is being proposed over and over again. The destabilization of the global climate and the associated extreme weather events we are already experiencing is a crisis with severe consequences for people worldwide, disproportionately impacting the world's poorest people in the southern hemisphere who have done the least to cause it. So why are we not only not making change but actually making things worse? Why aren't the alternatives being explored instead?
Some blame high costs or technology that is not yet mature, but that is just not really the truth anymore in today's world. In fact, already more people are working in solar power than coal mining in the United States because the economics of it just makes sense. The major obstacle to accelerating this transition is primarily the influence of the fossil fuel industry and their friends in government who want to maintain their wealth and positions of power. But there is of course more to it than that.
In recent years I have worked primarily on the fight to stop tar sands oil pipelines in B.C. These projects are so unpopular they seem unlikely to ever get built. It's clear that there is not and will not be social licence for projects like Enbridge and Kinder Morgan's pipelines in B.C. But the big oil companies have billions on the line, and so the proponents are understandably relentless in their attempts to get their pipelines built.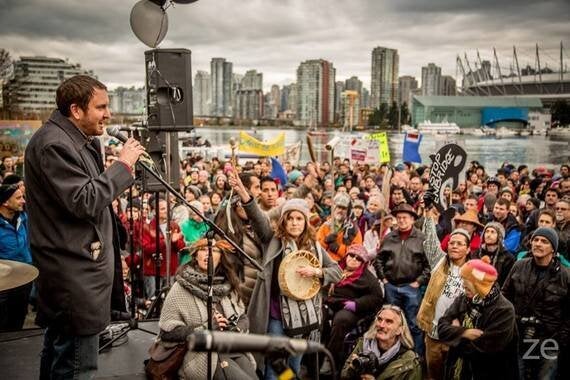 In the process there has been a lot bullying from the likes of the Harper government calling their opponents radicals and using everything from time consuming audits to gutted environmental standards to undermine the efforts of the environmental organizations. What they call "engagement" with First Nations has always been after the fact attempts to cajole and convince, not the legally and ethically required free, prior and informed consent before a project proceeds.
Meanwhile alternative projects like "run-of-the-river" hydropower have also suffered from the same kind of superficial public consultation and development by fiat approach.
Environmentalists agreed that the problem with these proposals wasn't the technology behind run-of-the-river; it was about where some of the projects were being proposed and how the government and industry were trying to push them through against strong community opposition. When the companies working on cleaner energy alternatives treat people just as bad as the big oil and coal companies we aren't doing ourselves any favours.
Creating alternatives the right way
We can and must do things better. I've come to the conclusion this fight will really never be over until we start drastically reducing the demand for these fossil fuel products. That's going to be tough unless we get serious about grassroots efforts that make alternatives a reality in our communities. Working together we can make the most cost effective, job-creating alternatives a reality where we live. These kind of projects can be empowering and liberating and can generate wealth that stays in the community.
I now get angry when I look at rooftops without solar panels, and I want others to share that feeling. We simply can't afford to wait for the economy to shift on its own. The companies will not let go of their power voluntarily. The bad news for them is that the tide is already turning and even the International Energy Agency recognizes that this can be done and it can generate "a huge investment return". The time to act is now.
I plan to attempt to get a number of actual projects off the ground along the proposed pipeline routes in the next year in the lead-up to the 2015 election and use these experiences as case studies in my book, in order to shed light on the opportunities and the roadblocks that must be addressed.
This is where you come in
I need your help to fund me writing this book and working on these projects. I have launched a crowdfunding campaign with the goal of raising money to help me focus on this work over the next year and hire people to help with research, editing, design and other key tasks. You can pre-order a copy of the book or simply donate to support the work. I have a variety of other gifts and rewards for sponsorship. You can find it all at Dana.io/BenWest.
The support and advice I have already been given means the world to me. We are truly at a tipping point and there are so many people so hungry for positive solutions. Not only have I already crowdfunded cash to help me get to work, but I have learned so much by crowdfunding your ideas, experience and perspective. It is the strength of collaborative action, organizing and cooperation that will make all of this possible. Working together anything is possible.
Let's get to work creating good jobs that we can all be proud of. Thanks so much for your support.