It's called "Married Man's Lane" and it's situated by the backdoor of Dolly Arthur's infamous Bordello in Ketchikan Alaska that ran its business from the time Dolly went north to Alaska to make her fortune in 1920.
Realizing as she said "I could make a lot more money from the attentions of men than I could waiting tables" Dolly plied her trade as "Dolly's House" proprietress until the 1950s. When the Bordello ceased operation Dolly turned her home into a museum of sorts till she died in 1972. The "museum" is one of the most popular visits for any tourist who passes through on popular cruises through the inner passage heading to Alaska.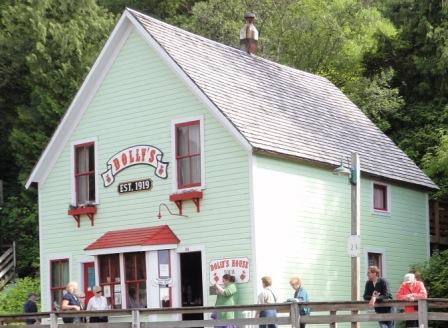 Dolly's House in Ketchikan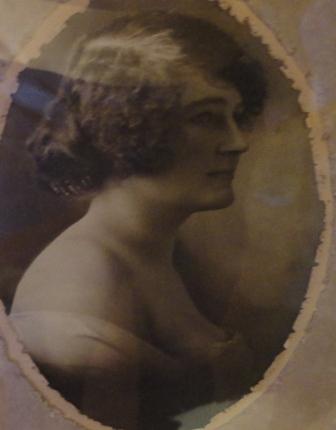 Dolly Arthur circa 1935
My wife Karyn and I recently returned from an Alaska adventure and "Dolly's House" was just one of the many sights we took in. Ketchikan, named after Ketchikan Creek which flows through the centre of town, boasts a population of about 14,000 people making it Alaska's fifth largest city.
Original home of the Native Tinglit people, Ketchikan is also known for having the largest number of Totem Poles in the world many of which can be found in Saxman Village (still wholly owned and governed by the Tinglit Tribe) where craftsmen work on these colourful and cultural works of art to this very day. Interestingly as I walked through the workshop of the Native artists I saw a sign in Hebrew of all languages reading ברוכים הבאים זקס מנ, "welcome to Saxman."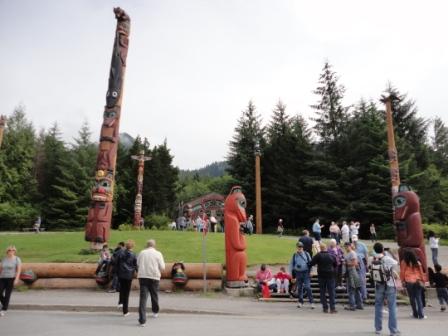 Totem Poles in Tinglit Saxman Village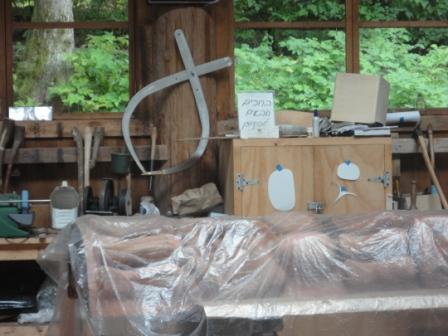 Hebrew Sign in workshop
Alaska is simply an adventure waiting to happen. Unlike many other places below the 48th parallel, Alaska is rough, tumble and untouched. From its majestic mountains that house the tallest peak in North America, Mt. McKinley to its sweeping glaciers, fjords wildlife and rugged trails and rivers you cannot help but be swept up by its splendor.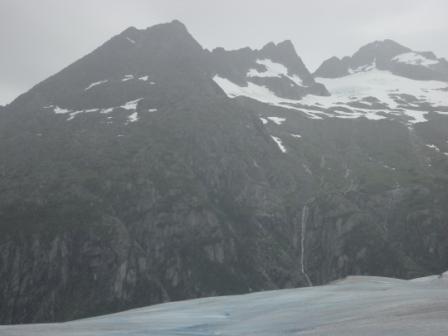 Majestic Alaska, Aute Mountain
Our exploits took us through this great state. We had the opportunity to ride the White Pass & Yukon Route (WP&Y) railway from Skagway up to Fraser B.C. Constructed against all odds in 1898 the 110 mile track sees breathtaking mountain curves of 16 degrees and steep grades of close to 4 per cent. This $10 million railway was a tri country initiative of british financing, American engineering and good old Canadian contracting. It employed tens of thousands, used over 450 tons of dynamite and overcame temperatures of -60c never mind the the challenging mountainous terrain. It helped ferret gold rushers (known as Stampeders) and its ore during the gold rush days and today it transports tourists still the northern most railroad in the western hemisphere.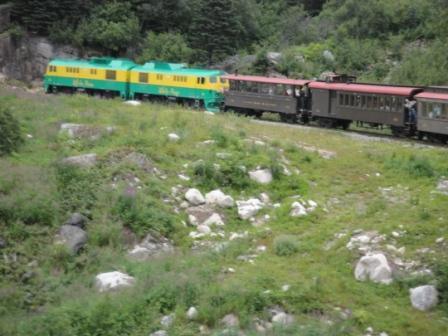 White Pass & Yukon Train Line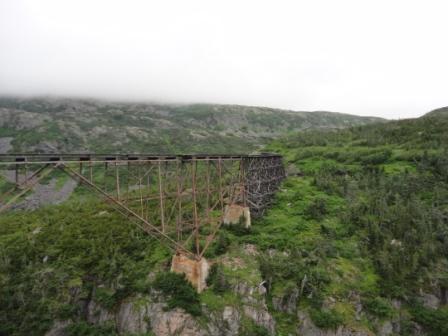 View of WP&Y train bridge just crossed
Alaska is also filled with its own breed of characters. Baldini who plays Honky Tonk and sings ribald tunes at Juneau's Red Dog Saloon whose menu listings rival Baldini's rather bawdy tunes (see photo below) to Steve the long-time conductor of the WP&Y, all have their unique stories.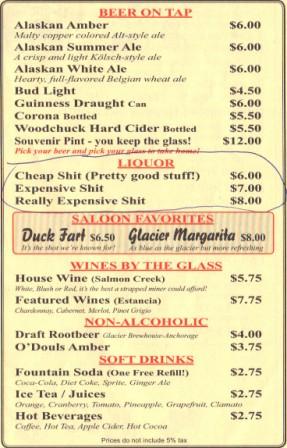 Red Dog Saloon menu
Baldini singing at Red Dog Saloon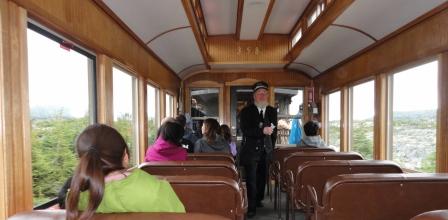 Conductor Steve of the WP&Y Railway
However the most remarkable to me is that of Delores Jo Pendleton or as she is known throughout the state, "Grandma Jo". Born 72 years ago in the Napa Valley she first settled in Portland Oregon. But Grandma Jo got the wanderlust and traveled north to Alaska in 1967 where she lives today just outside Juneau in Willow. She learned to drive school bus, became a volunteer firefighter and medic, and has five children, 13 grandchildren and 12 great grandchildren. Today she is one of three senior citizens over the age of 70 that drives motor coach over the treacherous mountain roads of the state as though it was a Sunday drive in the park. And did I mention that Grandma Jo is also a five time amateur dog sledding champ?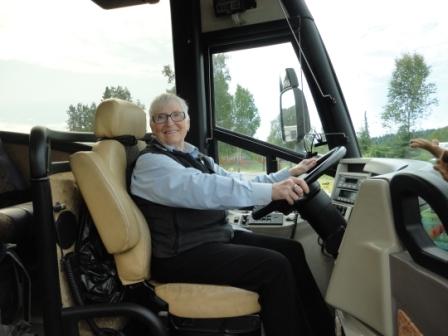 Grandma Jo
Grandma Jo drove us in her coach along with with 40 other passengers into the beautiful Denali National Park. Denali is known for its exquisite trails, scenic mountain views and swift rivers and currents. Karyn and I decided to brave the Whitewater Canyon run of the mighty Nenana River.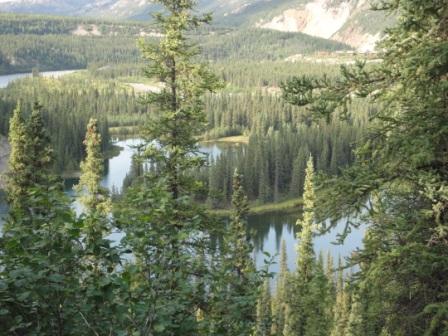 View from our hike in Denali National Park
Named so by the native Athabaskans, Nenana means "No River" since fish do not breed in its fast moving waters. A Class 1V rapid, this river is the place where daring kayakers, canoeists and whitewater rafters come in abundance. Our river guide Jake Scott hails from the rugged state of Montana where he learned his trade. Jake comes to the Nenana during the tourist season (May-September) where he works with Denali Raft Adventures and takes wide eyed tourists with adventure in mind (like me and my wife) into real whitewater rapids such as "Cable Car, Coffee Grinder" and "Ice Worm." It was a thrilling three hours that was one of the highlights of our trip.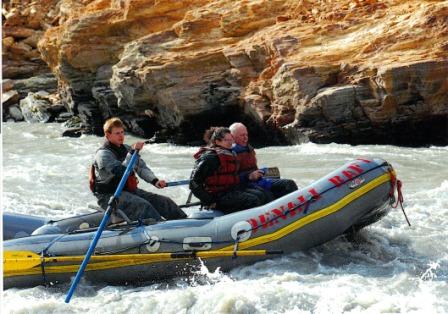 River Guide Jake Scott taking us through the Nenana currents
As we came to the end of our journey in Alaska I began to recall the stories of the north by the great writers of the time such as Jack London and Edna Ferber, but perhaps the most revered Alaskan writer/poet even though he lived in the Yukon had to be Robert Service. And it's Service who best sums up all that is the great northern expanse that is Alaska:
There are strange things done in the midnight sun


By the men who moil for gold;


The Arctic trails have their secret tales


That would make your blood run cold;


The Northern Lights have seen queer sights,


But the queerest they ever did see


Was that night on the marge of Lake Lebarge


I cremated Sam McGee.