Two years ago Craig Munro, a convicted murderer, was granted unescorted temporary passes from his minimum security prison in British Columbia. This week we heard that Craig Monro's regular request for his full parole hearing was quickly adjourned and he was moved from a minimum to a maximum security facility. Apparently he was found with cocaine in his system upon return from his last day pass.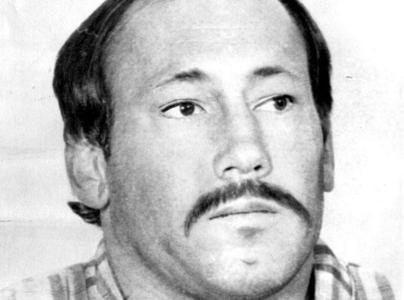 Convicted police killer Craig Munro
In March 1980 Craig Munro along with his brother Jamie attempted to hold-up a Toronto Bistro on downtown Queen St.
It was a cold damp night on March 14, 1980. There was some freezing rain in the early morning hours when an employee of a nearby cafe flagged down Const. Sweet and his partner. Breathless he told them that two men were engaged in an armed robbery at the restaurant and they were holding hostages.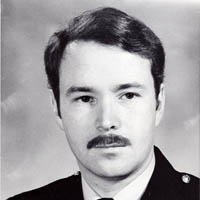 Const. Michael Sweet
The two police officers made their way to the robbery in progress and managed to find a back way into the building through the basement. Tragically they were discovered by the robbers and Const. Sweet was seriously wounded in a gun fight by Craig Munro. His partner realizing the futility of his position managed to barely escape with his life and sounded the alarm.
One of the first to arrive at the scene was Sgt. Eddie Adamson, then head of the Toronto Police Services Emergency Task Force. He immediately as per protocol engaged in negotiations with the robbers. What became clear all too quickly is that both brothers were strung out, high on heroin and other street drugs. Instead of negotiations the Munros began to taunt and torture the seriously wounded Sweet.
The ETF were able to overhear everything. Severely bleeding from a bullet hole to his chest, Sweet was cruelly dragged up a flight of stairs by his uniform. The malicious Munros not only disregarded his pleas to spare his life, a father with three young girls; they taunted him about never seeing his family again while they injected drugs and consumed alcohol. Sgt. Adamson and his ETF were ready to move in but they were ordered to stand down and continue negotiations.
For 90 minutes on that cold bitter early morning Sgt. Eddie Adamson withstood the cries of utter grief from what was clear to him, a mortally wounded fellow officer.
What happened next is still unclear. Some have claimed that Sgt. Adamson disregarded his orders others suggest an order may have been given, whatever the case the ETF finally stormed the Bistro. A blazing gunfight erupted in which the Munro brothers were both shot. They however survived. Constable Michael Sweet had bled out and, despite heroic efforts by paramedics and later hospital surgeons, nothing could be done. He was only 30 years old.
The Munros were charged and eventually convicted; Jamie Munro with second degree murder and his brother Craig who pulled the trigger on Const. Sweet, with first degree murder. Younger brother Jamie was paroled in 1992, changed his name and is allegedly somewhere in Italy. Craig Munro was jailed for life with no possibility of parole for 25 years.
And so it has remained. To be sure Craig Munro has continually and annually applied for parole. In 2010 Craig Munro was granted unescorted passes, some as long as 15 days to attend a Métis healing village; ironic given the fact that he was out on mandatory supervision the night he fatally shot Michael Sweet. Never mind the fact that despite his being a police murderer, denied any form of parole, he was also still marked a "moderate risk" to offend especially if he gets anywhere near drugs.
And now we discover that Craig Munro was found with cocaine in his system following his last day pass.
In the end, the murder of Const. Michael Sweet has had many victims. There are of course his three young daughters today in their adult years denied a childhood with their father, and his widow Karen Fraser whose young husband was brutally murdered in the prime of his life. Recently following the death of yet another police officer in Toronto, Karen Fraser remembering her own circumstances noted in an interview,
"The life that you had changes. You just don't ever have that life quite back the way it was. They say that all wounds heal, and they do. But wounds heal with scars, so you're always left very scarred after something like that."
And what of Sgt. Eddie Adamson, the ETF head who tried to save Const. Sweet? Well, he retired in 1994. Sadly the murder of Michael Sweet haunted him for the rest of his career. He never seemed able to forgive himself for the Constable's death.
"On October 5, 2005, Eddie rented a room at a motel in Simcoe County. Alone with his thoughts, his memo books, press clippings from the Michael Sweet tragedy and a gun, Eddie came up with the solution, the 100 per cent solution." Eddie took his own life.
As we reflect today on these sad almost unbearable events I think we can all be excused if we choose to side with the victims and hope that our parole board continues to deny Craig Munro his freedom. That would be true justice.