This past Father's Day our family chose to spend Sunday as volunteers with the Jewish humanitarian relief organization Ve'ahavta. Each month it sponsors one of the weekly dinners at the Evangel Hall in downtown Toronto serving meals to the homeless. It was an experience we will not soon forget.
This particular initiative is far different from others. As Rev. Katherine McCloskey, the Spiritual Care Coordinator for the Hall explained, "here homeless and street people gather each Sunday. They don't have to line up for food. They sit at tables, restaurant style, and volunteers take their orders and serve them. It gives them back some dignity."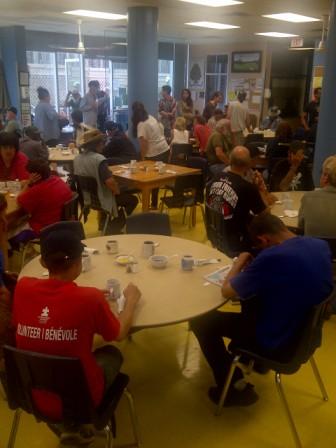 Dinner, restaurant style
And unlike many other programs which demand worship for food here with the exception of a few words of Grace, religion plays little role.
We arrived at the Evangel Hall at Bathurst and Adelaide with some apprehension. That was quickly dispelled after we were met by Ve'ahavta's community outreach worker, Lauren Gostick. A social worker with a keen understanding of the streets and its people, Lauren made us feel right at home. She explained to all the volunteers that our real goal is to give these folk some majesty in a life that is filled with drugs, hurt and depression. We were urged to sit down with them, talk to them, said Lauren "this is not just a great experience for the homeless, it's also a new and rewarding experience for the volunteer." How right she was.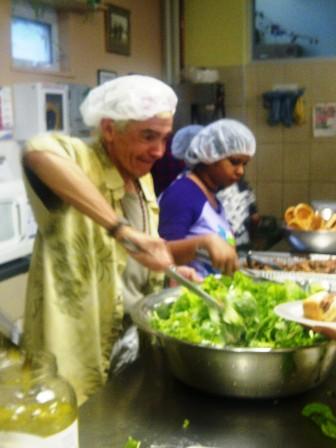 Volunteer Nik helping out
The first guest I met as I wandered into the Hall's "restaurant" was Manny. In his 60s, Manny told me that he was once a cook at the Don Jail and even trained to be a sous-chef. He began by doing small "favours" for the inmates that involved drugs and other assorted contraband. It wasn't long before he was caught and his world slowly began to unravel. With no visible means of support and a heroin habit to feed, Manny told me he turned to pan-handling. On certain days he would make a few hundred dollars. In the last year a social worker and Rabbi he met has helped him with his addiction problems. "I'm not judged here at the Hall," he told me. "Today I'm 29 days sober and being served supper. Life is good."
Manny told me he has two daughters who live in the United States. "Its Father's Day," he said, and with a sad and far-off look in his eye turns to me and explained, "they won't have anything to do with me because of the way I am."
In the distance by the door I spotted a woman dressed in distinctive pink with large white pearls and sharp pink sun-glasses. She has a ready smile for me and when I ask her name she says, "it's Margaret Mary but you can call me Maggie-May." Her story is tinged with drama and grief, but her attitude is sunny and her smile ever-engaging. "I'm 39," she tells me with a nudge. "Nah really I'm 67," she says. "I was born on New Year's day 1945 the result of an illicit affair. I never knew my mother. My father took care of me. My step-mother beat me and I was sexually assaulted by my step-brothers."
Her honesty and directness startled me. "Ya, I went to school but I dropped out in grade 10. I worked bars like the Brass Rail for years, served beer, checked coats, hell they use to call me 'the blonde bitch of Yonge Street.'" she said with a hearty laugh. "You take what God gives you and you do the best you can."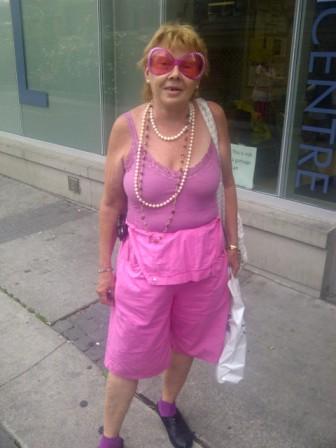 Maggie May
And then there was Bill. Today Bill actually works at the Evangel Hall. Rev. McCloskey tells me that without him the program would never work so well. It wasn't always this way for Bill.
Bill had a bad drug habit that simply got out of control. His home was taken over by dealers and he ended up on the streets. "I hit rock bottom, as far down as anyone can go," he explained. "I was 50 years old, sad lonely afraid to die alone." Bill found Evangel Hall and it quite simply changed his life. Taking what he called "the hardest first step" he went into detox and found that "words" helped him renew his life.
Amongst much else Bill is a street poet who has won prizes for his poetic self examination of street life.
"It's hard to be down so deep in the gutter


Time to wake up and open the shutters


New friends, new life is what I have to choose


Starting to win and not always lose"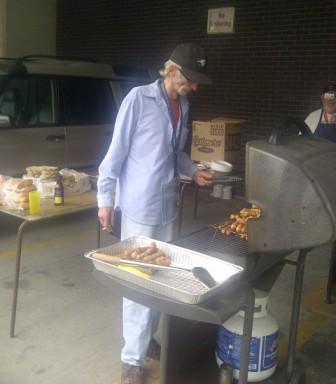 Bill
Our family learned valuable lessons this past Father's day. "It shakes your world a little bit," said my 22-year-old son, Zach. Indeed it does my son, indeed it does.