 What does a smart former Israeli fighter pilot and the last Canadian Great Lakes passenger ship have in common?
Gil Blutrich was born in Ra'anana Israel located in the southern part of the Sharon plain. It means "fresh" an apt word to describe this brash now Canadian entrepreneur with an even mixture of Israeli moxie and down-home charm.
Blutrich has assembled a strong team of industry professionals including CEO Michael Sneyd (featured in this season's Undercover Boss-Canada), VP Sales & Marketing Harley Nakelsky, Skyline Hotels & Resorts President & COO Kevin Toth and many others, They have become one of Canada's most successful real estate developers taking long though dysfunctional properties like the King Edward hotel in Toronto or Deerhurst and Horseshoe Resorts in Muskoka and reinventing them into popular going concerns.
He is a man fascinated by history and why not, coming from a land where history is spoken in terms of thousands of years. Here in Canada history is far less, well, historical. We speak of it in terms of a couple hundred years, yet to Gil Blutrich all history is sacred.
Gil was born into a typical Israeli family. His father was a career naval officer his mother a school teacher. By his own admission he began thinking business plans as a teenager while others were out combing the beaches of Tel Aviv. His precocious side did him well and helped pave the way for later successes in life.
One of his first ventures entailed terrariums. Fascinated with how people loved these miniature glass-encased plants, at the age of 15 Gil began by traveling to nearby historical Hebron. This ancient town is known for its glass making and has an area in the old city known as "Glass-blower quarter." Purchasing glass containers here led to this first start-up business. It became so successful that by the time he finished he was employing well over a hundred of his fellow high school student friends.
His next venture involved motorcycles, a vehicle Gil loved. He bought his first bike thanks to his terrarium success. Some research told him that many others shared his bike affection so he purchased a few with his savings, traveled across the Mediterranean to the Greek Isles where he established a lucrative motorbike rental business. Explaining his early business ventures Gil said, "This to me was like the 'University of Life'. It was this early entrepreneurship that taught me life's lessons."
And to be sure he never let any lesson go unlearned. Sitting in his comfortable Toronto office Gil reminisced about one of the lessons that taught him well. "Once," he explained, "a fellow I did some work for owed me money. His cheque bounced. I called him often and he refused to take my calls so I went to his place of work. When he saw me he took out his chequebook, wrote the cheque then tore it up in front of my face. That was a lesson I have never forgotten."
As the early 1980s rolled around like all young Israeli men and women, Gil entered the IDF training to be a pilot. He loved helicopters but sadly was wounded while training, and though he did get his wings, his real dream of being a helicopter fighter pilot was not realized.
He saw action during the Lebanon war but was reluctant to discuss it. I understood, like many other Israelis I know, that war is an integral and sad part of Israeli life. Many just accept it and move on.
After his service, Gil learned hotel management and studied to become a real estate agent. He explained that while others were looking at the big picture resulting in some developers losing much of their investment, he always focused on quality property. He may not have made millions but as he said "no one ever went bankrupt making less money."
As he raised his young family he started looking beyond Israel. He dabbled in some real estate ventures in New York but it was a spontaneous trip to Toronto that really caught his fancy. "It was so clean and beautiful," he told me, "so many people from so many different places, a magnificent salad of life."
That trip led to his decision to move his family to Toronto. His ventures here have become the stuff of business legend. However the one project of which he is so very proud is his purchase of the grand old lady of the Great lakes; the last remaining ship of its kind, the SS Keewatin. The Edwardian-era vessel, launched July 6, 1907, was retired in 1966 after spending the previous 65 seasons ferrying passengers from Port McNicoll on Georgian Bay, to Port Arthur (Thunder Bay) on Lake Superior.
Constructed five years before the first voyage of RMS Titanic, Keewatin boasts many of the same design and construction features of her ill-fated cousin including a quadruple expansion steam engine and "Scotch" boilers, as well as a grand staircase, Edwardian dining saloon, hand painted Italian glass and oak trim throughout. Strict fire codes and faster modes of transportation made the wood-cabined vessel largely obsolete by the mid-1960s. In its day Port McNicoll became known as Chicago of the north highlighting its importance as a working port.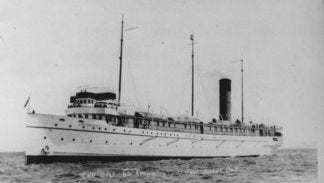 Traveling to Saugatuck, Michigan where he saw the Keewatin sitting almost abandoned under an American flag deeply troubled him. "I believe that no one can own history," he told me. "With the help of others I intend the Keewatin will become a Canadian maritime museum, residing here in Canada where it belongs." It's scheduled to open next summer.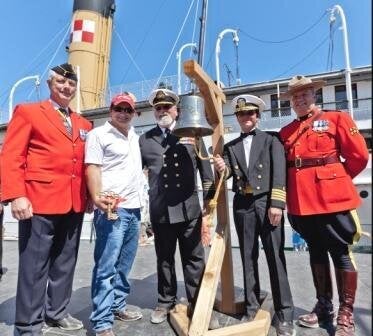 Skyline's Chairman and President Gil Blutrich (second from left) was presented with the S.S. Keewatin Bell by Eric Conroy (Captain Rick) and Captain Matt Fogg to officially welcome ship home to Canada
Thus thanks to a Canadian Israeli with a true sense of history, a relic of our past will now remind Canadians of a proud maritime era.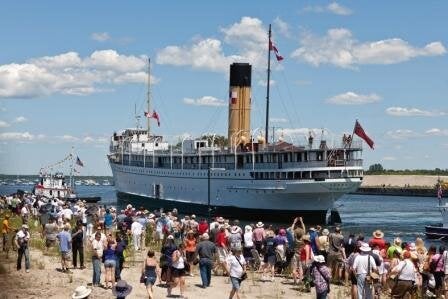 SS Keewatin entering Port McNicoll June 2012, all photos courtesy Paul Casselman
To use one of Gil's analogies, he has truly become one of the key ingredients in that mixed salad of Canadian multicultural society.