In December 2015 the Truth and Reconciliation Commission handed down its final report in Ottawa. You could hear a pin drop in the cavernous Ottawa Congress Centre. The silence accentuated the muffled cries and spilling tears as Justice Murray Sinclair Chair of Canada's Truth and Reconciliation Commission (TRC) spoke.
Standing on a stage beneath a banner reading "For the child taken, for the parent left behind," Justice Murray Sinclair delivered a report consisting of some 3,231 pages.
It was at once historic and devastating. The report detailed the horrendous abuse suffered by Indigenous children in residential schools after being kidnapped from their homes by federal government "Indian agents" and placed in strange unwelcoming surroundings where hunger, sexual exploitation and even death became their tragic watch words.
On the stage were two empty chairs in memory of perhaps up to 6000 Indigenous children where the residential school became their final resting place.
In a moment of absolute anguish, Justice Sinclair asked all residential school survivors and their families to stand. He then addressed them directly:
"We did this, after all, for those who were there and for those who were with us. We did this for the children who were taken away and for the parents who were left behind to cry for them. We did this for the children of today who needed to know when and what and why things occurred, so they could understand their lives."
Our country was from that day forward forever changed.
Now thanks to the courage of Residential school survivors and the leadership of the Chair of the TRC, Murray Sinclair and his co-Chairs Dr. Marie Wilson and Chief Wilton Littlechild, we must begin a journey of decades along the reconciliation road.
On May 18th, 2016 the Mosaic Institute which I am privileged to lead honoured now Senator Murray Sinclair with its prestigious "Peace Patron Award" at a sold-out dinner in Toronto.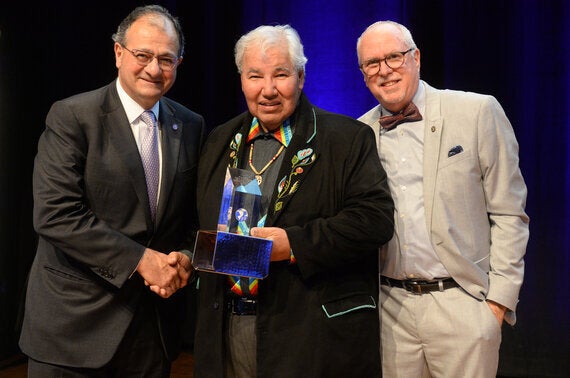 Vahan Kololian, Chair of Mosaic Institute and Bernie Farber Executive Director bestow Peace Patron Award to Senator Murray Sinclair
Senator Sinclair born in the Selkirk area of Manitoba was an accomplished student. He graduated in 1968 as the school's valedictorian and incidentally was also named as athlete of the year.
Called to the Bar in 1980, Senator Sinclair practiced criminal, civil and Aboriginal law. His reputation as an articulate and brilliant jurist grew. In 1988 he was named Associate Chief Justice of Manitoba and shortly thereafter he was called to be co-Commissioner of Manitoba's Aboriginal Justice Inquiry.
It didn't end there. The tragic deaths of 12 children in 1994 at Winnipeg's Health Sciences Centre necessitated an inquest naturally complicated by emotion and tragedy. Senator Sinclair was appointed to head the Pediatric Cardiac Surgery Inquest in 1995.
Senator Murray Sinclair was tapped for the role of TRC Chief Commissioner when the first Commission came to a sudden end with the resignation of its first Chair Justice Harry LaForme and the two other co-Commissioners. It was up to Senator Sinclair to repair the process and move it forward which he did with a sense of both urgency and grace.
Senator Sinclair carried his own burden into the difficult task of heading the TRC. His parents and grandparents were residential school survivors so he was brought up in its shadow.
In the end however, his leadership, understanding and sensitivity helped hundreds of the survivors give heartfelt testimony that many to that date never wanted to relive. Said Senator Sinclair in an interview with the Globe and Mail after hearing thousands of hours of gut-wrenching testaments, "We cried when they cried. We laughed when they laughed."
Senator Sinclair viscerally recognizes the diversity of our nation and with this recognition springs the understanding we will need for future generations, "Everything we do going forward should be based on the question of how we achieve reconciliation" explains Sinclair.
Senator Sinclair's Ojibway name is "Mizanay Gheezhik." It means "the one who speaks of pictures in the sky." As so eloquently stated in the introduction video on the evening of his presentation "...is it any wonder then that he can look to the sky, see what's possible and then show the rest of us how to get there."
Follow HuffPost Canada Blogs on Facebook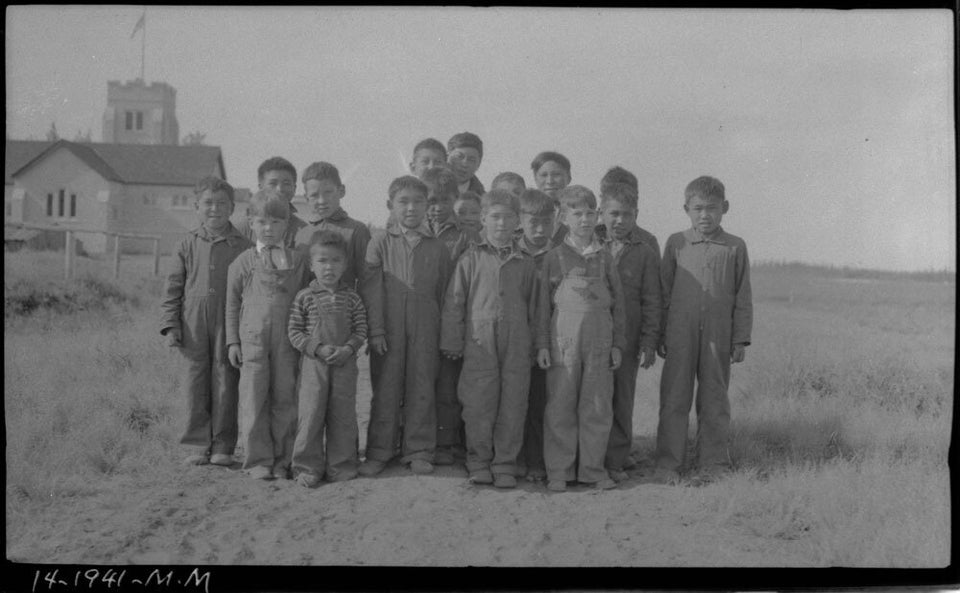 Residential Schools: A Photo History