It was June 1990, a hot summer day and one I have never forgotten. Only a few months earlier the iconic leader of the anti-apartheid movement, Nelson Mandela had been released from serving a 27-year jail sentence and was in the midst of a tour to Europe and North America.
During these visits amongst the many state leaders and others he saw Mandela specifically wanted to meet with Jewish leadership. It was no secret that many Jews in South Africa were amongst the few whites that were strong and keen activists within the anti-apartheid movement.
Yet for Mandela on a personal level, South African Jews played a pivotal role. Lazer Sidelsky hired a fresh out of law school Mandela as a law clerk with his firm. Few, if any blacks were brought on to such positions. Later as Mandela's political views were being formed people like Nat Bregman a fellow communist became one of Mandela's mentors and by Mandela's own admission his first white friend.
With his anti-apartheid activism capturing the imaginations of many around the world Mandela found himself standing trial for treason in the late 1950s. There by his side were South African Jewish activists Lionel Bernstein, Joe Slovo and Ruth First. Others such as Helen Suzman would also play a key role fighting the apartheid South African regime.
A few years later Mandela was re-tried this time his life was at stake during the Rivonia trial. During this time lawyers making up his defence team were Jews from South Africa including people like Issie Maisels and Baron Joel Joffee. While found guilty he was spared the death sentence but was incarcerated for life. During this time other prominent Jewish lawyers took up his cause. Alan Dershowitz and even Canada's Irwin Cotler a former president of Canadian Jewish Congress (CJC) and a former Canadian Minister of Justice were part of his international defence team.
Nonetheless it was still very much a surprise when I came to my office early that morning of June 20th to receive a phone call from the head of the Mandela Canadian visit asking if we could bring a small delegation to meet with Mr. Mandela at his Royal York suite for that afternoon.
With only a few hours to prepare I simply did not have the time to contemplate the historical and unique opportunity I would be participating in. I immediately got in touch with the then CJC president Les Scheininger and Chair of the executive Moshe Ronen. Along with my colleague Manuel Prutschi we made our way downtown for our rendezvous with this most prominent of world champions.
We were met in the lobby of the hotel and ushered into Mr. Mandela's hotel suite. It is said that when you are in the presence of greatness you will know. I finally understood what that meant. Walking up to us, his arm outstretched, that beatific smile and eyes that swallowed us, all was Nelson Mandela. I was first struck by his height, well over six feet tall, strong and assured but with an easy manner and a gentle way.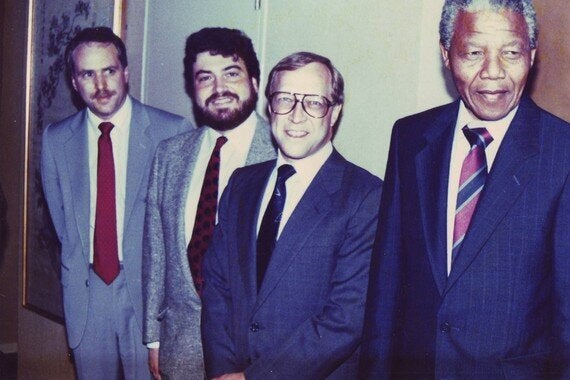 L-R Bernie M. Farber, Moshe Ronen, Les Scheininger, Nelson Mandela
I will never forget what he said as he greeted us, "Hello" he said in a quite but firm voice, "I'm Nelson Mandela and it is truly an honour to meet you."
The humility of his greeting shook me to my core. In those few words I understood the essence of Nelson Mandela. As he approached to shake my hand I found myself tongue tied at first but his gentle manner and kind eyes unfroze my tongue, "Mr. Mandela I'm humbled and feel so privileged to meet you" I mumbled.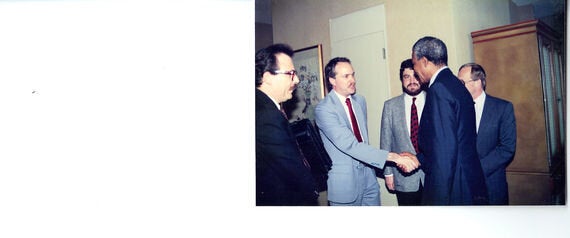 Shaking hands with Nelson Mandela
He led us into the living room of his suite, introduced us to his wife Winnie and a short time later another guest joined us, then Minister of External Affairs the Honourable Joe Clarke. At any other time to meet Minister Clarke would have been a huge honour in itself. Today Joe Clarke like our delegation was in awe of this man of conscience.
In total we probably spent 25 minutes talking with Nelson Mandela but it seemed like an entire afternoon. His modesty yet depth of purpose seemed as though they shouldn't fit yet they merged in a manner that is hard to describe. In the many years I worked with CJC I had the great privilege of meeting, Kings and presidents, philosophers and Nobel Laureates, however I very much doubt I will ever have the experience again of being with a man who in his simple yet courageous and elegant way was an astonishing agent of change, a man who truly helped make this world a better place. As we say in our tradition may his memory be for a blessing.