As our attention is turned to the London Olympics, this column heralds a Canadian Olympic champion from 2008.
Why would anyone, even a Canadian gold-medal Olympian, want to row across the Atlantic Ocean? It would take 60-80 days with four people rowing in two-hour shifts, 24 hours a day. It would be dangerous. It would be physically exhausting.
But that's exactly what Adam Kreek and three other athletes want to do this December with no one spotting them! Just four men on the ocean, pushing themselves one stroke at a time all the way from Africa to the Americas. They may encounter large barges, sunburn, storms, boat problems, even pirates. But their motivation is as incredible as the expedition -- they are rowing for challenge, charity and conservation education.
Kreek, who won the gold medal at the 2008 summer Olympics in the men's-eight rowing event, believes in the power of determination and is convinced that promoting a sports ethic among youth from both sides of the ocean will enhance their lives.
So when he receives a call from Jordan Hanssen, a college friend who rowed from New York to England, and now wants to paddle from Liberia to Venezuela, he jumps on board. He joins Hanssen and two other adventurers on this incredible voyage in a 29-foot specialized vessel because he believes their team, OAR Northwest, can use the expedition as a fundraiser for Right to Play International.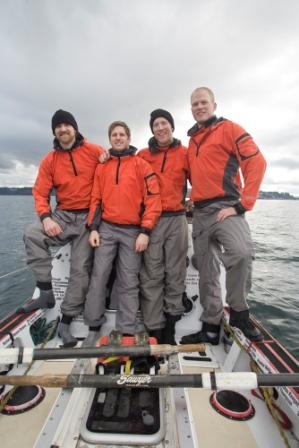 Left to Right: Jordan Hanssen, Rick Tarbill, Greg Spooner, Adam Kreek, the four crew members.
Photo Courtesy joelrogers.com
As Kreek sees it, the Atlantic rowing adventure is adult play and promotes an organization he strongly believes in. "Right To Play" focuses on building supportive environments and teaching essential life-skills through sports and games," Kreek emphasizes. "By endorsing this charity our expedition has a purpose. Purpose fuels the enormous workload of preparation. Our adventure becomes much more than just rowing an Ocean. Our adventure inspires an ethos of playful, focused work in all who hear the story."
The adventure also inspires partnerships.
The Canadian Wildlife Federation is on board as title sponsor. OAR Northwest will row to protect and nurture two groups of vulnerable inhabitants on our planet: marine wildlife & kids.
A number of researchers are on board from institutions like the United States Geological Society are partnering with the expedition. As well as the University of Ottawa along with the Universities of Calgary, Washington and OAR Northwest's alma mater, the University of Puget Sound are also on board.
The expedition team uses North America's most technologically advanced rowboat as a home, laboratory and life-support. This provides scientists an opportunity to study marine biology (whales, fish, plankton) as well as physical oceanography (salinity, effects of UV light, chlorophyll content). They can also study human psychology (What motivates? What blocks?) and human physiology (sleep cycles, circadian rhythms, and cognition).
But this will be no luxury cruise.
Kreek and Hanssen will be joined by rowers Greg Spooner, a physiotherapist, and Richard Tarbill, a Boeing flight test engineer.
Through free web-based tracking and an adventure learning curriculum found at OARnorthwest.com, students and adults alike will virtually join the rowers every oar stroke of the way.
But there's always potential for equipment malfunction or failure. As Kreek explains, "adventure is adventure because you don't know what will go wrong."
And while wildlife encounters may provide important research, they also present dangers. There are stories of boats having hulls pierced by marlins in the middle of the ocean. Whales can come close, which can be both scary and tricky to maneuver around.
The team plans to use their training as a learning tool. The crew has developed age-appropriate programs to engage schoolchildren in nature and adventure. Plans for sharing the mission through school assemblies and curriculum on the west coast are already in the works. Online programs will be free for schools worldwide.
While on the water, the crew plans to send out daily blog posts, including images and video clips, promoting the natural ecosystems, oceanography and wildlife of the region. And it's not over when they make landfall in the Americas. Through school visits, speaking engagements and media coverage, the team will continue promoting the importance of our relationships to nature and to one another.
We owe folks like Adam, Jordan, Greg and Rick a debt of gratitude. They are inspirational adventurers. Using their skill, athleticism, and sheer love of the sea as a vehicle to motivate children of the world is truly righteous. The expedition's goal in supporting Right to Play International will give children whose lives are often filled with hunger and poverty an opportunity to feel happiness and potential.