Soldiers were not alone in ensuring victory over the Nazis during the Second World War. Many unsung heroes instead of rifles carried stethoscopes, surgical equipment and medical supplies. Without the pluck of those doctors, medical aids, nurses and others, all part of the Royal Canadian Army Medical Corps (RCAMC), the battle may not have been won.
Among those who dodged bullets and mortar making it to the shores of Normandy that fateful June 6, 1944, was a young Jewish doctor from Ottawa, Captain Joseph (Joe) Greenblatt.
Born in Isalova, Ukraine in 1916, Joe and his family, like so many other Eastern European Jews of their time, emigrated to Canada escaping the rampant anti-Semitism and pogroms that destroyed numerous Jewish families.
Shipped out to Great Britain the following year, Joe was part of the 15,000 Canadian troops on D-Day who landed on Juno Beach. Joe was assigned to the assault section of the 14th Field Ambulance part of the 7th Brigade, third division.
Thanks to dispatches, official reports sent to high command often describing battles and noting acts of bravery, we have a good record of what happened to Canada's 7th Brigade as they landed on Juno.
As well, thanks to over one hundred letters Joe wrote to his sweetheart, Frances, which are now part of the George Metcalf Archival Collection at the Canadian War Museum, we have a blunt and sincere chronicle of the work of a Canadian doctor in the theatre of war. The letters follow Joe's journey from Juno Beach as they fight their way through France, Belgium, and Holland eventually into Germany.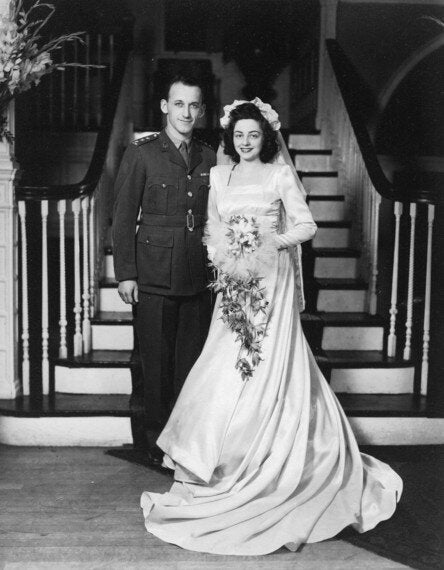 Dr. Joe Greenblatt and Frances on their wedding day
The letters speak evocatively of his hatred of war, fear, the hardships of surgery under battle conditions, the people he met, those who died and those he saved and they spoke of his everlasting love for Frances.
We know through the dispatches that part of the landing craft that carried Joe's unit was mined and they had to swim ashore. They rescued some surgical kits and looked after the wounded while shells exploded around them. Finding shelter among sand dunes they performed life-saving first aid.
As part of one of the busiest Canadian field ambulance units during the first couple weeks of intense battle, Joe and his colleagues treated more than 750 casualties, many severe, including French civilians and even German POWs.
Joe's letters home paint a picture of life for Canadian soldiers and doctors as they fought to victory. Letters dated June 16 and 18, 1944, just days after the Juno landing, read:
"Well dearest here I am again to let you know that all is well with me in war torn France .... Today I had the opportunity of reading an English newspaper dated 14th of June and to my prejudiced mind it seems that the Canadians weren't getting enough publicity compared to the work they did but then we are only comparatively a drop in the ocean in numbers when contrasted with the large numbers of Americans and British ... I think the thing I miss the most is plain ordinary bread. The hard biscuits in my rations are supposed to take its place -- it's not bad but still doesn't."
Contemplating his need to deal with fear, Joe wrote:
"You know my darling one of the main uncertain personal things that I was worried about was what my reaction to fear would be like ... At times I have been absolutely terror stricken yet fortunately I have had sufficient willpower to control that fear and carry on with my work."
Joe closed this letter as he did all the others, extolling his love for his beloved Frances.
"In the midst of all this turmoil I think of you often my darling looking forward to the day when I can take you again in my arms in peace, serenity and freedom."
Joe Greenblatt was one of many such doctors engaged with the RCAMC. In his last letter on Dec. 15, 1945 he wrote,
"Four ships are leaving (back to Canada) between December 21 and New Years ... keep smiling I'll be there soon."
Joe and Frances married immediately after the war, and remained devoted to each other until his death in 1982.
Whether it was during times of war or peace, Joe Greenblatt understood the maxim of "giving back" to the country that gave him so much. He was greatly loved by his patients and deeply respected by his colleagues.
Dr. Joe Greenblatt was my cousin, and he left an important legacy of heroism and history for both his family and Canadians.