In August of this year, a study from Michigan State University, demonstrated that when applying for a job in male-dominated field, women have a better chance if they describe themselves with masculine attributes such as assertive, independent and achievement-oriented. Those who emphasized traits often considered feminine such as warmth, supportiveness and nurturing were unlikely to get hired.
Stanford Graduate School of Business had similar findings. They followed 132 women graduates over 8 years and concluded that women who display masculine traits in business and who can dial these characteristics up and down, depending on the situation, will get more promotions. They will not only surpass other women, but also the men! However, to get those promotions the women must be mindful to limit their display of masculine attributes and they must compliment them with a lot of communal typically-feminine behaviour.
Neither of these conclusions surprise me because it is completely consistent with how I worked my way up the ladder at PotashCorp, the world's largest fertilizer company. When joining that male-dominated organization in 1981, I quickly recognized that to have my ideas acknowledged I needed to present them in a masculine way. However, I couldn't make that my modus operandi for long and would have to adeptly dial up traditionally feminine characteristics like kindness, inclusion and attention to others, to continue as an accepted member of the group.
I happily followed this pattern and was given increasing responsibility. By 1985 I was organizing company sales meetings and customer appreciation events. At one of these, I hired a speaker who did a personality test with participants. Being the charming, service-oriented meeting planner he considered me harmless and used my test as an example to teach the other participants. What he found surprised him. My drive was off the charts but even higher was my focus on forming relationships. He told the group that I was ambitious but used my people skills to be accepted, camouflaging my desire to get ahead. I remember him saying, "Look out boys, she wants your office".
During the cocktail session immediately following, the guys I worked with teased me. None of them took the results seriously. They saw me as a hospitable female underling, lucky to be included at a sales meeting. I continued to disarm them with copious levels of service and their unconscious bias prevented them from seeing me as competition. By 1989, I was promoted to be a Vice President in head office and had leap frogged over most all of the guys in that meeting!
Societal bias perceives that those with masculine traits are good leaders and will get the job done, so women need to exhibit masculine attributes to be hired and promoted. However, society also has a bias that women should be nurturing and care for others. Those who operate with solely masculine traits might have accomplishments but such women aren't accepted and most often labeled with the 'B' word. Thus, women need to be both.
Attention to bias is important because according to the research, we only have conscious access to about 10 percent of our brain. Bias, or an implicit preference for certain behaviours, most often happens at the unconscious level. It's not that we are hiding our prejudices. Most often, we simply aren't aware that we have them.
For example, a recent study from the University of Illinois shows that hurricanes with female names are three times more fatal than those with male names. Why? The researchers concluded that people knuckle down and prepare for storms with male names believing they will be stronger and more violent. Thus they are prone to evacuate when hearing that Hurricane Joseph is coming but not for Hurricane Judith, which they believe will be weaker.
Knowing these biases are reality provides an opportunity to leverage this knowledge for our benefit. Women can use the attributes of both masculine and feminine energy as long as they are aware and adjust. It is no different than turning the tap on and off to find the perfect water temperature for the situation. Just as we want hot water for bathing and cold water to quench our thirst there will be times to dial up the masculine energy and times to dial it down. Each of us must choose the right energy for each audience or situation.
In her recently released book Thrive, Arianna Huffington compares using both to being like Athena, the goddess of wisdom. "Athena wove together strength and vulnerability, pragmatism and intuition, intellect and imagination claiming them all, the masculine and the feminine as part of our essence and expression" she says.
Each and every one of us can be Athena and tap into that inner wisdom. There is no need to take on the system or be ashamed of our bias. We just have to be open to accepting both masculine and feminine energy as part of our essence and be willing to express them both. By increasing our awareness of the options and actions available to us, and consciously choosing to dial up or down the attributes of each energy, we can access our inner goddess and be considered a wise leader in the process.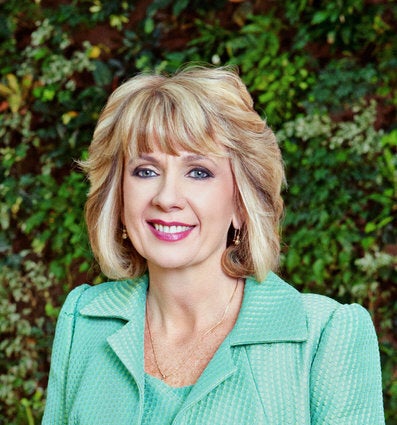 25 Most Influential Women In 2014