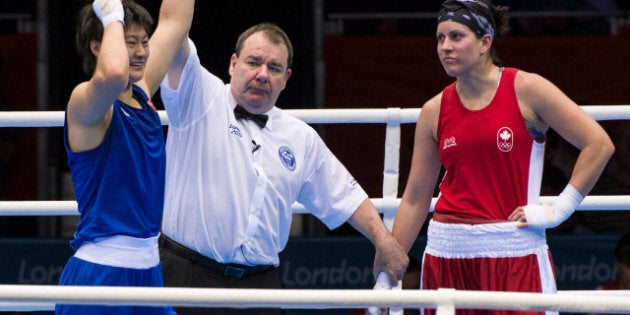 I recently re-watched my favourite Tom Hardy movie Warrior. In it, he plays an ex-soldier who takes part in a mixed martial arts competition to win money. The behind-the-scenes footage of what Hardy went through to achieve a fighting physique were crazy. I mention this because I spent my Monday night commiserating. Obviously, not to the same degree but I swear it was close.
After taking a month off from writing this column (Woohoo! No working out!) I decided to come back swinging...literally. Toronto Kickboxing & Muay Thai Academy (TKMT) was where I had to go if I wanted to take this challenge seriously. High-ranking cool dudes from Georges St-Pierre to Michael Pitt have stopped by this studio and that alone is enough to get me in it.
Back in 2004, TKMT owner Warren Lee started a part-time, one-man operation called Lee's Ultimate Thai Kickboxing. The Queen West location (where I went) was later opened in 2006 and in February of this year a third location will be open for business on the Danforth.
Confession: I was NOT in any way prepared for what happened. While I can honestly say that I had fun learning rudimentary kickboxing, this class seriously whupped my ass.
I went in worried that I was going to be taught by big burly men resembling Mad Dog (Warrior, seriously it rocks, watch it). It was a very pleasant and impressive surprise that TKMT has a comfortable ratio of women to men. The beginners class (because they had nothing lower for me) was almost completely female and was led by two ridiculously fit women. There were still insanely toned guys sparring and working a punching bag but who the hell had time to gawk?
The class started off with 30 minutes of a warm up. At least I think it did. I managed to eke out some jumps, pushups, crab-walks, lunges, skipping, jogging on the spot and more before I went to the change room to lie down because I was seeing spots.
Unfortunately, I couldn't stay there forever.
What you'll need: Comfy clothes and bare feet. Water, towels, gloves and pads can all be borrowed or purchased on site.
Between the warm up, learning the fighting stance and actually putting these puny fists to use, I almost didn't notice that the class stretched to two hours. OK, that's a lie. I noticed and was hoping someone would accidentally knock me out just so I could have a relaxing ambulance ride.
Here's a snipped of my inner thoughts:
6:30 pm -- Wait, there are no separate rooms? The muscle guys get to watch me make a fool of myself?! *grumble* Should have asked to see a picture of this place.
6:40 -- We have to do a 30-minute warm up? I feel like I can do it in under 10.
6:50 -- When...did...think...could...do...this...?! Horribly...wrong!
6:55 -- Wait...did that girl just say she's been here three times and it doesn't get easier?
7:00 -- I hope no one notices that I've been in the change room for a bit. It's so gloriously unathletic in here. This might be the best floor I've ever exhaustively lain on.
7:05 -- Warm ups with a partner aren't the worst. I like that we keep trading "save me" eyes.
7:15 -- Don't cry, don't cry, don't cry, don't you dare cry. Unless you can disguise it as sweat, then definitely cry.
7:30 -- What are we splitting up for? It's been an hour. Isn't this done? Hello?
7:35 -- Why am I the only person who looks like a giant loser doing the slow punches? Thank god I'm not in front of a mirror. LOOK AWAY BOXER DUDES!
7:40 -- YAY we get to wear boxing gloves! I wish I had worn a cooler outfit. Is that stupid to be thinking about. That girl is dressed way cute. Oh crap...everyone already grabbed gloves. Focus Bianca!
7:50 -- Punching my partner while he holds pads? Awesome. Getting open-palmed smacked on the shoulder by Warren because my form is off? Not so aweso...OWW. Dammit!
8:00 -- Okay, not to be THAT girl...but these gloves smell. Like bad. Like old, used gym sock bad.
8:15 -- Holding. The. Pads. SUUUUCKS. My partner has a crazy strong kick. I have to bear down all labour-style so I don't get punted to the wall!
8:20 -- No seriously, how long is this class?
8:25 -- Warren! You smack me one more time and...OK well I can't take you in any kind of fight but I have a glare that I have been told is WITHERING.
8:30 -- Yup. This is what a body giving out feels like.
8:34 -- I can't feel my legs! The maniacal part of me thinks hurling myself down these THREE FLIGHTS OF STAIRS would be less painful then actually walking.
In all seriousness, if you're on the lookout for a fitness regime that will push you and get you in top form, this is it. If you can stand rigorous repetition and like the physicality of it then you belong here. The instructors were great and completely hands on even though our class was huge. Warren was hilarious and is constantly available to push you into the most proper of stances. If you're looking to toughen up and stop being such a wuss, book a class and try not to hide in the change room.
End Result: Right after the class, I felt tired but accomplished. I was sweaty, stretched out and maybe even a bit powerful. I walked a bit after leaving and was surprised that my legs (while a little achey) weren't in any pain. Until the next day. Then they were ablaze with angry spitfire that made climbing, sitting and standing torturous.
Effort: Lots. More than lots. Think about a shit-ton of effort and add like 100 to it. So much effort in so many ways. Keeping up with the instructors, trying to mirror their moves, working at your own pace without falling behind, trying not to cry. Wait...that last one might have just been me.
Return Trip?: Is it weird that I kind of want to go back just to hang with Warren? Sure he slaps with an open palm and probably thinks I'm a class-A sissy but he seemed like a blast. The warm up and repetitions is what killed me but learning to punch and then actually punching with real gloves was a lot of fun. Plus, now I know how to throw a punch! I think...