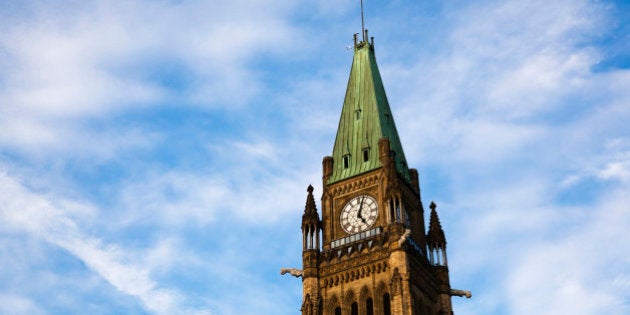 The latest figures indicate that Canada is now in a recession -- a slowdown that has very important implications for Canadians. This is further evidence of how unsustainable our current economic approach -- which is heavily reliant on consumer spending and levels of household debt relative to income -- actually is.
The general election campaign has, however, been dominated by both the New Democrats and Conservatives looking at how they can impose further austerity, cutting the deficit and the debt through public spending cuts, rather than investing in the economy to stimulate economic growth.
Canada stands out among the OECD countries for reducing deficits and debts through deep and permanent cuts to social programs and public services, at great cost to both working families and future generations. The forecasts for meagre economic growth of around one per cent in 2015 put Canada far behind leading G7 economies. In that rich-country group, only France and Italy have higher unemployment rates.
There needs to be a change in mindset and a focus on increasing both public- and private-sector investment. We need to manage the deficit and the debt, but on the back of sustainable economic growth. Despite the Conservative production of the so-called "balanced" budget in 2015, the Harper government remains in deficit for the eighth consecutive year.
It is clear that Canada's economy is not performing. Canadians now face $158-billion in Harper-debt -- without much to show for it. There are 160,000 more jobless Canadians today than before Harper took power. Youth unemployment stands at 13.2 per cent. Job quality is at a 25-year low. And the average price of a detached home in Toronto and Vancouver is no longer affordable for most of the cities' residents. Just this month, the loonie plummeted to record-lows it hasn't reached in 11 years. Canadians are feeling the effects: workplace stress and anxiety are increasing at unprecedented levels.
In contrast, the Liberal legacy was a decade of balanced budgets, average annual economic growth over three per cent, 3.4-million net new jobs, lower debt, and one of the strongest fiscal situations worldwide.
That's what Harper inherited in 2006.
But he failed the country. He likes to blame Obama or the Greeks or the Chinese for his poor fiscal record. Just as in his PMO scandal with Mike Duffy, Harper cannot take ownership for his errors in judgment.
Of course, it's one thing to spin an upcoming recession as a success, but it's another thing entirely to try to present years of fiscal failure as a triumph. Among the diminishing number of Canadians who agree with Harper's fiscal approach is Tom Mulcair. The NDP leader, by unequivocally stating his intent to balance the budget in 2016 -- even without knowing the size of the current Harper deficit -- places himself firmly on the side of cuts in services to Canadians. In the face of a weakening economy, Mulcair has sided with Harper by adopting a plan to cut our way to prosperity.
This is why this country needs change. Real change, to a new government that is focused on the middle class and fiscal prudence.
One of the most important steps the Canadian government can take to kickstart the economy is a large-scale program directed at renewing our national infrastructure. It will help drive job creation while generating about $1.60 of GDP for every $1 spent. And it will transform the present value of low interest rates into long-term capital assets underpinning greater Canadian productivity.
Infrastructure investments, even if not immediately paid for with new revenue sources, can easily contribute to reductions in long-term debt-to-income ratios because they stimulate growth, raise long-run capacity, and reduce the obligations of future generations. When maintenance or necessary investments are deferred, the bills climb much more quickly than the cost of borrowing at record-low interest rates.
The economics of austerity are no different in Canada from what they are in the rest of the advanced world. Harsh austerity in depressed economies isn't necessary, and does major damage when it is imposed. It is time for us to step up and focus on what really matters: growth and prosperity for all.
Bill Morneau, Federal Liberal Candidate, Toronto Centre, and Member of Justin Trudeau's Economic Council of Advisors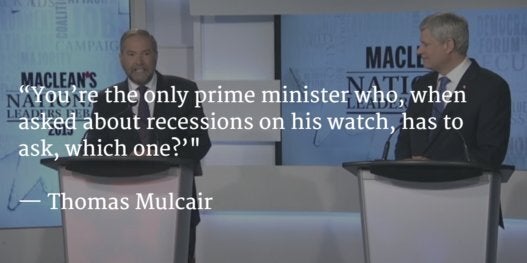 Best Quotes From Maclean's Canada Election Leaders' Debate