"Imagination is not only the uniquely human capacity to envision that which is not, and, therefore, the foundation of all invention and innovation. In its arguably most transformative and revelatory capacity, it is the power that enables us to empathize with humans whose experiences we have never shared." - J.K. Rowling.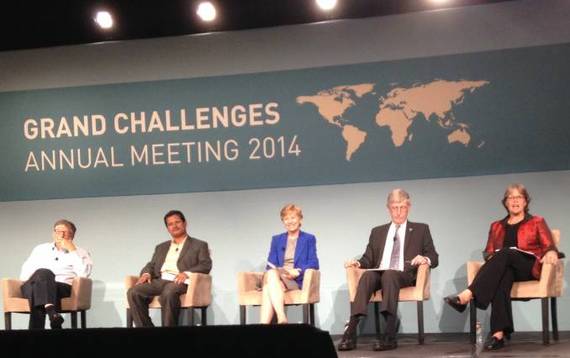 What a great opening to The Innovation plenary panel for the Grand Challenges and Keystone Symposia Joint Scientific Session explored Creating Cultures of Innovation formed of:
Sue Desmond-Hellman, CEO The Bill & Melinda Gates Foundation
Bill Gates, Co-Chair Bill & Melinda Gates Foundation
Francis Collins, Director National Institutes of Health
Arunachalam Murugantham, Founder Jayaashree Industries
Amy Smith, Founder & Co-Director D-Lab
To address the grand challenges that exist The Bill & Melinda Gates Foundation created Grand Challenges as a family of initiatives fostering innovation to solve key global health and development problems. The goals being to:
• Define challenges whose solution would unleash progress in key areas
• Engage the world's most innovative researchers
• Focus research on making an impact for those most in need
• Build collaboration among researchers and funders to accelerate impact
• Build an expanding global network of programs and partners.
Now research has its own merits as a recognized, established, methodological and accepted process, which can result in new ideas that make a difference. Yet there is a prime opportunity to incrementally innovate the research based approach by developing smoother, faster, different processes. This is being explored and implemented in response to the current Ebola crisis and the need to find a vaccine and fast, hence funding by the Bill & Melinda Gates Foundation for Keystone Symposia, catalysts for generating new ideas and accelerating discoveries that benefit the global community.
As Bill Gates acknowledged, "global health is a challenging domain," so is there an opportunity to really think differently by utilizing people from diversely different disciplines and fields? Fundamentally not all solution finders/innovators are researchers or academics. And the future shouts for alternative approaches to making things happen. Francis Collins stated, "we need crazy people with boldness to explore the wicked problems by bringing disciplines together to synergize their skills in environment that are not a cookie cutter kind of space," and it's exciting to see what this new space could be. This is particularly true if the recognition of needing to be in the space where the challenge exists is addressed, enabling better understanding of the initial problem and greater empathy for the people experiencing the problem, as this may as Amy Smith highlighted, aid to resource and support them to be co-creators/innovators in that space.
Whilst concurring with the above, what if we were to consider the perspective of radical innovation in solving wicked problems in global health? What can we learn and employ from other business/philanthropic domains as a starting point? Kayli Levitan of M&C Saatchi Abel when working with The Haven Night Shelter in South Africa created The Street Store, the world's first "pop up store" for the poor then open sourced it.
Hang up donated clothes, drop shoes in boxes and then the poor can help themselves. Kirstin Dickerson of Raven & Lily empowers women through design and employs marginalized women in India, Ethiopia, Kenya, Cambodia, Pakistan, and the USA at fair trade wages to give them access to a safe job, sustainable income, health care, education, and a real chance to break the cycle of poverty for themselves and their families. Stephen Greene of RockCorps uses music to engage youth into social action, for four hours volunteering the young person receives a ticket they can't buy to a rock concert. Enough young people and globally local challenges are being addressed.
The future requires us to learn lessons from these non-researcher approaches as to how to make great impacts in uniquely different ways and the movements they create. As Murgananatham Arunachalam, one of Time Magazine's 100 Influential People in the World 2014 said, "Do not use your education to survive; use it to do something extraordinary." The future needs a different way of thinking and this needs to start early, and that has to commence in the education of young people, yet even here a different approach is necessary. The Acton Academy is dedicated to inspiring each child to see life as a Hero's Journey, where someone with curiosity and character can find a 'calling' using his or her most precious gifts, in a way that brings great joy, to solve a deep burning need in the world. Is that not what the Dalai Lama is advocating in the upcoming Heart-Mind Summit, to balance the education of children's minds with that of their hearts? Vital -- as they are tomorrows innovators.
Maybe the biggest global challenge is our own perceptions of who, how and where the innovators are, and understanding their why, particularly as one the greatest innovators of our time Steve Jobs shared in his Commencement Address, it's all about connecting the dots, loving what you do and staying hungry and foolish.