The Beedie School of Business, aspires to create and communicate powerful ideas in order to educate and inspire the founders, leaders, and managers of organizations that are internationally competitive, locally responsive, and sustainable. Hence the CKNW CEO Series, hosted by Bill Good. This year the speakers were: Tina Osen (Hub International); David Labistour (MEC); Chad Wasilenkoff (Fortress Paper); Ashley Cooper (Paladin Security); Launi Skinner (First Western Credit Union); and Charles Jeannes (Goldcorp).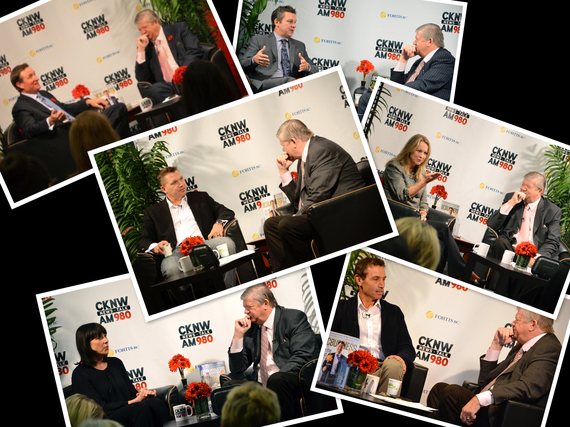 Leadership was a dominant theme outlining the need to work hard, to listen and to constantly learn. There was acknowledgment that leaders are just one member and that credit is always to the entire team, alongside the recognition to employ people smarter than themselves. Leadership was acknowledged as being both an art and a science, hence using authenticity to help people with the fast pace of the changes that are happening both within the wider context and for the team by being fast-paced and quick to respond.
And what qualities did they look for in the people they recruit to form their teams? Firstly -- diversity, yet with the commonality of being able to lead. Curious, energetic people who are good at collaborating and communicating, who believe in the team and are future thinking, comfortable with uncertainty and can work on their own when necessary. Every CEO knew that to get good people, you have to offer them a good place to work, because "culture will kill strategy." Once on board they have to be grown and retained by emphasizing staff development and a desirable career path.
The ability to reflect was evident from their descriptions of their childhoods and the lessons they had learnt along the way, alongside the appreciation of opportunities that had come presented themselves. These were grasped with both hands and the hard work required to make something of the opportunities was humbling. Most fascinating of all was the passion with which they all spoke about their love of the job they do, which also impacted upon the work-life balance they kept or didn't as the case may be. It was noticeable that they remain 'students of what they do,' and in doing so seeing subsequent opportunities.
The range of people they would like to have dinner with was fundamentally people they believed they would learn the most from, be it their own grandfather, Martin Luther King, Warren Buffett or Alexandra the Great, to name but a few.
Quotes of each day:
David Labistour "Business can be a force for good"
Tina Osen " You can't teach emotional intelligence, but you can teach insurance skills"
Chad Wasilenkoff "Gravitate towards problems"
Ashley Cooper "Everyone puts trousers on one leg at a time"
Launi Skinner "Give yourself the permission to be the best you can be at that moment"
Chuck (Charles) Jeannes "Have a culture that's comfortable with being a little uncomfortable"
Personally, I'd like to invite them all for dinner, as sure there's more learning to be had!