danielfela via Getty Images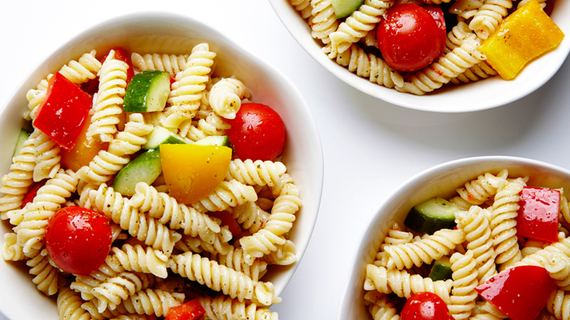 We all know how difficult it can be to schedule a time to meet with family, friends or loved ones during the week. Many of us can't wait until the weekend arrives so that we can finally set aside time to go out for dinner and enjoy a yummy meal with great company. And while there's no question that we LOVE dinnertime, we wanted to take the time to spread some tasty love for lunchtime.
For many of us, the weekend flies right by and before we know it, we start gearing up for the week ahead. Well, we have a little something up our sleeves that will help get you through your weekday dilemmas with our 10 amazingly delicious lunch recipes. Now you won't have to wait for the weekend to roll around to enjoy a hearty meal. You'll be too excited for lunch to even think that far in advance!
We're thinking outside the brown bag and bringing a whole new meaning to "power lunch" with these can't-get-enough-of midday meals.
Enjoy!
1. Chicken Cobb Salad with Thousand Island Dressing
Looking for a meal-in-a-bowl? Search no further than this satisfying, crowd-pleasing Cobb Salad, a classic combo of chicken, bacon, avocado, eggs and blue cheese, all tossed in a creamy homemade Thousand Island dressing.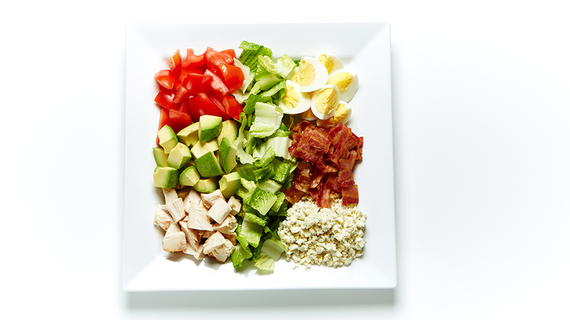 2. Crunchy Fish and Creamy Coleslaw Wraps
Fish tacos are all the rage, but we've done one better...we've got a fish taco all wrapped up in a tortilla! Sole is breaded and baked, a quick and tangy cabbage slaw is whipped up and all are wrapped up in a tortilla along with juicy tomatoes and creamy avocado. Tacos have nothing on this scrumptious sole'n'slaw sandwich!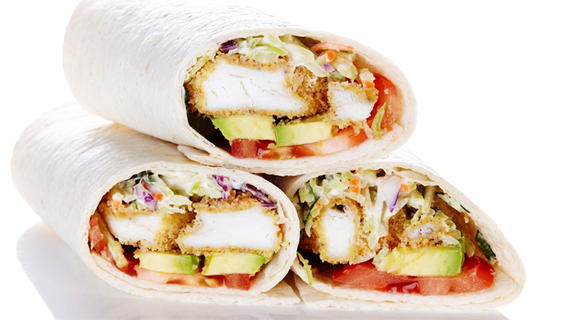 3. Kale, Spinach and Quinoa Salad
This Kale, Spinach and Quinoa meal-in-a-bowl is a winner, a green bowl full of super nutritious and delicious stuff (including mango and avocado), tossed in a zesty lemon shallot dressing and topped with spiced walnuts and creamy goat cheese. Get cooking and give new meaning to Power Lunch!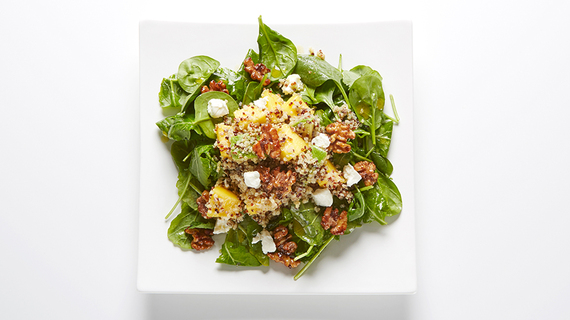 4. Caprese Pesto Pasta Salad
With tomatoes and basil at their prime, the fresh flavors combined with homemade pesto perfection make this pasta salad a super-easy and gourmet way to bring sunshine to the table.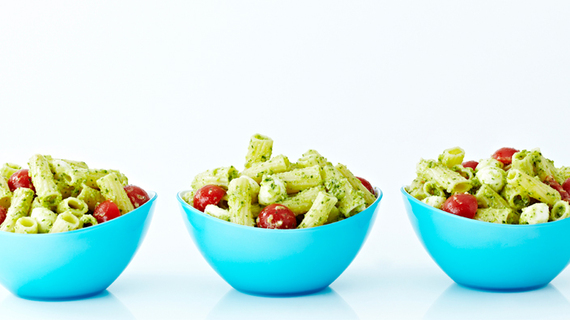 5. Spicy Quinoa Puttanesca
This sultry, spicy, aromatic red sauce of olives, capers and garlic is scandalously good.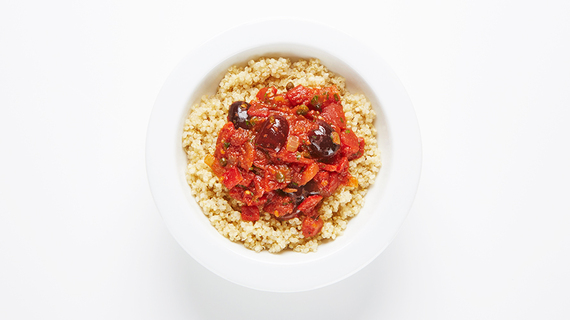 6. Stacked Mediterranean Sandwich
Want to avoid lunchtime letdown? You can, with this super healthy, soaring sandwich with avocado hummus-smothered multigrain bread, oven-roasted tomatoes, Feta, onions, cucumbers and arugula. This scrumptious sandwich is guaranteed to make your midday meal a winner.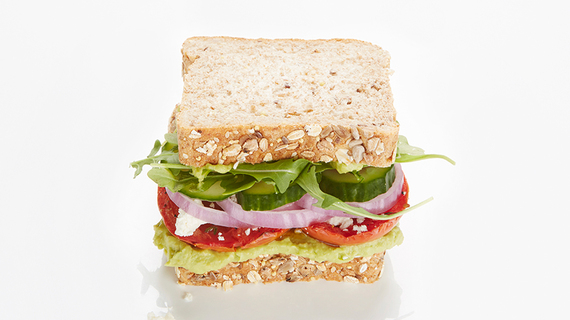 7. Garden Pasta Salad
How do you jazz up your plain old pasta salad? Ditch it and start over with this delicious and easy one, a Garden Fresh Pasta Salad chock full of crunchy vegetables and tender pasta, all tossed in a zesty Italian dressing. In fact, this pasta salad is so delicious, we've been known to add chicken and make a meal of it!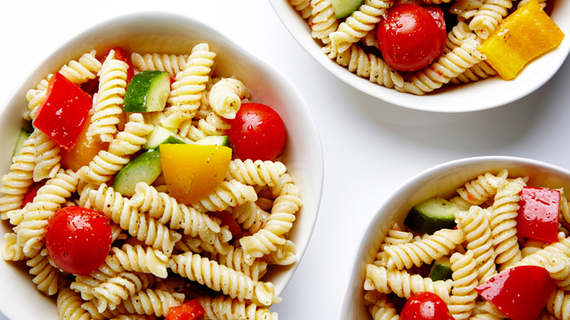 8. Green Goddess Quinoa Salad
When we're told to "Think Green," we immediately flash to this incredible Green Goddess Quinoa Salad recipe. Protein-packed quinoa, mixed with edamame and kale, is tossed in a creamy avocado and fresh herb dressing. Really, there is paradise in every bite of this fresh and fantastic salad.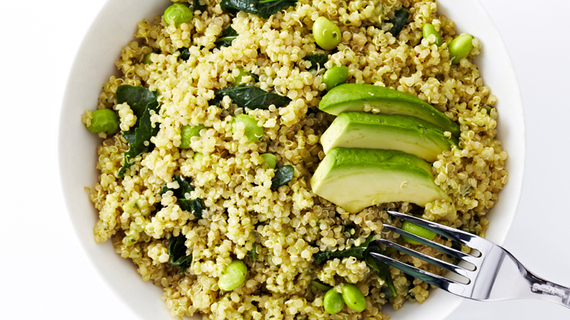 9. Sweet Chutney Chicken Salad
Taking its cues from the sweet side of Indian cuisine, this healthy and refreshing chicken salad mingles sugary mango, juicy grapes and plump raisins with tart lime and crunchy apples. A winning, timeless and trouble-free marriage of East-West flavours.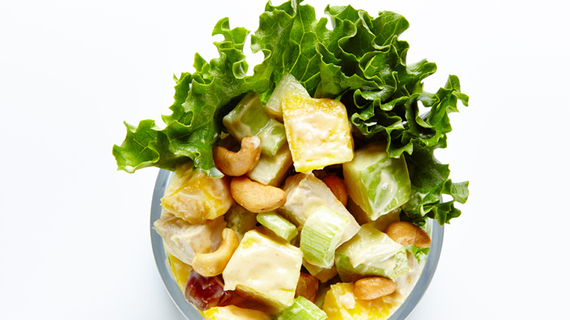 10. Sushi Salad with Tofu and Brown Rice
Training to become a sushi chef can take up to 43,800 hours. Making this delicious Sushi Salad of brown rice, marinated tofu, avocado and edamame, all tossed in a ginger wasabi dressing will take you less than 1 hour. We don't know about you, but we aren't going to roll our sushi...we're going to bowl it.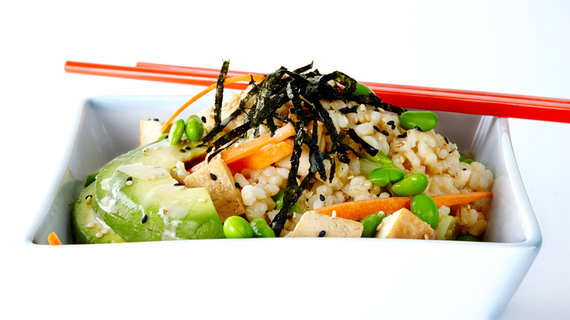 Follow HuffPost Canada Blogs on Facebook