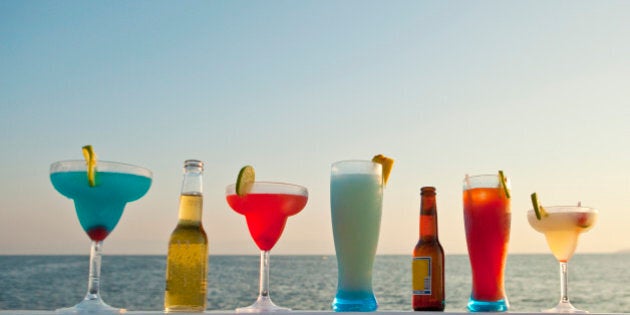 Want to be your very own backyard bartender? From sangria and slushies to mojitos and margaritas, we've got you covered with all the best summer drinks. Armed with these simple, thirst-quenching recipes and a few terrific tips, get ready to beat the heat and make a huge splash this season.
Don't sweat it. Really. Having a well-stocked summer bar is as easy as falling off a log (and we know how easy that is). In addition to Bite Me More's fast, fresh and scrumptious sips, here's what you need to know:
Have ice on hand. Lots of it. We're talking ¾-1 pound per person. While that sounds like some serious brain freeze, that much ice will come in super handy not only in drinks, but also in large basins that can keep beer, wine and sodas chilled.
Another thing we love to do in the summer is to jazz up our cubes. Make ice cubes from coffee or tea to keep those drinks from getting diluted. Add fresh fruit and herbs into the ice cube tray (along with distilled water as that will ensure the clearest of cubes) for cool ways to kick back with a cocktail.
Summer is the perfect time to dress yourself down, but to dress up your drinks. You can have tons of fun with rimming and garnishing drinks. You can easily rim glasses with everything from candy (Pop Rocks!) to citrus and to gussy up your drinks, have things like sliced fruit, fresh herbs, cucumber, jalapenos, edible flowers and cinnamon sticks on hand. As well, don't forget the fun straws to get everyone sipping.
The birds are chirping and the earthy smell of grass is in the air. Unfortunately, so are the bugs that will swarm around the sweet scents of your drinks. Make sure to have corks, netting or coasters to cover your bottles and glasses.
It's time to stir and shake up summer -- wet your whistle and beat the heat with Bite Me More's Top 20 Summer Drinks:
Follow HuffPost Canada Blogs on Facebook