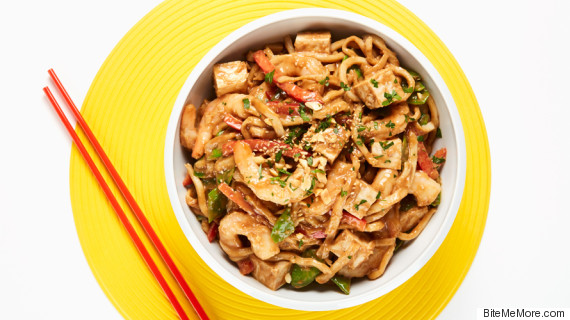 Kung Hei Fat Choi! Chinese New Year celebrations have already begun as people around the world prepare to mark the Lunar New Year. This year we say goodbye to the somewhat chaotic Year of the Monkey and usher in the Year of the Rooster.
The Chinese New Year is the most important holiday in Chinese culture, celebrated with traditional decorations, family reunions, fireworks and, of course, delicious feasts.
Whether you have Chinese roots or not, what's stopping you from getting in on the fun? Never ones to miss out on a party -- especially one that involves food -- we've gathered some of our favourite recipes to mark the occasion. Now we know you could always opt for takeout, but takeout can be greasy and unsatisfying. So take your finger off speed dial and get ready to indulge and enjoy these tasty, homemade options instead.
1. Asian Beef & Noodle Stir Fry
Forget takeout. We've got a fast and fantastic Asian Beef & Noodle Stir Fry that's got all the flavour and none of the fat! Lean flank steak is marinated for 20 minutes in a sweet and savoury combination and then is stir-fried in a homemade sauce along with sugar snap peas, carrots and onions. So put down the takeout menu and pick up the chopsticks because this stir fry is so simple to make!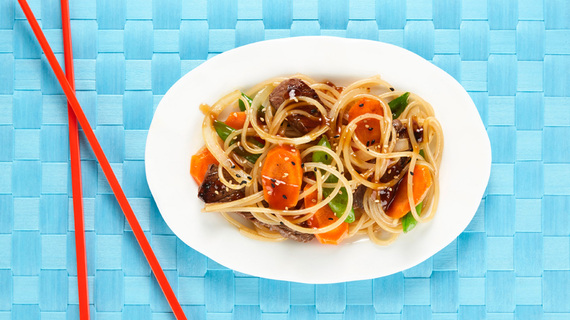 2. Chicken & Vegetable Lo Mein
We're here to help you ditch the MSG and save some money with this incredible and super speedy Chicken & Vegetable Lo Mein. All you need is 15 minutes to whip up this incredible dish, saucy noodles overflowing with chicken and vegetables.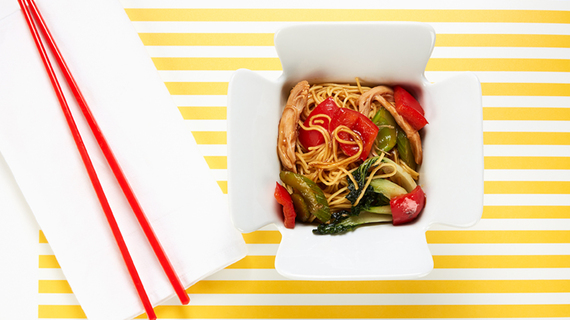 3. Asian Chicken Lettuce Wraps
Chew with your mouth closed. Don't put your feet on the table. That's pretty much the extent of our rules governing dining etiquette. When it comes to eating we like to take our cue from the Indian culture, hands-on. Fiddling with our food since childhood, these moo-shu-like lettuce wraps are another great excuse to hold dinner in the palm of your hand. Now if only we could remember: napkin, not sleeve.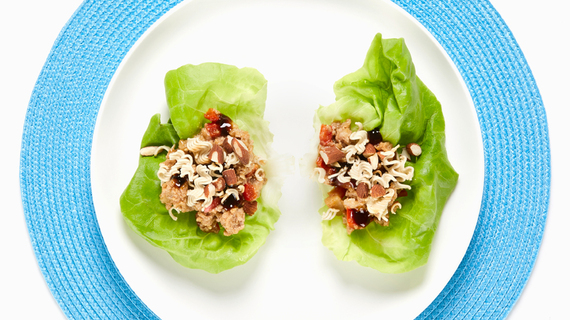 4. Easy Vegetable Fried Rice
Fried rice is the yin and yang of Chinese cooking -- flexible AND firm. On the one hand you're free to improvise -- feel like adding some broccoli or chicken? Go right ahead. On the other hand there is a science to achieving the perfect fried rice, a rule we always adhere to: cold rice. When stir-fried, warm rice will result in a mushy mountain, whereas hardened, day-old grains will remain separated. Must be an ancient Chinese secret, but this one-dish meal is successfully laid back and regimented all at once.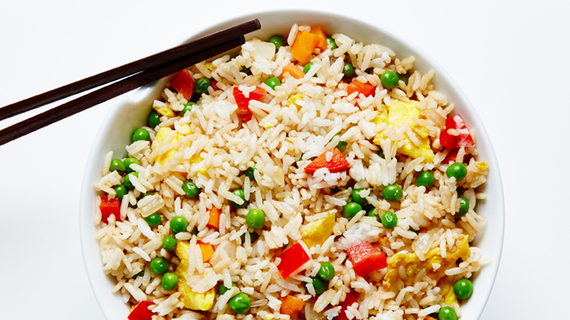 5. Shrimp & Tofu Peanut Butter Noodles
You know when you come across a sauce that you could stick a straw in and drink? Well, this is it. Sweet and salty, this Peanut and Hoisin Sauce coats udon noodles, shrimp, tofu and veggies, making this a winning dish.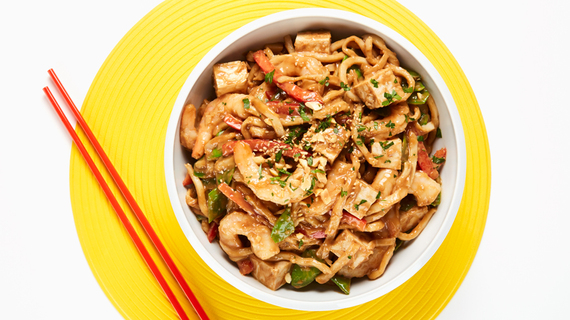 6. Chinese Chicken Salad
A towering salad topped with peanuty chicken, crunchy baked noodles and golden almonds tossed in a sweet hoisin dressing -- beats a trip to the mall any day.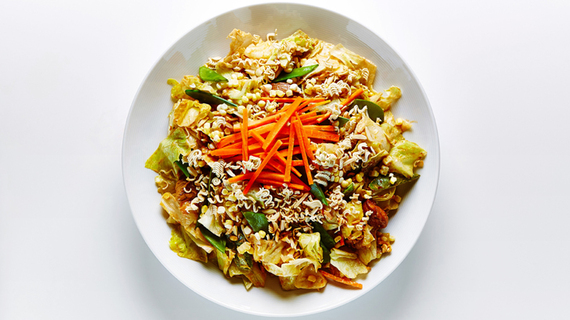 7. Asian Hoisin Meatballs
With a Harvey Wallbanger in one hand and this hoisin one-biter in the other, you get all the sweetness and flavour of the "Me decade" without having to shimmy into a spandex halter-neck catsuit.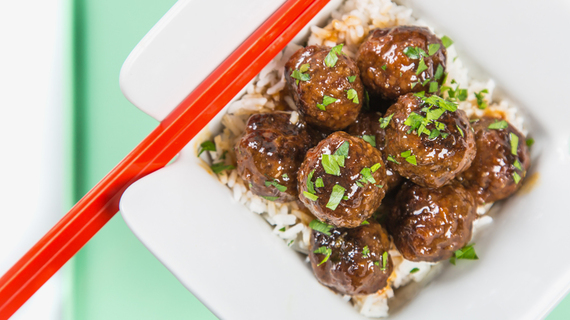 8. Coconut Rice Bowl with Ginger & Tofu Slaw
We can't put down our chopsticks with this tasty number -- with a delectable ginger peanut sauce, this Coconut Rice Bowl with Ginger and Tofu Slaw makes for a mouthwatering meal.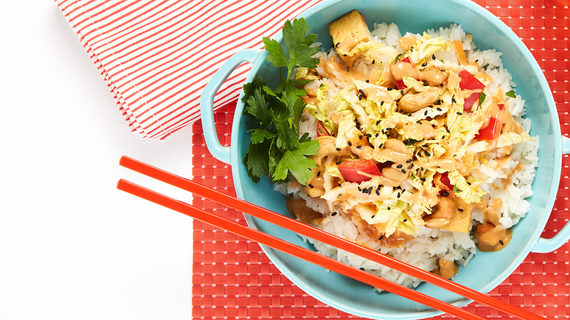 9. Easy Ramen Noodle Soup
Quick to whip up, a flavourful chicken broth (thanks to the addition of ginger, garlic, soy and sake) is loaded with noodles and bok choy, completing the leap from dorm to family kitchen.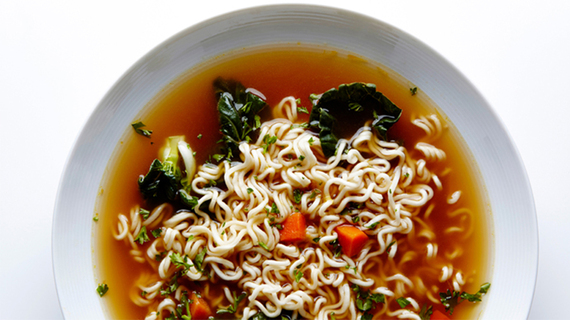 10. Vegetable Salad Rolls
Grab this Vegetable Salad Roll recipe and get rolling because they make for a perfect healthy appetizer.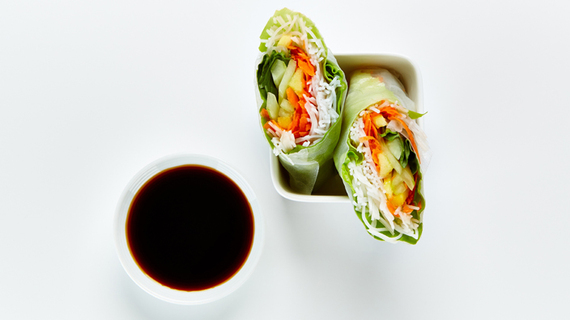 Follow HuffPost Canada Blogs on Facebook
Also on HuffPost:
What To Eat For Chinese New Year