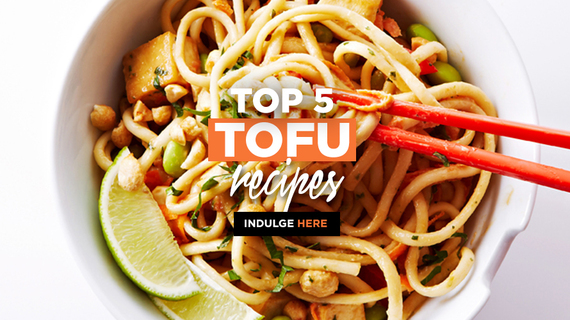 No meat, no problem. If Meatless Monday sounds boring to you, that's because you've never heard of our flavourful and satisfying dishes! For many being a vegetarian is a lifestyle. For us, Meatless Monday is a reason to get creative in the kitchen while also keeping our health in mind. Although we're not full-time vegetarians, we've thought about converting to the green side because of the super tasty dishes that Lisa comes up with.
As much as we love greens, it's important to not forget the protein. Not only is protein an important building block of bones, muscles, skin and blood but it also improves brain function. Our go-to substitute is tofu; it's easy to digest, and extremely flavourful so you won't even miss the meat. Plus, these blocks of nutritious goodness love to soak up marinades, spices, and sauces, and that's just the top of the soybean! The best part is you won't even have to worry about the fat or cholesterol intake.
Whether you're looking for a snack or full-out dinner, we have everything you need for a Meatless Monday! With tasty, healthy and easy to make dishes like tofu slaw, creamy peanut noodles with tofu, and tofu and peach salad rolls; we're certain you'll fall in love with our versions of these vegetarian meals.
Without further ado, here's our top 5 Tofu-riffic recipes that will get you inspired and change your routine!
1. COCONUT RICE BOWL WITH GINGER & TOFU SLAW
We can't put down our chopsticks with this tasty number - with a delectable ginger peanut sauce, this Coconut Rice Bowl with Ginger and Tofu Slaw makes for a mouthwatering meal.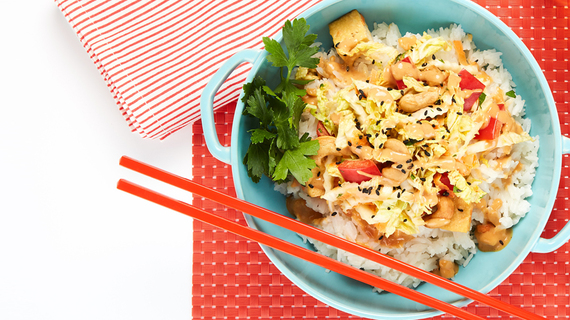 2. SHRIMP AND TOFU PEANUT BUTTER NOODLES
You know when you come across a sauce that you could stick a straw in and drink? Well, this is it. Sweet and salty, this Peanut and Hoisin Sauce coats udon noodles, shrimp, tofu and veggies, making this a winning dish.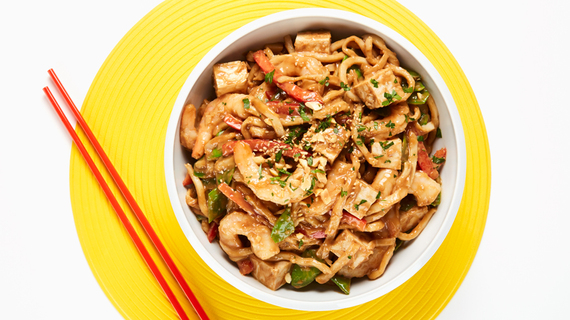 3. SUSHI SALAD RECIPE WITH TOFU AND BROWN RICE
Making this delicious Sushi Salad of brown rice, marinated tofu, avocado and edamame, all tossed in a ginger wasabi dressing will take you less than 1 hour. We don't know about you, but we aren't going to roll our sushi...we're going to bowl it.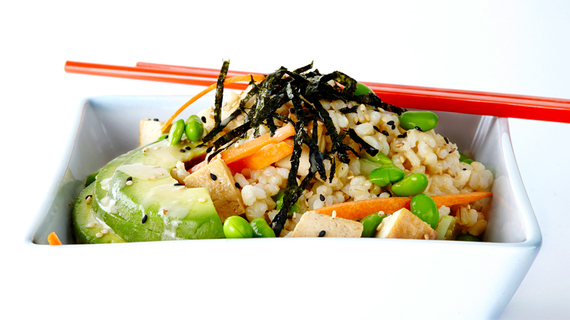 4. TOFU AND PEACH SALAD ROLLS
Looking for the perfect healthy bite? You've found it with this recipe for fresh, delicious and healthy Tofu and Peach Salad rolls, a handheld combination of crispy tofu, juicy peaches, crunchy cucumber, mint and basil, along with a creamy peanut dipping sauce.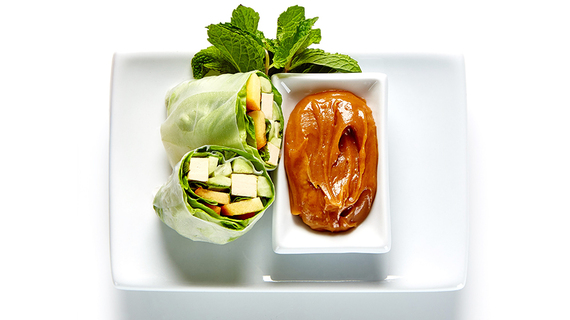 5. CREAMY PEANUT NOODLES WITH TOFU
As written, tender udon noodles are tossed in a smooth and creamy peanut butter sauce (so lip-smackingly good it should be bottled!), along with sauted tofu, red peppers and edamame.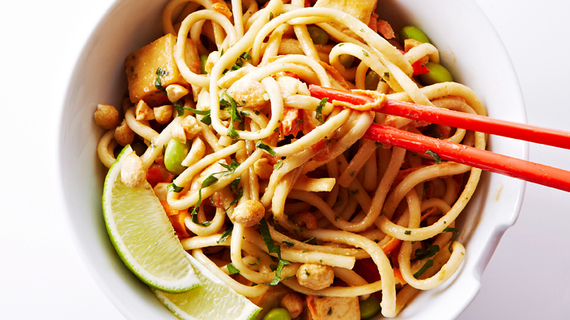 Follow HuffPost Canada Blogs on Facebook