The Washington Post via Getty Images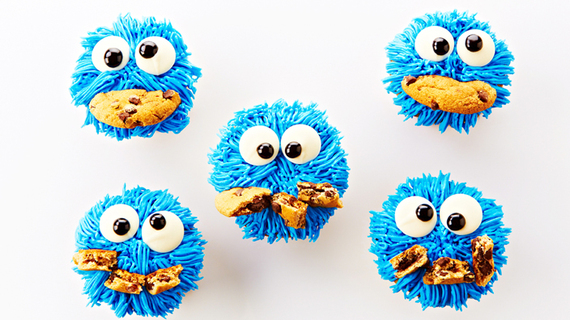 Chocolate chips hold a special place in our heart. They truly are that one ingredient that can make any dessert better! We like to add them to pretty much anything: smoothie bowls, pancakes, ice cream, cookie dough; the list goes on and on.
Here's a fun fact: Chocolate chips were created by accident in 1930 by Ruth Wakefield, who added chocolate pieces to her butter cookie dough. She was expecting them to melt in the dough while in the oven, but they didn't. Nestle loved the idea as much as the chocolate chip cookies themselves. They first started producing these tasty little treats by selling chocolate bars with a little cutting tool for you to make the chocolate pieces yourself. But luckily, in 1941, Nestle came up with a more efficient way to add chocolate to your cookies and started selling chocolate chips in a bag!
Another fun fact for all you cookie monsters out there: the Aztecs once used chocolate as currency. One avocado was worth three cacao beans. (Though we can't see this deal flying on the playground today!).
Because some holidays are worth celebrating, let's dig into some chocolate chip madness for #NationalChocolateChipDay with this drool-worthy list of our Top 10 Chocolate Chip Recipes.
1. CHOCOLATE CHIP COOKIE SHOTS
Remember the hype that followed the world's most coveted food hybrid? We're sure you must have heard about the early morning line-ups and raging crowds as everyone had to get their hands on "The Cronut." Well, having been deemed by The New York Post as the "Willy Wonka of NYC," Cronut mastermind and culinary inventor Dominique Ansel has just introduced the world to his latest creation: Chocolate Chip Cookie Shots.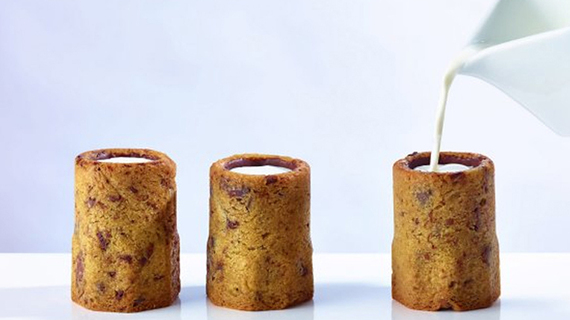 2. CHUNKY WHITE CHOCOLATE AND CRANBERRY COOKIES RECIPE
"Bite Me" began with this recipe after I bought a cranberry and white chocolate cookie from a local bakery three years ago. I ate it, bought a dozen more, drove directly to Lisa's house and thrust the package at her. "Make these," I insisted. She sniffed them, did her little rabbit nibbles, closed her eyes, inhaled and said, "No prob." She made them. And then she created an irresistible cookie that far surpassed any we have ever eaten.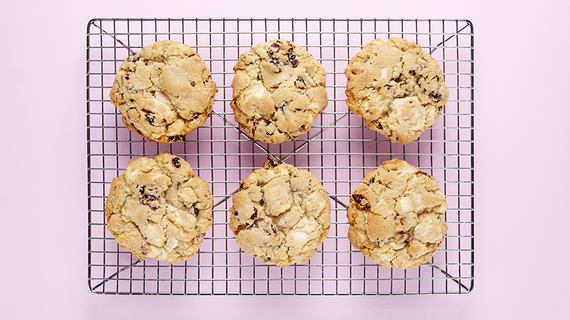 3. TRIPLE CHOCOLATE COFFEE BROWNIES RECIPE
Ever wonder how to get all your vices in one bite? We've got the answer, these fudgy and fantastic Triple Chocolate Coffee Brownies. Yes, it's mocha madness with these moist brownies chock full of brewed coffee, the trinity of chocolate (milk, semi-sweet and white chocolate) and chunks of chopped Oreo cookies. If that doesn't sell you on these blissful brownies, consider that they're topped with a creamy coffee frosting!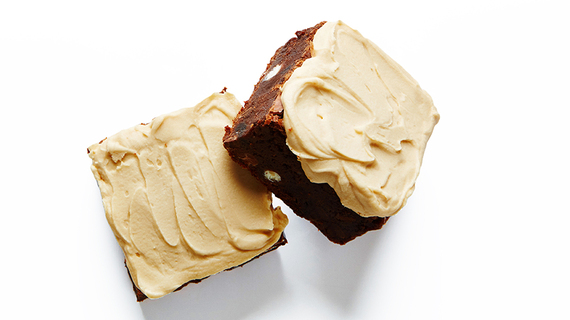 4. THREE DELICIOUS CHOCOLATE COOKIES
Ready for the perfect chocolate trio? We've got all our bases covered with milk chocolate (as found in the decadent brownie-stuffed chocolate chip cookie), white chocolate (creamy white chocolate snickerdoodle, anyone?) and semi-sweet chocolate (ever-present in our fudgy chocolate brownie cookies), each bite hitting the cookie trifecta!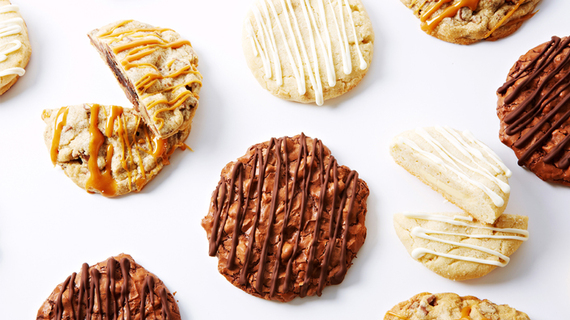 5. CHOCOLATE CHUNK BANANA COFFEE CAKE
This Chocolate Chunk Banana Coffee Cake is the perfect collision between sweet bananas and rich chocolate. With a chunky chocolate cinnamon streusel layered between (and atop) moist banana sour cream cake, every bite is a winner.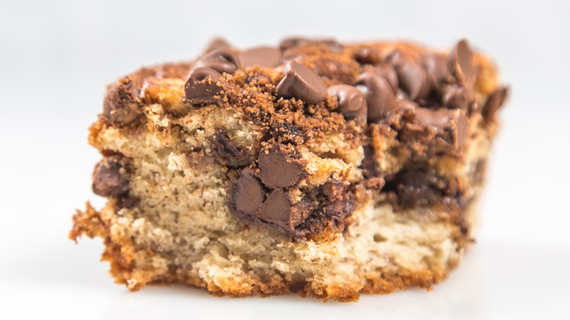 6. RASPBERRY SMOOTHIE BOWL WITH CHOCOLATE CHIPS
Make your breakfast a healthy treat with this fuss-free and fantastic Raspberry Smoothie Bowl recipe.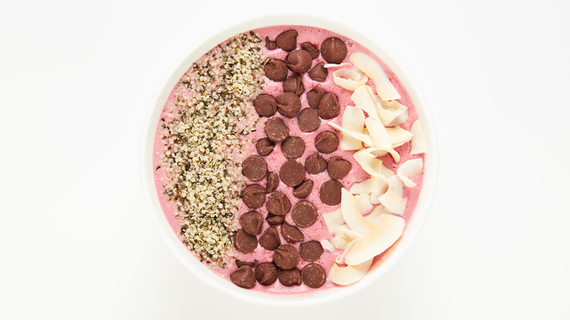 7. CHOCOLATE CHIP COOKIE MILKSHAKE RECIPE
If you like rich, creamy, perfectly blended ice cream milkshakes, you won't be disappointed the way this cookie crumbles!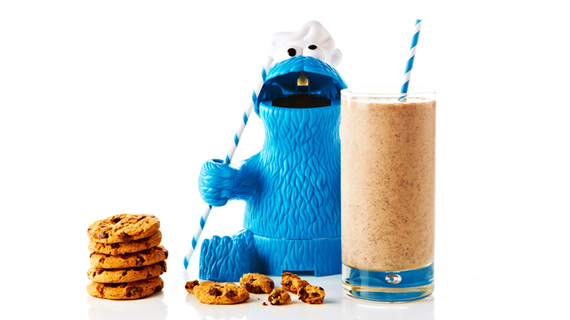 8. SALTED CARAMEL CHOCOLATE CHIP COOKIES RECIPE
Ever bite into a cookie and have a near religious experience? Well, we did, thanks to Chef Lisa and these incomparable Salted Caramel Chocolate Chip Cookies. Not only do you whip up these incredible chewy chocolate chip cookies, but you also get to make your own salted caramel sauce (don't be scared...it's easy!), which combine for the perfect sweet and salty bite. Divine, we promise.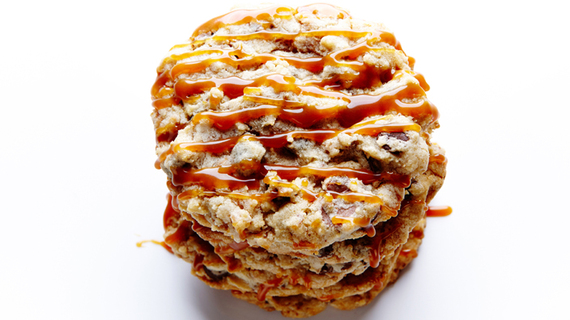 9. CHOCOLATE CHIP COOKIE DOUGH CAKE RECIPE
What happens when a cake and a chocolate chip cookie mate? A Chocolate Chip Cookie Dough Cake that's jaw-droppingly delicious - a layer of cookie dough is nestled between layers of sweet vanilla cake and creamy vanilla icing. Not done yet...we still have a top layer of chocolate chip bites to finish off this cookie-cake-masterpiece!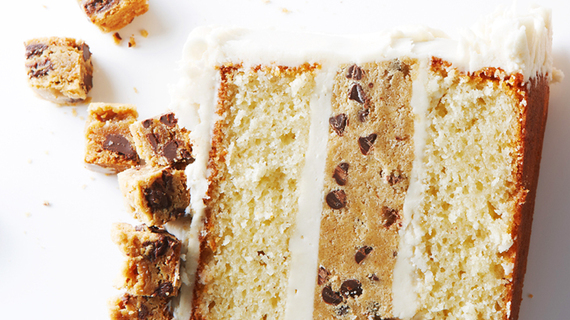 10. CHOCOLATE CHIP COOKIE MONSTER CUPCAKE RECIPE
These creative and awesome cupcakes look scary. Not because of the adorable monster, but because they look like they require you to be a pro baker. Fear not. Lisa knows her audience (read: amateur bakers like us) and has given step-by-step easy instructions for these cute Cookie Monster Chocolate Chip Cookie Cupcakes. Moist chocolate chip cupcakes are filled with a marshmallow cookie center and topped with brilliant blue icing, edible eyes and a chocolate chip mouth, guaranteed to delight kids of every age. Trust us, these deliciously easy cupcakes are Sunny Days, all the way.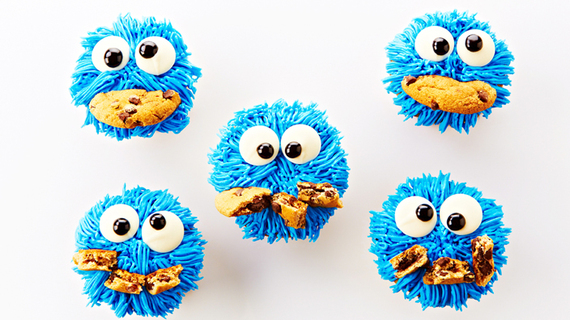 Follow HuffPost Canada Blogs on Facebook