Waking up in the morning during the winter months can be really difficult. You may find yourself hitting the snooze button one too many times and sleeping in later than you had planned. We know what it's like waking up to freezing temperatures... after all, we are Canadian!
But waking up is just half of the battle. Sometimes you are faced with the challenge of making a healthy and hearty breakfast that will keep you full until lunchtime. By the time it's all said and done, you may find yourself constantly running late in the morning.
These colourful bowls are packed with flavour and loads of nutrients!
Fear not, we have a total game changer for you! These five-minute smoothie bowls are super easy and fast to whip up. These colourful bowls are packed with flavour and loads of nutrients that will keep you feeling fresh, awake and energized.
Your mornings just got easier. Grab a spoon and scoop up your new go-to staple!
1. Banana Mango Smoothie Bowl
Stay fuelled up until lunch with this healthy, smooth and scrumptious Banana Mango Smoothie Bowl. Topped with fresh blackberries, dried goji berries and chia seeds, this healthy and tasty bowl will leave you feeling revitalized.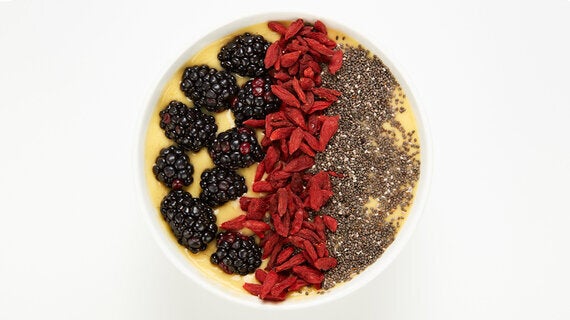 2. Banana Matcha Smoothie Bowl
Get bowled over by this healthy and hearty Banana Matcha Smoothie Bowl topped with raspberries, coconut and flax seeds. With a delectable blended base of sliced bananas, Greek yogurt, soy or unsweetened almond milk and matcha powder, this bowl is here to stay for the long haul!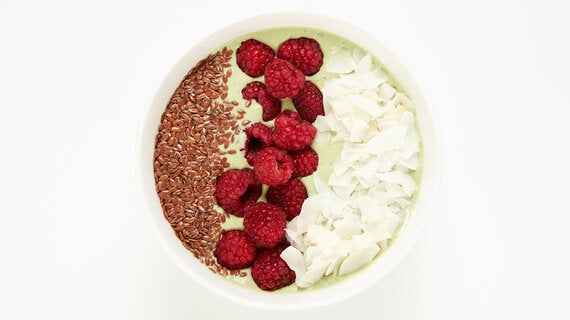 3. Healthy Berry Smoothie Bowl
You're five minutes away from the healthiest and easiest breakfast. Tthis mega-delicious Berry Smoothie Bowl is the berry best! Pomegranate juice, mixed berries, Greek yogurt and soy or unsweetened almond milk are blended until smooth perfection and topped with fresh chopped mint, pepitas, sliced bananas and toasted slivered almonds.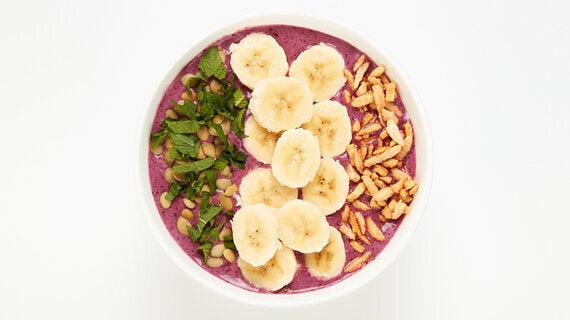 4. Raspberry Smoothie Bowl with Chocolate Chips
Make your breakfast fuss-free and fantastic with this Raspberry Smoothie Bowl recipe. Top it off with hemp seeds, coconut chips and scrumptious chocolate chips. This delicious smoothie bowl is the healthy treat your taste buds have been craving!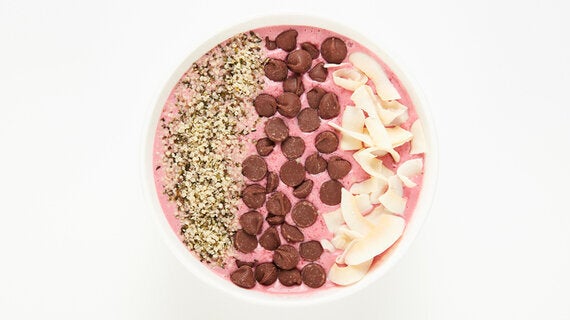 5. Super Strawberry Smoothie Bowl
Strawberry fields are forever, and so is this awesome Strawberry Smoothie Bowl recipe, a filling and fantastic way to start your day! With Greek yogurt, soy or unsweetened almond milk, strawberries and three delicious toppings, this bowl has the total yum-factor!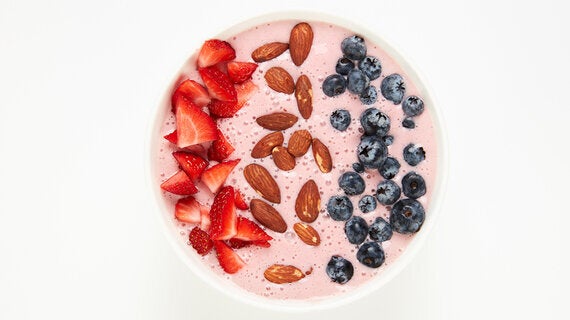 Follow HuffPost Canada Blogs on Facebook