We're so excited to officially say goodbye to winter we're whipping up these light and healthy recipes that celebrate the best of spring produce! Goodbye heavy stews and casseroles, hello light and fresh salads and savouries.
With the abundance of fresh fruits and vegetables available this season, we are embracing the bright and colourful options that await us at the market. Delicious and packed with flavour, we look forward to filling our carts with crisp asparagus, ripe avocado, sweet pineapple and leafy greens, to name a few.
So let's get cooking and dig in to these delicious spring-inspired dishes.
1. Honey Dijon Asparagus & Almonds
The fleshy green spears are easily enhanced with the addition of this honey Dijon vinaigrette, a light tangy dressing that perfectly balances the sweet with savory. To gussy things up even more, the tender-crisp stalks are sprinkled with lightly toasted almonds, providing a nutty crunch in every bite. Who knew that 6 inches growing out of the dirt could be so dignified?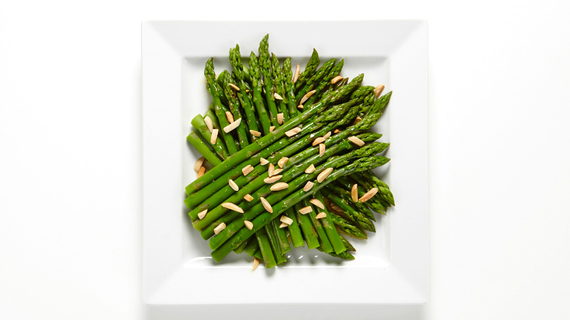 2. Asparagus & Edamame Orzo Salad
A small pasta gets huge flavor in this delicious, healthy and super simple Asparagus and Edamame Orzo Salad in which tender orzo is combined with crunchy asparagus, protein-packed edamame, intense sun-dried tomatoes, freshly grated Parmesan, basil and garlic.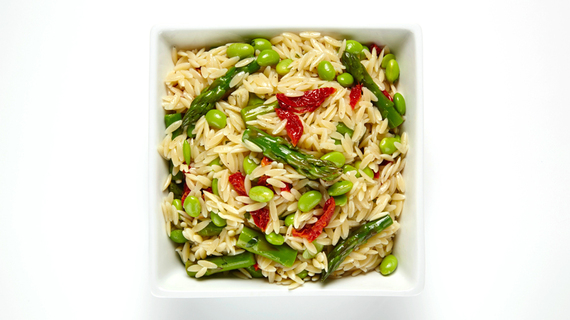 3. Fennel, Orange & Avocado Salad
Looking for the tastiest, freshest and best springtime salad? You've found it with this Fennel, Orange & Avocado Salad, a combination of peppery arugula, sweet oranges, crunchy fennel and creamy avocado, all topped with roasted pumpkin seeds and drizzled with a zesty honey lime dressing.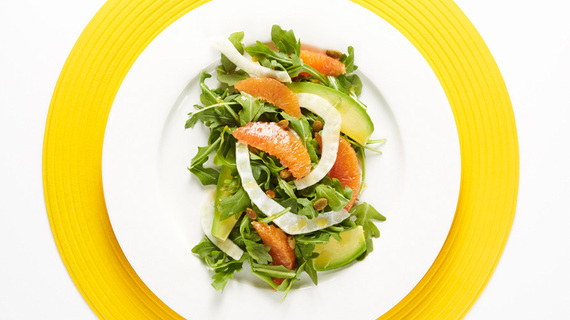 4. Green Goddess Quinoa Salad
When we're told to "think green," we immediately flash to this incredible Green Goddess Quinoa Salad recipe. Protein-packed quinoa, mixed with edamame and kale, is tossed in a creamy avocado and fresh herb dressing. Really, there is paradise in every bite of this fresh and fantastic salad.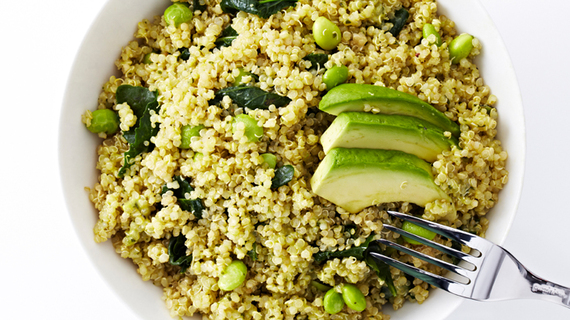 5. Vegetable Salad Rolls
Though these look intimidating, making your own salad rolls couldn't be easier. Grab this Vegetable Salad Roll recipe and get rolling because they make for a perfect healthy appetizer. Simply wet the rice paper in water, fill them with a combination of vegetables (or shrimp or chicken, if you prefer) and dip them in your homemade Thai Dipping Sauce.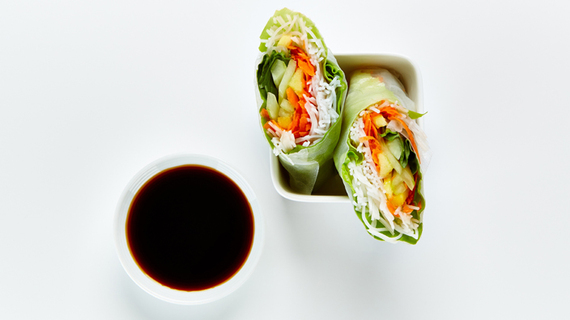 6. Couscous & Fresh Herb Stuffed Peppers
Get ready to stuff your face with these healthy, delicious and vegetarian Couscous & Herb Stuffed Peppers. Filled to the top with tender couscous, tangy Feta cheese, savory sun-dried tomatoes and fresh herbs, this meal-in-a-pepper is a perfect midweek meal!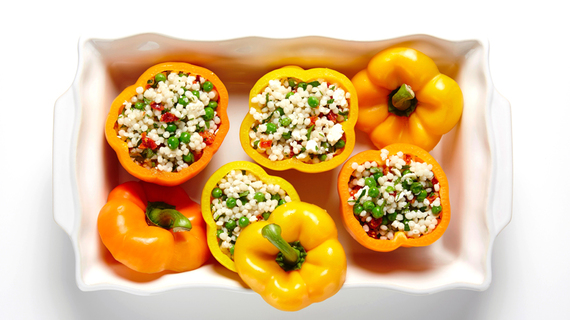 7. Sweet Balsamic Roasted Carrots
The best way to bring out the flavour of carrots? Roast them, especially like we do with these Sweet Balsamic Roasted Carrots, where they become not only tender but also caramelized.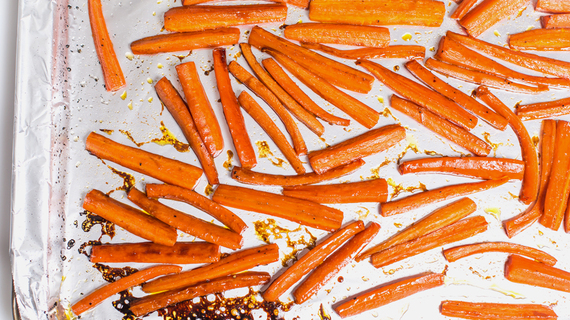 8. Jerk Cod with Pineapple Salsa and Coconut Rice
Time for some visualization -- hear the crashing surf, watch as the waves roll in, feel the sun warming you from your nose to your toes. What's missing? The taste of the tropics. You can head to Jamaica without leaving home with this tropical trio. One bite of our jerk-marinated cod, zesty pineapple salsa and creamy coconut rice and you'll instantly be transported to the hot sand, sun and surf.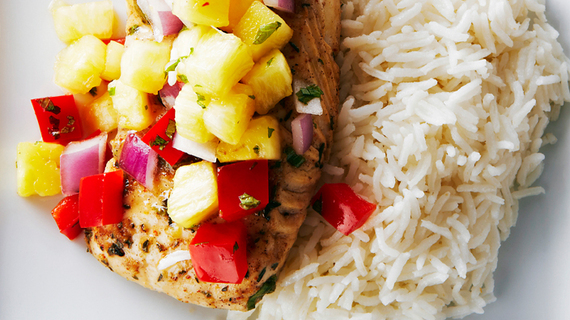 9. Kale, Spinach & Quinoa Salad
Looking for the champion in the Super Bowl of super foods? This Kale, Spinach and Quinoa Meal-in-a-Bowl is a winner, a green bowl full of super nutritious and delicious stuff (including mango and avocado), tossed in a zesty lemon shallot dressing and topped with spiced walnuts and creamy goat cheese. Get cooking and give new meaning to Power Lunch!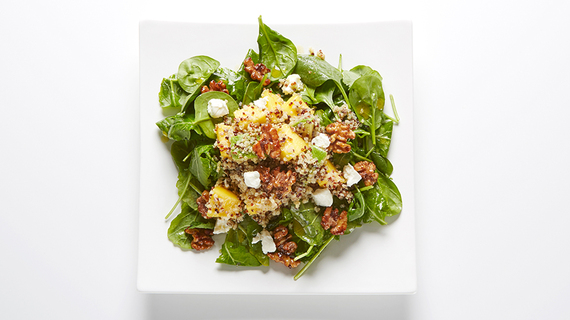 10. Potato, Spinach & Gruyere Frittata
When it comes to breakfast and eggs, some countries like to play the heavyweights. The French with their finicky Hollandaise and fussy soufflés. The Brits with their deep-fried Scotch eggs. So, what's the Italians' secret for La Dolce Uovo? The easy-going frittata: a thick, hearty, open-faced omelet that can be served at any temperature, eaten at any meal, and, best of all, filled with whatever you like. We love this combo, but also adore peas, feta and mint... red peppers, onions and goat cheese...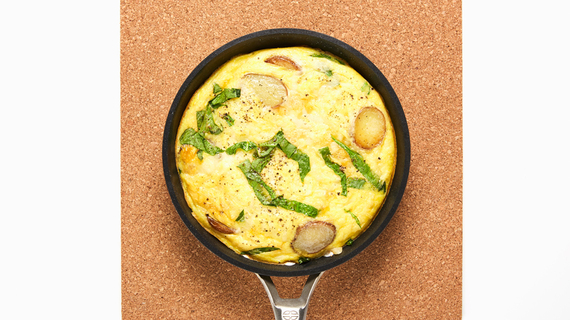 And for tips on spring cleaning your pantry, click HERE
Follow HuffPost Canada Blogs on Facebook
Also on HuffPost:
Spring Recipes To Eat Right Now