Vitalina via Getty Images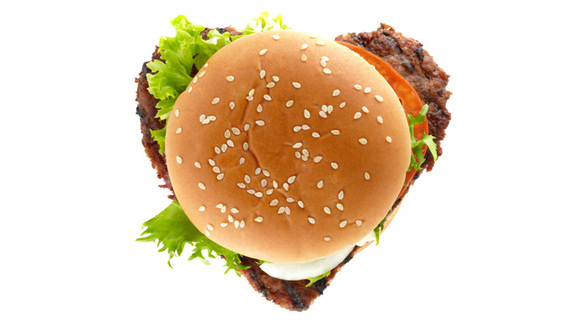 Looking for a cheesy summer romance? Burgers are the perfect example of a worldwide love story. Nearly every culture has their own interpretation of this famous staple and why shouldn't they?
There is something truly special about the combination of softly toasted buns, juicy meat, fresh vegetable toppings and lip-smacking sauces that make burgers quite irresistible. Over the years, many chefs have made it their mission to create their own meat patty masterpieces by adding unexpected ingredients, flavours and textures, elevating this originally humble meal into a 3 Michelin star experience!
We've been scouring the world wide web for the BEST party between buns and came up with this top 10 list of burgers for #NationalBurgerMonth. An explosive combination of mouth watering, unexpected and extravagant burgers is on its way; get ready for some serious stomach rumbling!
1. CHIPOTLE BURGERS WITH CREAMY COLESLAW
If you can stand the heat and want to get out of the kitchen, it's time to go outside and get grilling these fiery fantastic Chipotle Burgers. Infused with smoky chipotle peppers, adobo sauce and cumin, these tasty beef burgers are topped with a kickin' creamy coleslaw and a spicy special sauce. Yes Siree, spice up your life and bring on the heat with these easy and delicious Southwestern-style burgers!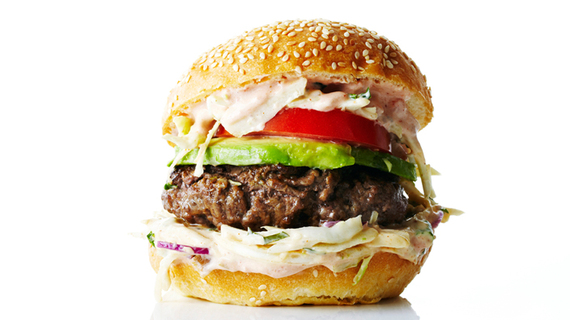 2. BLACKENED HARISSA HALIBUT BURGERS
One fish, two fish ... just kidding. This is all about halibut, capital H, the big guy in my opinion. Living in Vancouver, Canada and being spoiled with having salmon regularly, halibut is a treat for us. It's a thick meaty fish with some good flavour behind it that can hold it's own with other bold flavours. Since it can handle big flavour pairings I thought what could knock my socks off? Enter Blackened Harissa Halibut Burgers on a Brioche Bun with a Garlic Lemon Yogurt.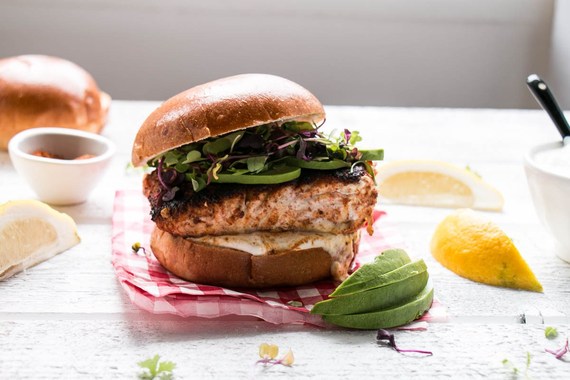 3. BRITISH-INSPIRED BBQ BEEF BURGER
The bacon jam cooked in a beef burger is the most perfect taste combination. The sweet and salty flavours of the jam infused the burger with flavours that made it one of the best burgers I think I've ever enjoyed. The toppings are based on the classic British dish - Welsh Rarebit - which features a cheddar/beer sauce and is often served over a fried egg and toast.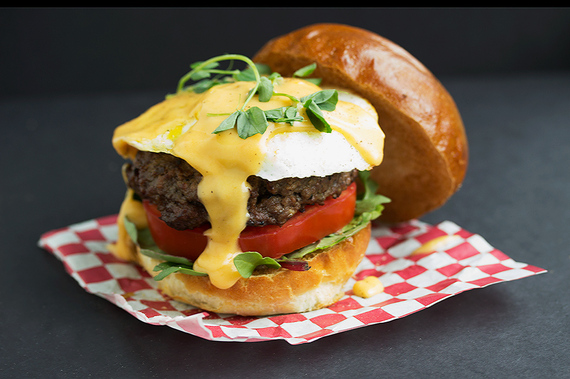 4. GRILLED ASIAN TUNA BURGER RECIPE
You don't care where the beef is and you don't want to talk turkey? Try this easy and delicious Asian Tuna Burger recipe - topped with a spicy wasabi mayonnaise, this tasty tuna burger will give you plenty to bite in to.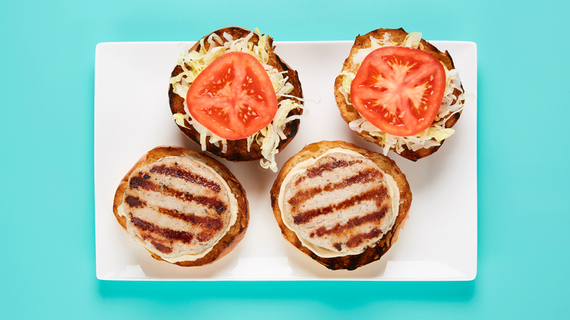 5. GRILLED PINEAPPLE AND SPICY SHRIMP BURGERS
It's a warm and sunny day today! These yummy seafood burgers are perfectly light and filling to enjoy on a patio at lunch time. I used sprouted ancient grain burger buns and they are GMO free and full of fibre. So if you're craving a burger but you are pescatarian (like me) and want something healthier, then give this a go. The grilled pineapple blends in perfectly with the spicy shrimp patties and it's quite wonderful.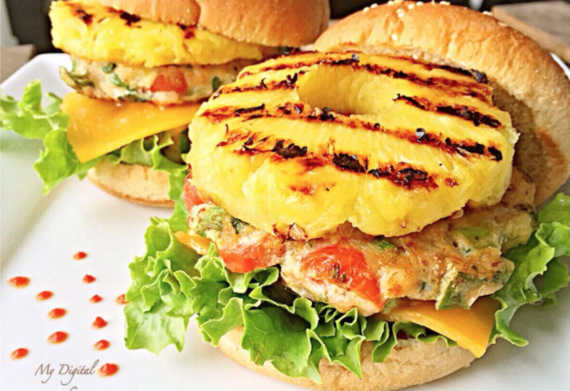 6. GRILLED ASIAN TURKEY BURGER WITH PEANUT SLAW RECIPE
Take a walk on the wild side and get ready to gobble up this hearty, healthy and delicious Grilled Asian Turkey Burger complete with Sriracha-spiced Peanut Slaw.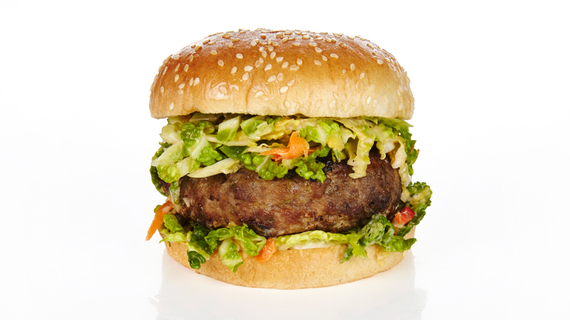 7. CHEDDAR ONION RING BURGERS
Everyone's definition of what makes up an exceptional burger will obviously differ, but for us it's pretty simple. It's all about balancing the richness of the meat and cheese with fresh and crisp toppings, along with a little something unexpected for good measure. In this case, we tossed onion rings into the mix, and a star was born!
This burger is great served with homemade fries and a cold glass of beer! We loved how crispy the onion rings turned out, and devoured them on set after we photographed them. Perks of the job, I suppose.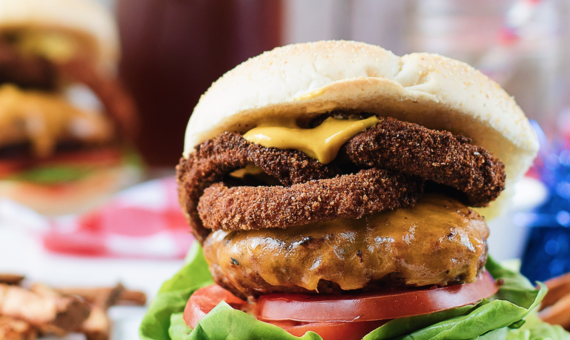 8. SALMON PATTIES (Gluten free)
These salmon patties are not picky about what they are served with. They make excellent salmon burgers paired with homemade whole wheat buns. If you must know, I ate these patties as salmon burgers before running my fastest half marathon, pretty much they are a power food! But most of the time I'm not carbo-loading, so we serve the patties over a fresh salad with either guac, chipotle quark, mango salsa, or all three! And maybe just maybe some sweet potato oven fries!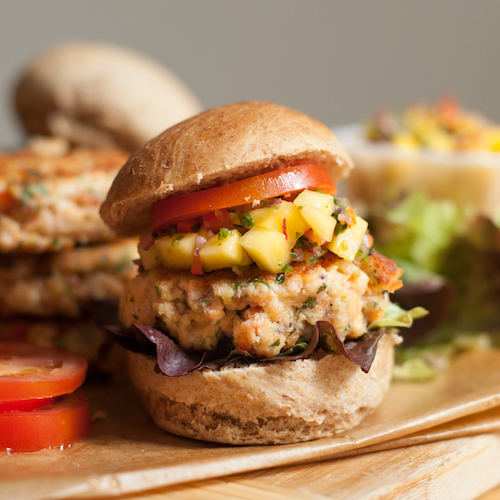 9. THE BLD (BREAKFAST, LUNCH & DINNER) BURGER RECIPE
Ok, folks. We know this behemoth burger won't win any nutritional awards but it scores big time for deliciousness. And hey, it's practical. For breakfast, it includes the rise-and-shine fried egg. For lunch, gooey grilled cheese sandwiches stand in for the boring bun, and, for dinner, we've got the lettuce and tomato salad. One burger, 3 meals covered.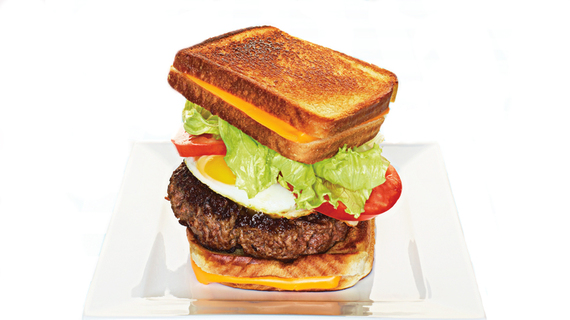 10. TACO CHICKEN BURGERS
I know, they are HUGE! This recipe makes six jumbo burgers that will satisfy even the hungriest appetite. For toppings, I added all my favourite taco ingredients like taco sauce, sour cream, guacamole, lettuce, tomatoes, cheese and pickled jalapenos. You might want to grab a fork for this one, friends!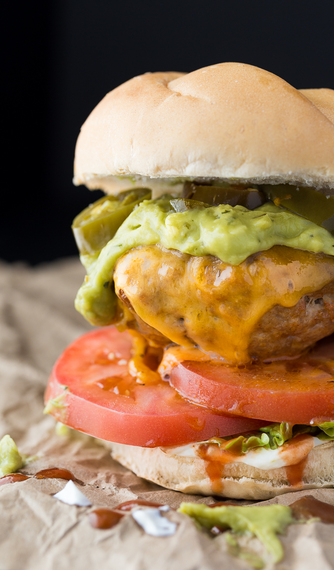 Follow HuffPost Canada Blogs on Facebook
Also on HuffPost: