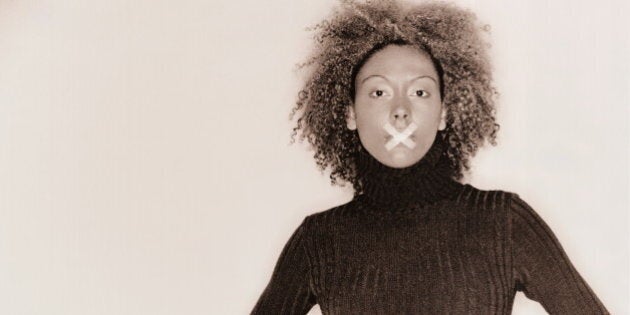 Last Saturday, we at Black Lives Matter - Toronto partnered with the Toronto Rape Crisis Centre to host the 35th annual Take Back the Night rally and march. We themed the events of the day #AllBlackLivesMatter. Some people have openly asked us on social media why we felt we needed to focus the day on black cis women, black trans women and black people across the gender spectrum and their experiences of sexualized and gender-based violence. A couple of events this past week made the reasons clear.
On September 21 at the Up for Debate federal leadership debate, Liberal Party Leader Justin Trudeau answered a question about why violence against women persists saying, "I think there's probably an awful lot of factors that come together to shape societal behaviours, whether it's certain types of music -- there's a lot of misogyny in certain types of music... And there's also the shifting parental roles, there's a lot of communities in which fathers are less present than they have been. There's a need to have more engaged positive role models." Mr. Trudeau was clearly referring to perceived cultural trends in black communities.
On September 23 in Ottawa, a mural honouring murdered black trans women was vandalized with a threat to the original artists painted atop the once-beautiful artwork.
Despite the Black Lives Matter movement focusing media attention on how violence affects black communities, the experiences of women and girls have not received the same sustained media attention and outcry as the experiences of men.
Black women are not affected only by violence. Sexism, cissexism, homophobia, transphobia and racism further compound the problem. Our interactions with police make it clear that our communities are always suspect, never innocent. Even this Saturday, shortly after our event started at the Scadding Court Community Centre, police officers arrived to patrol the perimeter. I personally witnessed police officers carding an individual outside our event. After taking a photo and asking the individual why they had been carded, the individual claimed that that the police officer "thought he was going to start smoking too close to the community centre." With this consistent assumption of guilt, is it any wonder that, for us, calling the police after experiencing sexualized and gender-based violence is an impossibility?
And our voices are routinely excluded from political and public discourse when strategies to combat these issues are being discussed. It's critical for us to make an intervention. We must be a central part of organizing against sexualized and gender-based violence if we are to be successful, and that's what Take Back the Night: #AllBlackLivesMatter embodied this year.
Violence against women is caused by systemic discrimination, patriarchy and inequality, not by "certain types of music" or single-parent homes in "certain communities." When Justin Trudeau made these claims, he was very clearly demonstrating how patriarchy and racism can and do come together to scapegoat the black community, absolving actual perpetrators of their responsibility to not be violent.
He was also absolving himself of any responsibility as a government official to implement policies to change the culture of our society that permits these acts to occur. But don't get it twisted -- our efforts to change sexualized and gender-based violence must focus on the men who commit these acts and a culture that supports it, not hip-hop music and single-parent homes.
The reality is that governmental policy and laws support violence against women. Very rarely are victims of gender-based violence able to obtain justice through the courts. The law is very rarely on our side. Mr. Trudeau's statement says to us that black victims of gender-based violence are not worthy of safety, not worthy of living, because it's our fault.
We reject that. It has never been our fault, and this burden is also yours to bear, Mr. Trudeau.
Oftentimes women are told to avoid the night in order to keep our bodies safe, as though it is our responsibility to ensure that potential perpetrators are not tempted to violate our bodies by restricting our own movements. We rejected that message when we marched down King Street (a popular clubbing destination) on a Saturday night, proclaiming "Black lives matter," "We will win" and "Say her name."
We also created the kind of space that we want our communities to turn into at the community fair that preceded our rally. We made our survival stories visible. We showed the cowardly transphobic mural defacers, our communities and the policy makers that each one of us in society has a responsibility to end gender-based violence. We have been failing survivors, particularly those of us in the margins. We must come together and fight to end the way our communities are marginalized.
-Sandy Hudson, Black Lives Matter Toronto Organizer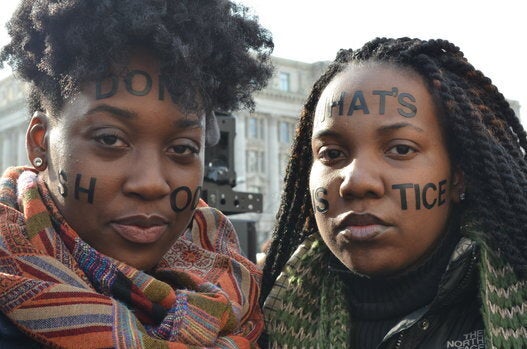 "Black Lives Matter" March