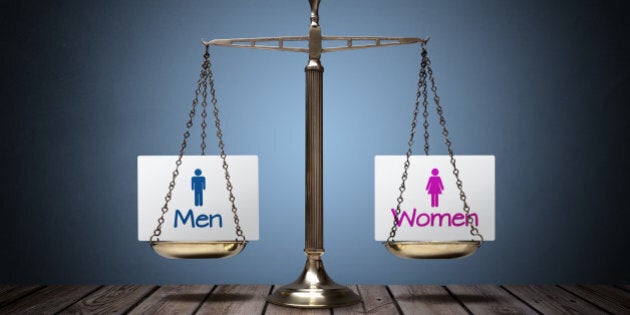 What beats gender parity? Gender dominance. And it's busting out in some telling places.
Last month, media reported that women will outnumber men on what could turn out to be the most influential group of people around Prime Minister Justin Trudeau and Finance Minister Bill Morneau.
Also last month, a Royal Brunei Airlines Boeing 787, with an all-female flight crew, landed in Riyad, Saudia Arabia, a country where women aren't allowed to drive.
Who knows: the push for gender parity could soon have women actually dominating the corridors of power.
Meanwhile, down in the trenches of gender politics, pity the poor male lab rat. (As in, the actual rodent.)
He was pretty much guaranteed a job in the world of medical research. Salary was zero; working conditions, dire. But at least he had work, which is more than you can say for female lab rats who were systematically excluded from taking part in mouse studies because they were highly hormonal and could skew the test results.
Then in October of last year, the National Institutes of Health, who give out $32.3 billion (yes, billion) each year to fund medical research in the U.S., decreed that all experiments using lab rats had to have gender parity: now, 50 per cent of the rats have to be female and 50 per cent male.
Or you'd better have a darn good explanation why not, echoing the Ontario Securities Commission's "comply or explain" regime to shame public company management into at least pretending to try to reach gender parity on their board. I say "pretending" because of the 243 companies listed on the S&P/TSX, 75 of them still don't have one woman on their boards. Not one.
While women hold only 23 per cent of STEM jobs in Canada, the University of British Columbia engineering department has set a 50 per cent female enrollment target within the next five years.
If these trends continue, it will be odd but bracing to hear men scream for gender parity as women form the majority and more in traditionally all-male and mainly male positions.
Maybe some day more than half of all fire fighters, investment bankers, Internet executives, pro sports owners, priests, five-star chefs, orchestra conductors, bank CEOs, commercial pilots, Supreme Court Justices, construction workers, Nobel Prize winners and Navy SEALS will be women.
And maybe some day more than half of all bank tellers, librarians, airline hosts, Uber drivers, receptionists, fast-food workers, kindergarten teachers, social workers, registered nurses and midwives will be men. (The only question is, will they be called "mid-husbands?")
The stereotypical argument against gender parity for women is that there just aren't enough of them who are qualified to do X. The stereotypical argument against gender parity for men is the opposite: that "women's work" isn't as attractive or well-paying.
But the prejudices and economics that propped up both those arguments are falling fast as gender dominance gains momentum and makes gender parity table stakes for the most sought-after jobs and titles in the land.
If Canada's Federal Cabinet can suddenly leap to 50-50 parity because our prime minister snapped his fingers and said "Because it's 2015," and in the five months since then, if gender parity has leaped from a delusion (pleasing or threatening, depending on your view), to a general assumption, think what gender dominance for women will come to mean when a future leader of our country says: "Because it's 2025."
Follow HuffPost Canada Blogs on Facebook