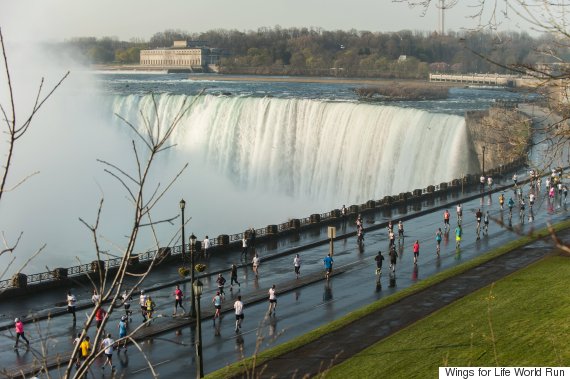 It appeared as a dot in the distance at first. A faraway target to aim for. Then, with each passing kilometre, the round, white roof of the First Ontario Centre in downtown Hamilton grew larger.
The closer I got to the end of the historic Around the Bay 30km race in the blue collar Southern Ontario city known for its steel factories and hard-nosed football fans, the more my heart raced.
I was exhausted, but I was doing it. I was actually going to complete a 30km running race. As I ran down the access ramp and toward the finishing line directly in the centre of a 17,000-seat arena, I was reminded about how much of a community running is.
There were thousands of people cheering. They were cheering for me. They were cheering for those who finished before me and after me. And they would continue cheering until the last runner crossed that line.
I've tried plenty of sports in my lifetime, but it seems like none come close to the inclusiveness and support provided to runners of all ages, abilities and genders.
Of course, it wasn't always like that.
Prior to 1972, women weren't allowed to race the Boston Marathon. Kathryn Switzer made international headlines five years earlier when she entered the race as K.V. Switzer, avoided an organizer trying to physically remove her from the race and became the first woman to complete it.
Jogging and running exploded in popularity in the 1970s and 80s, but that pales in comparison to the rise of the sport seen over the past 15 to 20 years.
Even those who may not feel comfortable enough to enter a race have a running community waiting to welcome them.
The rise of things like colour runs, mud runs, obstacle course runs and traditional races from five to 100 kilometres or more means there's an event for everyone. Women now typically make up 50 per cent or more of the field in any given event and runners of all skill levels are made to feel welcome and included.
But even those who may not feel comfortable enough to enter a race have a running community waiting to welcome them. There are running stores in every major Canadian city and nearly all of them have evening and weekend group runs available.
So, why run? What are the benefits? Maybe you've heard that running is hard on the knees or that races are expensive to enter.
As Dan Way wrote in his 2013 Canadian Running article "This is your brain on running":
"Few would argue with the endless amount of physical health and fitness benefits (running) affords. Running strengthens our muscles, bones and joints and provides strength and endurance to our heart and lungs. It boosts our metabolism, regulates appetite, and helps control our body weight and composition. Running also decreases our blood pressure and resting heart rate, leading to improved cardiovascular fitness. Running pretty much benefits every part of the body."
But as the article pointed out, running is also hugely beneficial to mental health. The runner's high is actually a thing. The mental boost you get from running has been compared to the high from smoking cannabis. So not only does running help shave pounds and inches, it also makes you a more pleasant person to be around.
What's more, while the price of entering a race is certainly increasing, so too are the number of events that give back to important charitable work.
Coming up on Sunday, May 8, the Wings for Life World Run will be held in Niagara Falls and 35 other locations around the world.
The unique event will see more than 100,000 people simultaneously leave start lines across the globe, and then try to outrun catcher cars with timing equipment on them. Runners are competing against others in their own country, but also against the international field.
It's truly about personal bests, and running in a way that is right for you.
More importantly, though, this race is a great example of the growing inclusivity of running events today, and shows progress for where these events might head in the future. There is no fixed finish line (see above about catcher cars!) for the race, which invites runners of any level, whether wanting to run their first 5k or set a record and run 79 kilometres like the global winner Lemawork Ketema did last year. It's truly about personal bests, and running in a way that is right for you.
This event in particular is a massive fundraiser for spinal cord injury research through the Wings for Life Foundation. Every cent of the registration fee goes directly to research, and in its first two years, the event has raised around $10 million for the cause.
Whether the motivation is fitness, mental health, being part of a community or supporting a great cause, everyone has something to gain from a sport as simple as putting one foot in front of the other.
FIVE TIPS FOR THE NEW RUNNER
1. Walk before you run
If running for 20 or 30 minutes is intimidating, start out by adding a minute or two of running into your walks. As your fitness and confidence improves, slowly increase the running time.
2. Get the right shoes
Discount shorts or shirts are fine, but trying to be frugal in your shoe purchases is a recipe for disaster. Visit a local running or sporting goods store and work with a knowledgeable salesperson who will get you into the right shoes for you.
3. Pick a target
Running just for running is still a good idea. But setting a goal for yourself -- like entering your first 5km race -- can be the motivator to keep you training.
4. Run with others
Running on your own is important, but adding in group runs will push you to run faster and farther. Even fast runners benefit from running with people stronger than them.
5. Be safe
If you're running in poor weather or as the sun sets, wearing reflective clothing and lights is extremely important. Run against traffic and always be aware of your surroundings.
Follow HuffPost Canada Blogs on Facebook
MORE ON HUFFPOST: