The NHL patted itself on the back for suspending Andrew Shaw on April 20th, 2016. They drew a firm line in the sand that slurs are not to be used during an NHL game. Bravo hypocrites.
Colin Campbell, the supposed hero of the story, deemed that the player wearing a jersey with a native mascot, in a building where 20,000 people wore a native mascot and cheered for a subhuman depiction of victims of genocide, was guilty of an anti-gay slur three times after getting a penalty.
The leader of the outrage was Chris Hine, a gay sportswriter for the Chicago Tribune, and Blackhawks beat reporter. Mr. Hine was interviewed by the Tim and Sid radio/TV on Sportsnet in Canada. The obliviousness of this silver-spoon graduate of Notre Dame was remarkable.
I listened to his interview on Sportsnet Fan 590 on Wednesday several times. I agree with everything he said. I just cannot believe that he is unaware of his hypocrisy. Below are excerpts from Chris Hine's interview, forgive me if I transcribed imperfectly.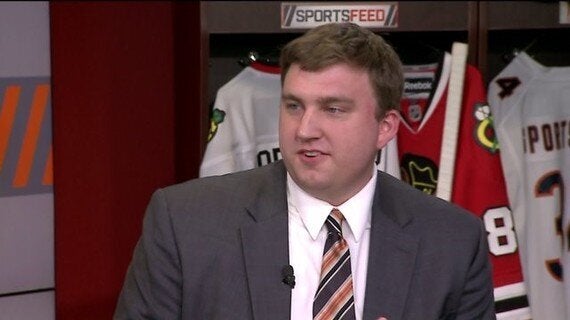 "I thought about what the word is meant to me in my life."
[Hine is a sports reporter for the Chicago Blackhawks, which pay tribute to a captured Native American leader by featuring a scientific racism inspired Neanderthal characterization of the person.]
"I don't think that he is the type of guy who is malicious in his choice of words."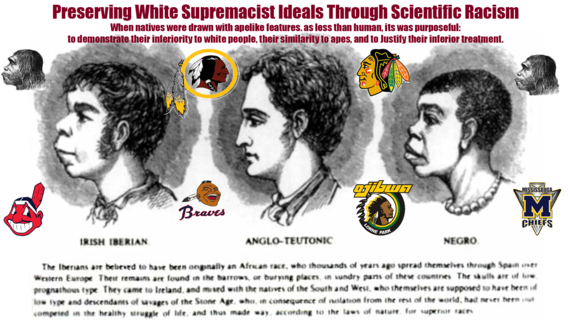 "It should be a suspend-able offence. If you are caught using this word... then you will be suspended."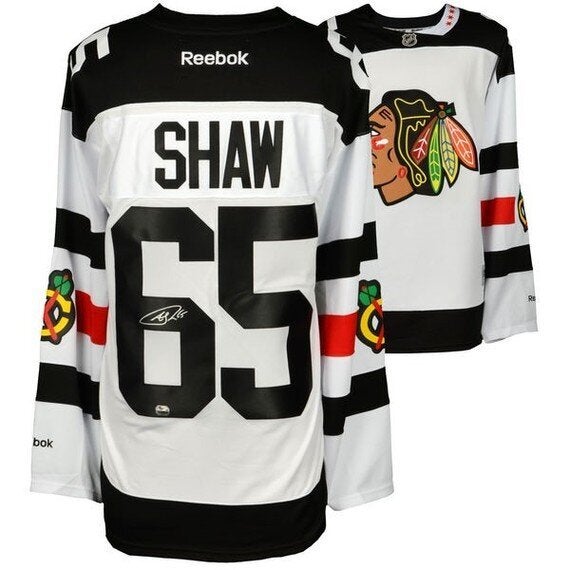 The Andrew Shaw Jersey featuring a subhuman Native American characterization is a hot item on NHL.com.
"It's not just a word because it is used to denigrate, it's used to degrade, it's used to demean, it's used to make someone feel like they are lesser than a whole human being. It's used to put someone down."

"The word itself... when gay men and lesbian peer people use that word it really causes feeling of depression and anxiety, it can lead to suicidal thoughts, especially among gay athletes."

"If you are a gay athlete and you hear your teammates using this type of word, the people who you spend so much of your life, it is going to affect you, you are not going to feel comfortable in your own skin around people that use this word."

"So that's why this word is not just a word, it's not just another four letter word, it carries a deeper more emotional impact than that, and I think Andrew Shaw realizes that now."

What Hine failed to realize is that he is horrified by a slur against his sexual orientation while celebrating and profiting from a slur against another ethnic group. Like the NHL, he has said that all slurs are unacceptable in public life, except for those against native Americans. And while he demands equality of fair treatment for himself, he does so while denigrating those who are less fortunate and more vulnerable than himself. Hine is a champion of his own human rights, not of others.
Like me, Hine's membership as a minority is only visible by his choice to reveal his membership. But others suffer far more than we do for discrimination that they cannot choose to avoid. Hine did not seem to be aware of the major impetus for the ending of ethnic slurs in hockey.
In December 2005, in the Quebec Major Junior Hockey League a native coach and former NHL coach Ted Nolan was harassed to near submission. Hine did not recognize that the acceptance of the Andrew Shaw suspension is a result of gradual enforcement of discriminatory conduct that began with the QMJHL's and then Hockey Canada's incomplete response to the Ted Nolan Incident.
He did not allude that the banned ethnic slurs that are not acceptable on the ice in Hockey Canada events continue to be acceptable to Canada's indigenous on sweaters and on arena walls. Hine was oblivious to my pursuit of justice in Ontario, forcing the City of Mississauga to live up to its commitment to its own human rights code, and to stop subsidizing and supporting organizations that perpetuate hatred against indigenous Canadians.
He did not know that a publicly funded institution, George Brown College, refused to apologize for discriminating against its indigenous students when it advertised a Washington Football Game. Instead, the George Brown executive chose to await the acceptance of a complaint in the in the Human Rights Tribunal of Ontario. I think they created a hostile environment for aboriginal students, staff, and taxpayers and we will find out if I am correct (thank you).
He does not appreciate that while gay slurs are identified by the Canadian Broadcasting Standards Council, Redskins is OK since it "evokes positive images of first nations people." Yet, I cannot mention the word F****t without blurring the word.
He did not contemplate that native slurs are a daily reminder of unequal treatment for native children in schools across the continent, visible on clothing and school walls.
Hine did not recognize that mascots perpetuate a culture of racism that are reflected in the suicide crisis in multiple native reserves in Canada. Hine did not connect mascot racism with the 1200 Missing and Murdered Aboriginal Women in Canada and the U.S. whose murders are unsolved. Further, he did not comment on the horror that continues to exist in residential schools in the U.S., run by the Catholic Church, committed to continuing the task of cultural genocide against the Indigenous.
No, Hine did not acknowledge this, but appeared as an expert on human rights despite making his living off hatred. He wants us to rightly scold one individual while ignoring the same mistake that he and 20 000 Chicago Blackhawks' fans make at every game. He refuses to acknowledge the damage to indigenous populations contributed to by mascots while being horrified at a single word. Shouldn't both abuses be stopped?
So the next time Jordan Tootoo, Jordan Nolan, Kyle Chipcuraa, TJ Oshie, and Carey Price come to town, maybe he should not think of what it was like to watch Andrew Shaw, and imagine what it must be like for native players in the United Stadium. And Hine should thank God that nobody from the Blackhawks ever suggested that Andrew Shaw was honouring gay hockey players.
Follow HuffPost Canada Blogs on Facebook