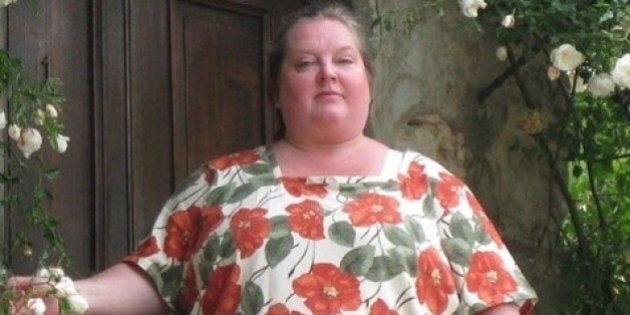 Brazen Woman is a community for women over 35 that encourages women to focus on themselves beyond their other life roles. When we heard about a woman who saved her own life by putting herself first, we felt compelled to share it.
While it may seem trite to say, Cathy is proving to be an inspiration to us editors, to our community, and to many, many others. If you've ever thought it was just too late, read this story. If you ever thought there was no time, read it. If you were ever afraid to do what you know you needed to do, then read it. If you need a dose of positivity, then definitely read Cathy's story.
All it took was a quick look around and I found it was always the case. There was no getting around it. I was the fattest person in the room.
It took 30 long years of ignoring myself, my health and my well-being to tip the scale over three hundred pounds. As my fifty-second birthday approached, I could barely hoist myself out of a chair. I was eating myself to death, just one super-sized meal away from complete despair.
I knew that somewhere in that mass of fat, I was buried. But to fix something, you have to first identify the problem. Here, fat wasn't the problem, it was just the result of the problem. So I took a look at my life. Every day was a non-stop blur of client projects, family obligations and daily chores, with not one moment of one day reserved for me. There was no me left in my life. And it had all come about by choice -- poor choices made over and over as an excuse to not take care of myself.
I was the fattest person in the room, and then one day, I finally had enough of being my last priority. Armed with the basic nutritional understanding of a five year old -- if food tasted good I would eat it -- I began educating myself about good eating habits. It was step one in digging myself out.
A nutritionist explained how my body used food as fuel, and crafted a meal plan strategy. Weekly meetings kept me on target and accountable. I learned about proteins and carbohydrates and how the sugar and processed foods I had been dumping into my body were derailing any hope I had to lose weight. A dietitian helped me understand portion control. Apparently, I had been eating enough to feed a family a four. Now I began tracking my food intake, choosing food mindfully instead of just accepting the non-stop buffet I ate my way through each day.
I ditched sugar, alcohol and fast carbs and filled the fridge with lean meats and fresh veggies. The plan was working. Soon, 20 pounds gone, 40 pounds gone, then 50 -- and then pain set in. Although I had become used to the pain in my knees and feet from carrying so much fat, this was a new kind of pain. My ribs ached, my back hurt, sharp stabbing pain took my breath away. The doctor thought it was a sprained back and I left the clinic with a prescription for three medications: a pain killer, a muscle relaxer and something to help me sleep. But I knew I couldn't have sprained anything. I had not burned more than a hundred calories exercising in the past five years combined.
An osteopath made the diagnosis and it was a shocker: My fat had actually displaced my internal organs. With zippity-do-dah muscle mass to support my core and less fat too, my organs were shifting, which was causing the excruciating pain. I was horrified to realize what I had done to myself. The prescription now was not drugs. It was exercise, and in stepped a kinesthesiologist to help.
If I thought I was in pain before I met Robert Roy, the first few sessions with him set a new threshold for agony. This really was a new kind of pain, though. It was my muscles waking up after so many years.
After I could sit in a chair and stand without the aid of my hands, it was treadmill time. I began walking and doing simple exercises and a few months later, I started to feel something new again: strength. Now I could walk at a fairly brisk pace for a full minute without feeling as if my lungs were on fire.
Short term goals were set and met. Long term goals were mapped out. I walked a 5K course, and eventually I ran a 5K race. A friend completed a Spartan Sprint and I added that to the bucket list.
As I continued to lose weight and get stronger, I no longer had a to-do list full of other people's priorities. I now had personal goals that were all about me. I was losing weight with purpose, so that I could run, jump, play and enjoy my life. The goal was not just to fit into a pair a skinny jeans. Being active was becoming fun. I was in my fifties, and I was just now learning how to play.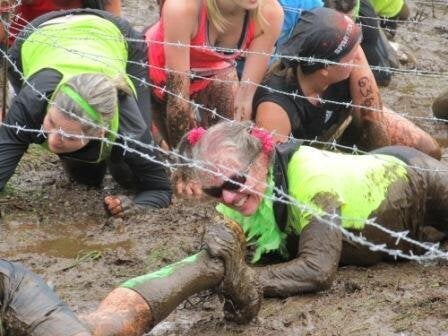 Family, friends, neighbours and even complete strangers joined the effort. We crawled through mud together, we jumped through fire, we ran up mountains, we biked, we hiked, we swam, we ran -- and with every step forward, I left a little fat behind.
Over the next few years, the 5K races morphed into 10K races, which led to half-marathons. Running was freedom. A half-Ironman became the goal for 2015: a 1.9K swim, followed by a 90K bike, and then a 21.1K run. Time limit 8.5 hours. I had crossed many finish lines on my way to health and fitness, but this would be a challenge. It was big, it was scary. While I was all gung-ho to all who asked, I secretly wondered, 'could the once fattest person in the room actually finish a half-Ironman...?'
Swim, bike, run, strength train, repeat. Almost a year of focused training later, it was race day. The air was electric, and an amazing group of people that had pushed, pulled and paced me from fat to fit cheered themselves silly creating a network of support for 70.3 miles. I crossed the Mont Tremblant 70.3 Ironman finish line in just over 7.5 hours. At 145 pounds, I weighed 170 pounds less than when I began my journey four years ago. I was no longer the fattest person in the room but I was definitely the happiest.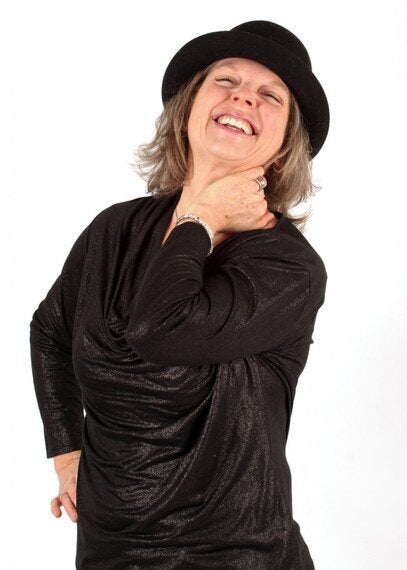 By making myself a priority, I uncovered what was buried beneath the fat: a happy, healthy, strong, fit version of me. But, surprisingly, it is not the weight I lost that changed my life. It is the life I gained during the journey and what I discovered about myself along the way that made the difference.
Life is all about choices. Being fat is hard. Being healthy and fit is hard -- we choose our hard. I have chosen mine. And I intend to run, dance, laugh and cartwheel my way into the future. I know I can't change my yesterdays, but I can change my tomorrows, one good choice at a time.
Cathy Bergman lives with her husband in Brebeuf, Quebec, an adorable village just outside of Mont Tremblant, with a population of just over 1,000. When she is not crawling through mud, jumping though fire or trying to set a new personal best on a run, Cathy is a management consultant. Her favourite colour is pink.