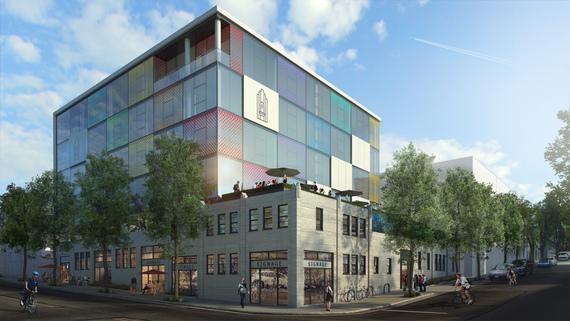 If you were to walk around the Vancouver neighbourhood of Mount Pleasant, you would notice the plethora of new businesses - an eclectic and vibrant mix of craft breweries, coffee roasters, clothing manufacturers, video game creators and digital media companies. But what these new creative businesses represent is a new kind of industry, one that is going to redefine how we design and live in our city.
Back in the 40s, Mount Pleasant was the industrial heartland of the city, home to heavy industry, trucks and toxic fumes. There are a few relics of that era left, but they are quickly disappearing or moving to other parts of the Lower Mainland, leaving Mount Pleasant as a new hub for creative, intellectual manufacturing.
This is a massive transformation, but it's not just happening in Vancouver. Other cities across North America - San Francisco, New York, Toronto - are witnessing a similar return of urban manufacturing to their inner cities, redefining industrial real estate development. But in Mount Pleasant, it's happening now and it's happening fast. So it makes a great case study in how we define industrial and what it means that old school industry is giving way to a new, creative, intellectual industry.
Here, the resurgence of locally made products as well as a vibrant new community of like-minded businesses has everyone rushing to set up shop. That's because in this neighborhood, we really are re-imagining industry. We are revitalizing and redeveloping older, obsolete, industrial buildings that once housed chrome plating plants and welding shops and transforming them for modern times, adding density, jobs and a diversity of businesses.
Economic diversity is important to the city's vitality and resilience. When things are made locally, there's a sense of civic pride, quality, a special tie to products made close to home. We are not losing industry - it's just changing and we need to adapt. Here's an example. The former Hudson Plating site, contaminated from 50 years of operating heavy manufacturing equipment and currently employing 20 people, is now being revitalized, re-imagined, cleaned up and will soon be home to a new building occupied by over 350 people. That's a new gain of over 330 jobs.
In Vancouver, people are often bemoaning the lack and disappearance of industrial land. But one solution is to re-imagine old industrial buildings into new industrial product. To take older, lower density buildings and turn them into business hubs. It's not the only solution. There are many other things that need to happen to protect the industrial jobs that remain key to the regional economy. But projects like Lightworks and what will emerge at the old Hudson Plating site are examples of how industry is changing and how cities can best adapt and address the needs of the new creative class.
Whenever there are changes, there are the stalwarts who resist change. The City of Vancouver is recognizing the need for changing definitions of industrial uses by applying amendments to zoning in Mount Pleasant that redefine digital and high tech operations as allowable industrial activity. This has some critics concerned these are not "real" industries. Who says?
What defines industrial use today? Is a computer designer manufacturing a product industrial? Is a video game producer? Today, the value add proposition for businesses is being done not by hand, but intellectually, with our minds. This change will only accelerate as new technologies emerge.
DHX Media COO Ace Fipke recently told The Globe and Mail he has moved to Mount Pleasant to be in the city's new creative-tech hub. The area, he says, is great for employees, close to transit and bike routes. Close to downtown but not in it. Offering great breweries and cafes. His argument? The company is manufacturing intellectual property. His is not a traditional office. He needs sound stages, mixing theatres, editing suites and more. "You could almost call it an industrial pipeline," he said.
Today's industry is about sharing knowledge, creativity and manufacturing technology rather than just resources. There's a sense of optimism and revival and an excitement about the possibilities that the companies in Mount Pleasant share. And the neighborhood has become a showcase of the new urban model now emerging, in what Harvard Business Review has called "innovation districts" or "geographic areas where leading-edge anchor institutions and companies cluster and connect with start-ups, business incubators and accelerators. Compact, transit-accessible and technically-wired, innovation districts foster open collaboration, grow talent and offer mixed-used housing, office and retail."
That's what is happening today in Mount Pleasant and it's cause for celebration and introspection. The future is right here. What's old is new again. Manufacturing is being redefined and jobs are returning to the urban cores of cities across Canada and the US. Rather than fight it and be stuck in the old paradigm of industrial manufacturing, we need to embrace it and repurpose our traditional industrial areas to become hubs where innovation and enterprise can be shared, where jobs are created and where people live.