Vancouver has become an international rock star in public art. Pieces like the Trans-Am Totem in the Olympic Village and the Granville Island Silos have become destinations and conversation starters for locals and tourists. And just last week, the city hosted the first-ever Vancouver Mural Festival along Main Street to great acclaim and popularity.
The Vancouver Biennale has brought in a wide range of temporary and permanent public art installations, like the beans along the False Creek seawall and the golden laughing statues in English Bay. The scene here has been noticed internationally, with three pieces making it onto this U.K. newspaper's roundup of standout urban art, alongside cities like Berlin, Chicago and Istanbul.
Developers have played a small role in this burgeoning art movement through civic mandates to include public art in their developments. Known in the industry as CACs (community amenity contributions), this municipal program has led to a rotating, thought-provoking, biannual series of art installations outside the Shangri-La, curated by the Vancouver Art Gallery. It's also led to public art tours at Fairmont Pacific Rim's extensive and impressive collection. These efforts have put local development company, Westbank, in a whole new category of commitment to public art.
But what if developers took it upon themselves to voluntarily incorporate and commission more public art into the design of their buildings? That's what PC Urban decided to do as an experiment at this new industrial development along SW Marine Drive and at this new upcoming office building in Mount Pleasant.
According to Jan Ballard, a fine art consultant working on more than 30 real estate public art projects in the city, this is the first time a developer has initiated a voluntary public art commitment. "Some developers will add money to their public art components, but I've never worked with a company that didn't have a mandate."
PC Urban's voluntary process included hiring a selection committee to run a shortlist where for each development, 25 artists were considered and three were chosen and paid to provide a concept proposal. The result will be two public art installations on commercial buildings that promise to enhance the streetscape, making it more memorable and engaging.
The idea to do something with public art outside of the city's mandated program evolved from the company's experience in North Vancouver on a development where public art was a building requirement. What we initially thought of as a tax, a necessary part of doing business turned into something totally unexpected. As we got more involved in the process of selection and curation and when the artist finished, the end result was so engaging and spectacular, I realized that adding public art voluntarily -- especially to industrial and office buildings - would create a more memorable experience for passersby and building users.
Essentially, all developers want to deliver an experience that engages people through buildings. We don't want to create buildings that are sterile antiseptic and forgettable. It's our responsibility to the growth and future of the city to create public spaces that are destinations; places you want to spend time. As Maya Angelou once said: "It's not what you do. It's not what you say. It's how you make people feel." I believe it's not what we build. It's not how we design. It's the experience we leave people with.
Mark Ashby, the artist behind Boids, the upcoming public art installation at IntraUrban on SW Marine Drive, says he tries hard to keep the art open-ended in meaning. "I want to create an impactful visual experience, something eye catching, that people will notice and enjoy."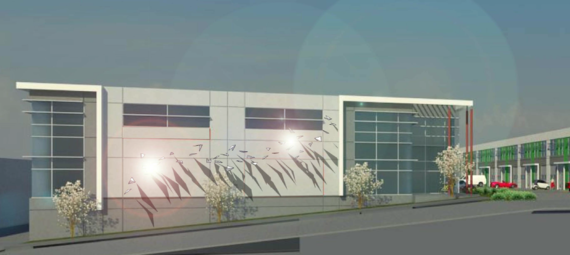 Boids, Ashby's 3D metal chevrons resembling birds in flight, will transform a non-descript, industrial, concrete wall into something vibrant and cool. Made from stainless steel sheet metal, the birds will reflect morning sunlight, cascade rainwater and cast shadows differently during the day. It will be a constantly changing view, one designed to make people think about flight as a metaphor for the small business owners inhabiting the space. "It captures the tenuousness of the entrepreneurial experience, as well as the exuberance of freedom," says Ashby.
Rebecca Bayer, an artist who works on public art installations around the Lower Mainland, is currently working on Giant, a very large, white, pixelated, half-tone tree, to be visible on the window of a new building in Mount Pleasant. Her piece, she says, honours the history of the site, formerly home to giant Douglas Firs, and will be the height of a 75-year-old tree, the same age as the existing building.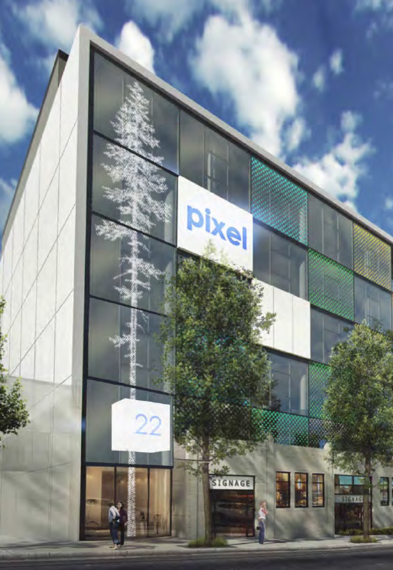 "Public art in Mount Pleasant has the power to mitigate the change between one era and the next. It allows for different voices to be heard," she says."It's important for the city to have creativity as part of its infrastructure. It adds layers of interest and makes people more curious about their surroundings, the history of place and the potential of place. That awareness can really enhance people's lives."
Public art on industrial and commercial buildings creates community and adds to the experience of a vibrant urban space. Many developers are passionate investors in art. The Audain family and Bob Rennie are just two examples. But according to Ballard, it's unprecedented for a Vancouver developer to voluntarily invest in public art. It's time to change that and to start embracing art as an essential element in building design.
Follow HuffPost Canada Blogs on Facebook