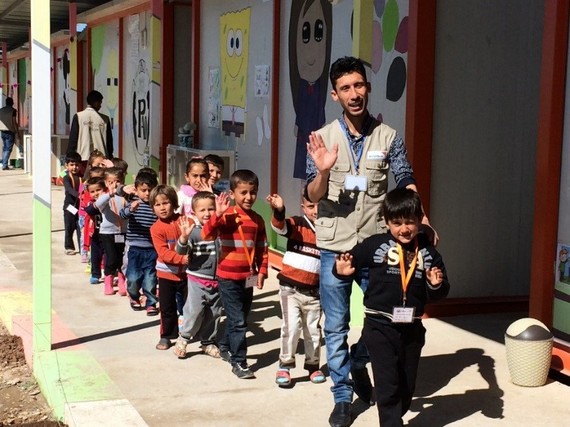 This child-friendly space provides a safe place for children to play and learn, after the horrors of war. All Photos by Brett Tarver, at the Bersive camp for internally displaced people in the Kurdish region of Iraq.
The playground was full of energy. Kids were laughing, running, skipping and talking in loud, excited voices. For just a second it felt like I was picking up my own daughters after school. I half expected to see them run smiling towards me, shouting out the day's highlights or showing their newly perfected handstands.
It felt so...normal. But the lives of children in this camp for internally displaced people have been anything but. These children have fled the conflict and violence of war, leaving behind all that they've known to face an uncertain future. Their lives are intact, in this tent city in the Kurdish region of Iraq. But their bodies and minds remain at serious risk.
Safety through education
At the World Humanitarian Summit in Istanbul this week, global leaders, humanitarian agencies and the private sector are coming together in search of sustainable solutions to address urgent humanitarian crises. The fate of millions of children, like those I met, literally hangs in the balance.
World Vision is pushing for significant changes to how the international community assists the world's most vulnerable people. In particular, we're asking that education be considered as more than a valuable service. We want it to be viewed as a life-saving intervention -- just as important as shelter and clean water.
On this recent trip to the Kurdish region of Iraq, I saw for myself how education programs within camps for internally displaced people can help keep children safer in the here and now, while also preparing them for productive lives down the road.
Instead of hanging out in back alleys of the camp, or selling small trinkets on the side of the road, children can take refuge in our child-friendly spaces. Here, they can feel safer thanks to programs which help protect children from exploitation, abuse and violence.
These education and psychosocial programs do more than keep children physically safe, they can help keep a child's mind and spirit intact, when life is contriving to tear them apart.
Safety and comfort
For best friends Xalib and Dilin, story time at a child-friendly space is an opportunity to cozy up and contentedly hold hands together. The five-year-olds are also learning to read and write, teachings they've missed since being forced from their homes.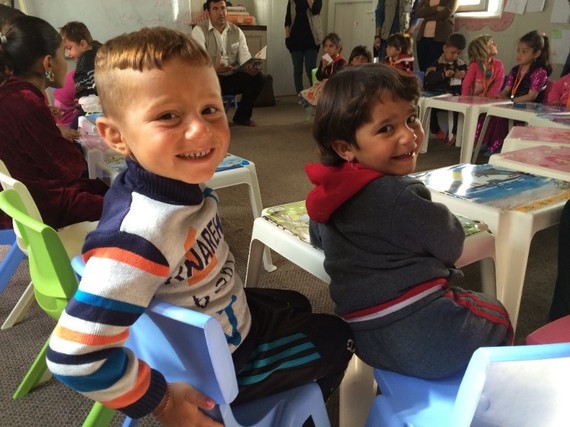 But education programs in safe spaces can do more than keep children learning and happy. They are a hand extended to children who might have walked away into an uncertain future.
When eight-year-old Asim first arrived at the World Vision centre two years ago, he kept to himself. Asim was reluctant to socialize or even speak, unless lashing out in anger against the other children. His family felt it was the extreme stress as a result of being forced from their homes.
But Asim came to the centre every day, sharing that he felt safer there than in the alleys and tents in the camp. As Asim began to open up, World Vision staff continued to treat him with kindness and patience. His self-esteem improved. And his friendships with other children became much stronger.
"I feel I have a home," Asim says.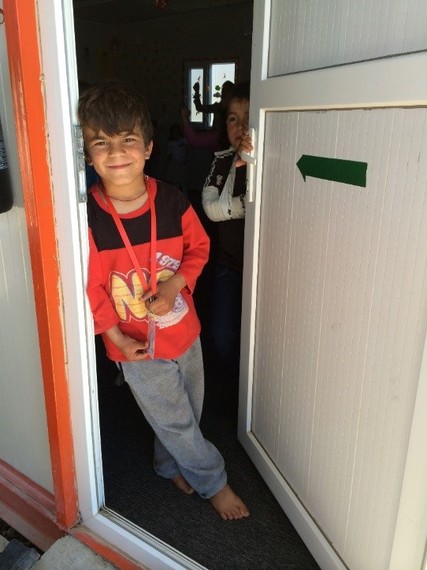 Asim is no longer distant and aggressive, but is connecting with other children and learning new skills.
Youth Empowered
Child-friendly spaces aren't just for little kids. Older children in the camp are equally affected by the psychosocial cost of conflict, often on a different level as they remember and understand more.
I met with a group of young people at a youth empowerment class, and listened to their heartbreaking stories. They described the simple pleasures they used to know at home, like playing with their friends or walking to the market in their village.
Then the young people described being suddenly forced to flee for their lives on foot. They talked of friends and family who had been killed. Some recounted seeing on TV the rubble that their homes had become. Some of the boys had been forced into work, hauling heavy loads at local brick yards or selling candies to passing cars on the highway.
Encouraging the youth to share their stories, listening carefully and providing empathy, is critical to helping them to begin healing emotionally. It was clear to me that they're finding their voices, are learning what their rights are, and growing to understand their value for the future.
Combine this with the basic education the young people receive at the centre, and you've got children who are equipped for a brighter future.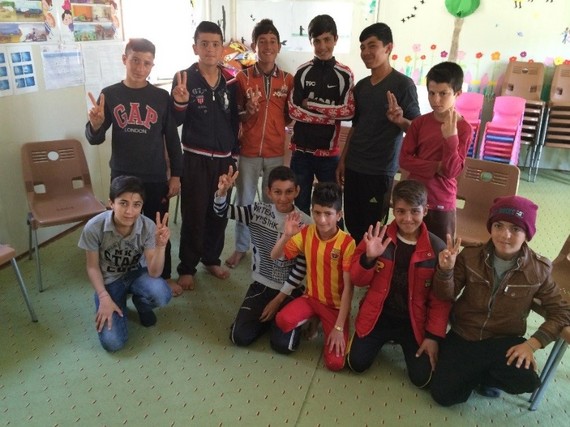 Youth from the Kurdish region of Iraq are growing through an empowerment class, which teaches them about their rights.
Refugee realities
The children I met are just a small sample of some of the most vulnerable children on earth. But they were also astonishingly resilient -- largely because of the education and protection services they are receiving and the safety, encouragement and healing it brings to their lives.
World Vision is working to help give children a better shot at tomorrow. And Canadian support is making a direct, positive impact. But we have a long way to go.
There are now more than 60 million refugees around the world and more than half of them are children. The average length of displacement is a staggering two decades. It's an almost overwhelming figure to comprehend.
Here's what Canadians can to do help:
Follow HuffPost Canada Blogs on Facebook
ALSO ON HUFFPOST:
Photos Of Girls Going To School Around The World