Blend Images - John Lund via Getty Images
What if you put the the most viral Facebook and Twitter accounts into one feed and ranked the posts by popularity. What would the 20 most liked and viral posts in the last week be? These: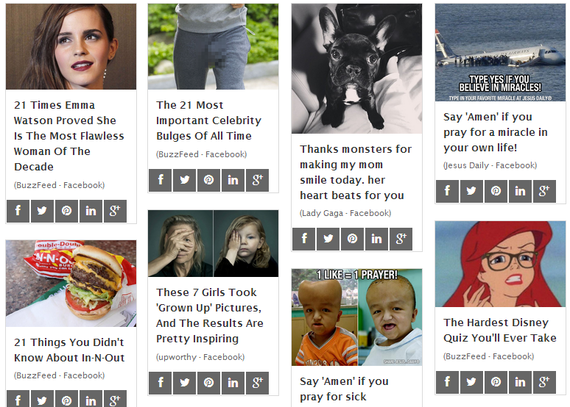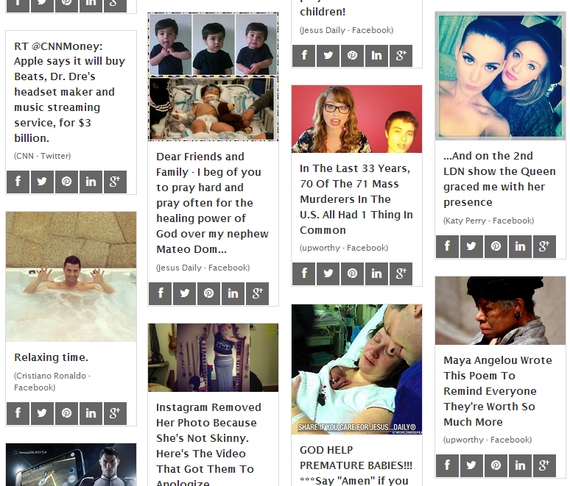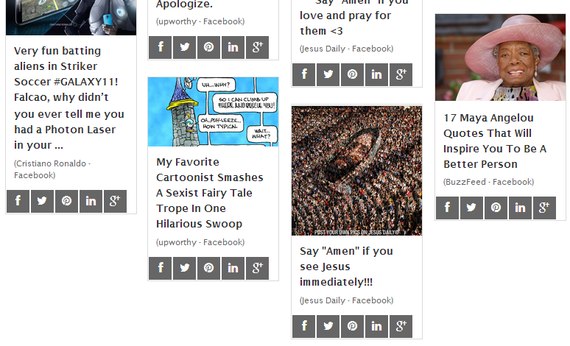 What brands were included in this feed?
The feed contained the most popular posts from these 52 brands: ABC News, Abercrombie & Fitch, Al Jazeera Network, Baby Trend, Babycenter, Barack Obama, Bebe, Buzzfeed, Christian Dior, Cnn, Coca-Cola, Collegehumor, Cristiano Ronaldo, Discovery Channel, Earth Porn, Essence Online, Facebook, Food Network, Funnyordie.Com, George Takei, Hot Moms Club, Ign, Jesus Daily, Katy Perry, Kobe Bryant, Lady Gaga, Leo Messi, Live Nation, Mashable, Msnbc.Com, Mtv, Nba, Oreo, Parents Magazine, People Magazine, Petflow, Samsung Mobile, Shakira, Sprout, Starbucks, Target, Techcrunch, The Huffington Post, The New York Times, The Onion, The Wall Street Journal, Time, Top Gear, Upworthy, Victoria's Secret, Walmart, And Word Porn.
I included each of those either because I've seen it produce very popular posts over the last two years, or it's a mainstream outlet that you'd think would do better.
Who has the most popular posts?
I bet it will surprise most of you -- because we human beings like some weird stuff, but we're used to dividing ourselves socially into interest groups, and then only seeing what's popular with our friends and peers.
When you put EVERYTHING together, here's what the top 20 are right now:
5 posts from Buzzfeed
5 posts from Upworthy
5 posts from Jesus Daily
2 posts from Cristiano Ronaldo
1 post from Lady Gaga
1 post from Katy Perry
1 tweet from CNN
To Market Successfully, You Hafta Understand What People LOVE
Marketing is a big part of business. Social media is one of the most exciting parts of marketing. To succeed in social media, you've got to understand what people like and why. Start with what's popular and try to understand it. See what your brand can learn from it.
Why did three social accounts dominate 75 per cent of the most popular posts? Because they're doing something different from the other 49 brands in this feed.
It doesn't hurt to have the huge reach and popularity of someone like Lady Gaga or Cristiano Ronaldo.
But Upworthy is only two years old. What are they doing that's working so well in the new media ecosystem that ABC isn't doing? Why is CNN barely cracking the top 20?
One obvious lesson is that the negativity that gets people interested in the 6 o'clock news doesn't play well when you don't have a dislike button. Upworthy is incredibly positive. Buzzfeed writes super-viral headlines. Jesus Daily provides an active social outlet for a very popular faith.
Certainly, for your business or media company, you're going to want to look at closer competitors. But ignore the kind of marketing works best for the most viral brands in the world at your own peril.
To see the always up-to-date version of the top 20 posts, check out this link. The feed is provided by the content aggregation service InfiniGraph.
Also, if you think I've done some huge injustice by leaving out a brand, let me know what brand you think could take these on, and I'll add it, and we'll see!