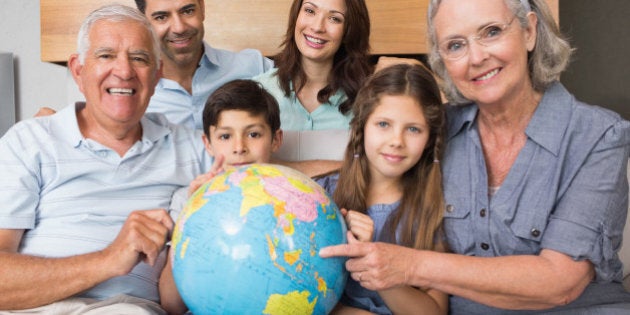 June 1 is the Global Day of Parents. Beyond traditional life lessons (think tying your shoes and learning to ride a bike), parents are also responsible for imparting good money management skills to their children. Traditionally it was men who were largely responsible for long term investing and financial planning for their families. But that's so 1960s.
It's 2016! Women control $1.1 trillion in financial wealth in Canada. They're outnumbering men in colleges and universities. Their employment rate jumped from 42 to 58 per cent between 1976 and 2012.
Good financial habits are something everyone can develop, and for many people, that starts with learning from their parents.
About a year ago, TD Bank joined forces with the University of Toronto's Rotman School of Management to establish a think tank - Women @ Work. It studied the opportunities and challenges related to the advancement of professional women in Canada, and developed 10 practical lessons for women.
Basically, start with a good understanding of your financial affairs, put together a long-term financial plan, and ensure you have an emergency fund. These are things every woman needs in the event of illness, divorce, unemployment or any other unexpected life events.
And these fundamentals of personal finance don't change from generation to generation - it's balancing money-in with money-out.
As part of the Women @ Work undertaking, women across Canada were invited to partake in an essay competition about their own experiences managing careers and families, with Calgary's Dr. Karen Dawson, winning out over 333 other entries.
Dawson, a mother of two, wrote that she had discovered how important it was to ensure that she could always support herself and her kids. "And the way life turned out, I needed to".
Dawson lost her husband when she was 34. She had planned to go back to grad school, but with two young children to think of those plans shifted to preparing for her future, and her children's futures.
"My obsession with managing my career and money was inherited from my mom." A value that Karen will work to embody and pass down to her children.
There are simple steps that parents can take to introduce financial literacy to their kids. Here's my top three:
Document spending for a month - at the end of that month, your kids will have a much better idea of how much money is spent, and whether you need to cut back or look at options to earn additional income (part-time job, allowance, etc.).
Develop a monthly budget - assign dollars to all ongoing essential expenses like groceries and entertainment to develop an awareness of costs.
Repetition is key - together, revisit and revise your budget as your financial situation evolves and as your income, lifestyle, and financial goals change. Consider setting a reminder on your smartphone to track and examine your budget each month.
"I knew that I needed to be fulfilled in my professional life with plenty of money to support us, in order to love them as best I could," said Dawson. And it's so true.
June 1 may be one specific day dedicated to parents, but their fiscal responsibilities and love of their families lasts all year.
Follow HuffPost Canada Blogs on Facebook