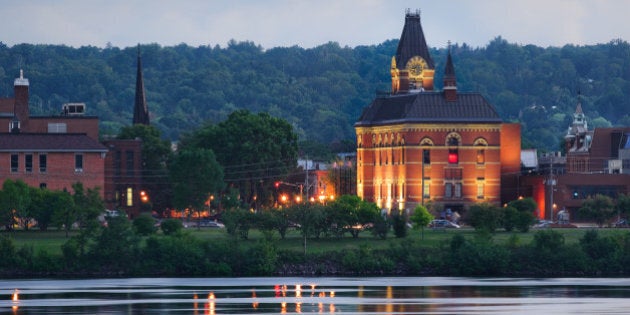 New Brunswick, ranked in 2014 by the Conference Board of Canada as one of the worst provincial (GDP) performing economies in the world, can not seem to shake off decade-after-decade of economic mismanagement.
One of the few times in recent N.B. history (1995-1996) that it was able to balance its books was when former Liberal premier Frank McKenna governed the province. McKenna -- credited with the legacy of the "McKenna Miracle" in turning the worst provincial economy around -- was the provincial frontman during the 1990s, a politician with Bay Street hustle, who partnered with the provincial telecom company, NBTel (now amalgamized into the Canadian telecom behemoth BellAliant) during that era to sell multinational U.S. corporations on the idea of relocating call center and customer service channels into N.B. It was a formula which some touted as innovative and business savvy tactics by a young-audacious Liberal Premier, who in 1987 annihilated his provincial predecessor, Progressive Conservative Premier Richard Hatfield, when the Liberals won every seat in the N.B. Legislature!
During McKenna's stewardship of the province the appeal of a strong U.S.-dollar (which at its peak offered an exchange rate at $1.37 against the weaker Canadian loonie) proved a hard to ignore incentive for many U.S. multinationals looking to increase corporate profits in the eyes of more discerning Wall Street stockholders. That financial incentive combined with the knowledge of N.B.'s high-unemployment situation during a 'decade-plus' of lacklustre provincial economic performances and the national recession of the late-1980s, along with N.B.'s reputation for balking at upholding provincially signed collective labour agreements, provided the perfect economic alchemy which McKenna was so nimbly given credit for.
Thirty-years since McKenna was first elected premier in 1987 (retiring in 1997), and two decades since the vertexes of economic wins attributed to the "McKenna Miracle", and the youngest premier in N.B. history, Premier Brian Gallant's Liberal government is again trying to repeat McKenna's recipe for economic success with The New Brunswick Economic Growth Plan.
Similarly, the strong U.S.-dollar is forcing the loonie into devalued, dark waters on the TSX and world markets. Meanwhile, Gallant's economic development minions in Opportunities New Brunswick (ONB) are busy spending taxpayers funds and extending every possible gamble to lure multinationals back into the province with economic development payroll rebate incentives, and cannabis-agricultural-business entrepreneurial venture investment schemes.
So why can't N.B. ever get its economic shit together?
Critics argue it's an economic development disaster again in the making for N.B. cash-strapped and Sisyphus(-ian) overburdened tax payers. They may have valid point. Over five decades of economic development research/data (like studies sources: Commentary by Professors Alan Peters and Peter Fisher (University of Iowa) appearing in the Journal of the American Planning Association, Winter 2004, Vol. 70, No. 1 - article titled The Failures of Economic Development Incentives & Community and Economic Development Bulletin No. 7, April 2010, University of North Carolina at Chapel Hill, titled Analyzing the Benefits and Costs of Economic Development Projects, by Johnathan Q. Morgan, faculty member at the School of Government at UNC) have debunked the presumptions/myths that tax incentives and payroll rebates have a positive effect on sustaining GDP and actually growing state and municipal fiscal revenues and economies in the U.S. In fact, some academic policy critics (like those listed above) argue they have the reverse effect -- proving to be actual fiscal decrements to state and municipal budgets, public infrastructure, and social policies over the long-term.
Even without an extensive comparative analysis of the economics of investing in the recent Sears Canada partnership with ONB to lure less than 600 call centre jobs into the province, it seems like faulty economic calculations by elementary math standards.
With both the Edmundston and Saint John announcements of Sears opening-up call centres, the accumulated cost to NBers is $9.1 million public dollars invested by ONB, Department of Post-Secondary Education, Training and Labour (through the One Job Pledge initiative), and the Regional Development Corporation.
However, in five years GNB only recovers barely half of its original indebted investment, excluding interest charges on the government debt. That's like using a high interest credit card to borrow a loan without any bona fide assurance the investment scheme has merit as a sustainable economic driver in the overall GDP goals of the province.
Given the likelihood of temporary success with a rehashed and dubious economic development strategy of the bygone McKenna era, New Brunswickers might want to be more judicious about the level of risk attributed to such economic investment gambles. For if/when Sears retreats offshore -- as did most all the previous U.S.-based multinational call centres (the great exodus between 2010-2014) once the Canadian dollar achieved parity with the U.S. dollar immediately after the Great Recession (2007- early-2010s) -- then predictably N.B. taxpayers will inherit an exponentially increased deficit because of what wiser U.S.-academics attribute to flawed and tax regressive economic development formulas of the last five decades.
Follow HuffPost Canada Blogs on Facebook