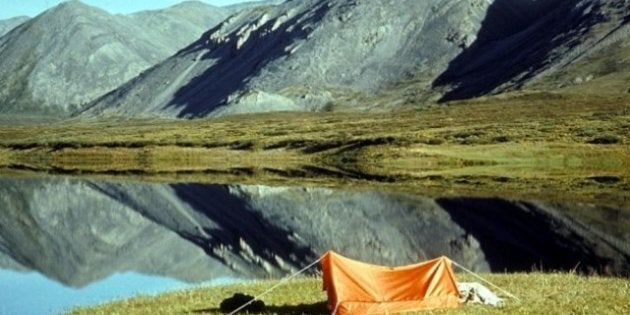 From deserts to tropical rain forests, mountain ranges to waterways, there is certainly no shortage of adventure awaiting you in the great outdoors. Travelocity.ca and I really value the benefit outdoor travel has on the mind, body and soul. So, while amusement parks, malls and wandering the city are fun, we encourage you to seize your summer and escape into the thrilling opportunities that lay outside your own backdoor.
To help get you on your way, Travelocity.ca has put together a list of the best countries around the globe for outdoor travel and a few of our favourite spots in each:
1) Canada -- Are you really surprised our home and native land is tops on our list? Canada exemplifies outdoor adventure and it has more to offer than many of us realize. This is great news for those of us craving a break from city life, but with little time and resources. No matter what area of the country you're in, there are plenty of quick trip options. To get your wheels spinning, here are a few ideas:
• Mountains: Banff National Park - Stand in awe of the sheer beauty of the Canadian Rockies, canoe on Lake Louise's emerald waters, or hike the glorious mountain trails. But be sure to watch for some of the most spectacular wildlife in the country, including Elk and or try your hand at rock climbing. And Banff National Park has hotels to suit every taste and budget.
• Forest: Algonquin Park - Algonquin Park is one of the best spots in the country for canoeing, portaging and backcountry camping. If you're not familiar with this type of adventure, then it is something you have to try -- but it's neither easy, not luxurious so be prepared. Think early explorers, canoes loaded with all your supplies and lots of heavy lifting. But the serenity and beauty of being off the beaten path is worth every pound you lift.
• Coast: Newfoundland and Labrador-- Remote yet accessible, and full of outdoor opportunities like ocean kayaking, surfing, humpback whale spotting and hiking the footsteps of our ancestors on the Viking Trail, this spot is not to be overlooked.
2) Guatemala -- A country that is quickly gaining a lot of attention in the tourism industry for its affordable and out-of-the-ordinary travel opportunities, this is one spot that should be on your bucket list. Check out the following adventures:
• Lakes: Lake Atitlan - Tucked away in the highlands of Guatemala, this lake, the deepest in Central America, has been compared to Italy's Lake Como. This beautiful lake, formed in the caldera of an ancient volcano, is a perfectly serene area to take a relaxing paddle in a kayak or canoe.
• Volcanoes: Volcan Pacaya - Pacaya is an extremely active volcano and a popular tourist attraction. The climb is difficult but exhilarating and once you've reach the summit, your guide will show you how to roast marshmallows over the hot lava as a treat - yummy!
• Rainforest: Maya Biosphere Reserve- Home to the most biologically diverse ecosystem in Central America, this vast rainforest of approximately 21,000 square kilometers is home to jaguars, howler monkeys, scarlet macaws and more.
3) United States of America - Everyone knows that our neighbours to the south have great cities to visit, but let's not forget the United States' captivating natural landscapes, which can be a trip within themselves. Break from the pack and visit somewhere off the traditional U.S. travel map this summer! We love:
• Canyons: Moab, Utah - With no shortage of hiking, white water rafting and mountain biking opportunities, the red rocks and arches of Arches National Park near Moab, Utah are an environment that seems out-of-this-world yet ready to be discovered.
• Lakes: Crater Lake, Oregon - Also formed in the caldera of an ancient volanco, this is a place of immeasurable beauty. A deep, pure lake, perfectly blue in colour and surrounded by cliffs over 655 meters high, it is the deepest lake in the United States.
• Coast: Florida Keys - A perfect road trip from south Florida, follow the Overseas Highway along breadcrumb-strewn islands. Keep your eyes peeled for Key Deer, the smallest whitetailed deer in North America at just 75cm tall. Then end your journey in Key West, where you can enjoy great scuba diving, snorkeling, deep sea fishing and watch spectacular sunsets from the Mallory Square Dock.
4) Switzerland - Traditionally known as a skier's haven, Switzerland is home to two famous mountain ranges, including the iconic mountain, The Matterhorn, and provides so many great outdoor summer adventures within the borders of this small yet stunning country.
• Rivers: Vorderrhein River, IIanz - Surrounded by the glorious Alps, this river, one of two sources of the Rhine, takes you through the impressive Ruinaulta, often referred to as Switzerland's Grand Canyon , a perfect place for exhilarating white water rafting.
• Mountains: Monte Generoso and Valle di Muggio - From the 1,704 meter high peak, enjoy a sweeping view of northern Italy, including Lake Como, the Apennine and Alpine mountain ranges, and numerous across valleys, lakes, towns and mountain peaks.
• Forest: Adventure Park Ropetech, Bern- With 1,500 meters of routes amongst the natural trees of the Bernese Dählhölzli Forest, this fixed-rope park will take visitors from four to eighteen meters high into the tree tops in an adrenaline pumping and satisfying obstacle course.
So are you craving an outdoor adventure like I am!? Start planning your outdoor escape today at Travelocity.ca.