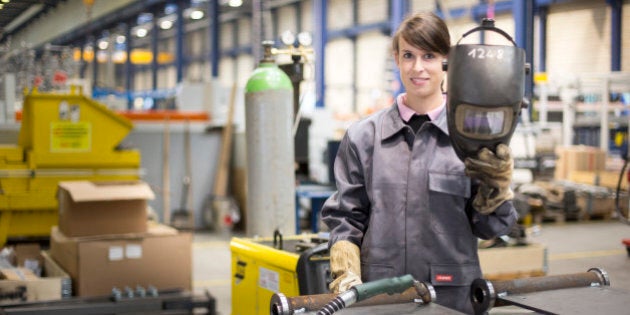 It's 2016. Prime Minister Trudeau has a gender-balanced cabinet, and several weeks ago Ontario Premier Kathleen Wynne introduced her new cabinet, now made up of 40 per cent women. We are seeing a cultural shift towards ensuring equal opportunities for women in the workplace, yet many industries remain dominated by males.
The reality is, we face major labour shortages in trades in Canada. Between 2014 and 2020, we can expect 219,000 construction industry employees to retire. And in cases like Fort McMurray, the wildfires both decimate local economy and create a huge need for skilled trades to help rebuild the community.
Although rare, women helping close labour shortages gaps are not new to North America. One of the most notable labour shortages in history came during the Second World War, where women heading to work became an integral part of the solution. The idea of women being the same driving force behind the rebuild of one of Canada's worst natural disasters is inspiring and also achievable as more women are becoming part of the trades industry.
In order to make this a new reality and, not just a short-term solution, we need to see a commitment from private and public sectors. Women-focused courses are popping up all over the country and one organization that has seen a lot of success in recent years is Women Building Futures.
The organization aims to empower women to succeed in non-traditional careers in construction-related trades and heavy equipment operation. Since it was formed in 1998, WBF has readied 1,400 women for trades jobs. Graduates also experience an average of 12 to 87 per cent increase in annual income almost immediately when they are hired into the trades industry.
The new income results in an average tax contribution increase of 147 per cent in the first year of hire, directly impacting the Canadian economy. Because what we all need to realize is that this work is just about equally but providing a safety net for thousands of Canadians and helping drive Canada forward.
In order to make the biggest impact, we also need to ensure that the institutions training women are viable, sustainable and growing. This can be achieved through a combination of government funding and private partnerships but the institutions must be equipped to properly use the funding.
When not-for-profits think like a business, the results are extremely impactful. For example, WBF worked with LiFT Philanthropy Partners as s way to accelerate their capability to get more women working in trades, address the inequality and to fill a workforce gap.
The partnership allowed WBF to secure more than $3.6 million in new funding and, in the first few months, WBF had more robust planning tools, stronger financial reporting processes and additional funding that LIFT's investment helped leverage.
What this example is showing us, is that status-quo is not working anymore and Canada needs to implement innovation solutions from the ground-up. We need to invest in training women to fill our labour shortage and we need to ensure that the institutions are properly supported.
Skilled trades are one of the fastest growing sectors in Canada- there is opportunity for steady and great pay. And as we look to the future, we must find further ways to combat inequities in this industry. We need to break down barriers to create the opportunity so that women can pursue whatever career they choose.
Bruce Dewar, CEO, LIFT Philanthropy Partners
JudyLynn Archer, President and CEO, at Women Building Futures
Follow HuffPost Canada Blogs on Facebook