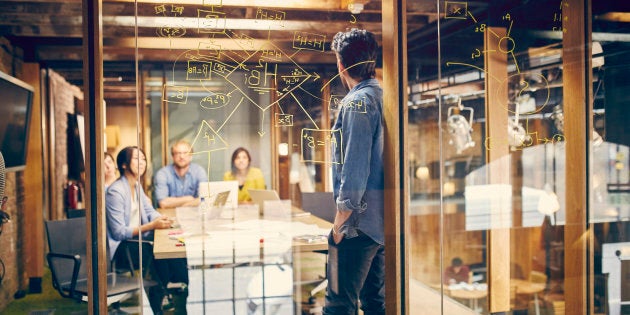 Thinking outside the box is an important business skill. It's about discovering new ideas and approaching situations in a different (likely innovative) way.
Brainstorming is a popular way to practice thinking outside the box. And like most things, implementing innovative / creative ideas may lower productivity... in the short term. However, I believe that doing the same thing – the same way year after year is never a good idea (for our employees, customers or our company).
Discover new and even better solutions.
Thinking outside the box is about challenging our perspective and a willingness to change. It's about taking time every once in a while to notice things we may not have noticed before. For example:
How well do we know our competition? And how well is our product / service solving our client's needs? Has anything changed?
What are some of the innovations relevant to our industry?
When was the last time an employee satisfaction survey was conducted? Do we know why our employees stay working with us vs. going to our competition? Has anything changed?
The benefit of thinking outside the box – even during crisis helps one or all of the following:
Differentiates our products / services
Helps us be more environmentally friendly
Helps us be a better corporate citizen
Makes customers happy
Makes employees happy (happy employees are productive, loyal employees)
Solves problems - hopefully before they become a crisis
Aaaaand... when this happens it likely means we will be making our business:
More efficient
More competitive
More profitable
Too often when it comes to brainstorming and thinking outside the box we wait until we have a problem or crisis to fix. In fact, many definitions of brainstorming focus on problem solving.
What if we did a bit of brainstorming earlier on? What if we explored innovation / creativity during the calm – not the storm? Imagine the additional possibilities... imagine how much more time we would have to implement imaginative, well-planned solutions. And imagine how our investment $$ could go further because we were not spending during a crisis or urgent (We Need It NOW!), situation.
Make it a habit of questioning things – even familiar things. Discover new and even better solutions or facts about things. Let's face it, in our daily routine we get used to doing familiar things the same way... and we don't see how the world (or our customers), make small changes every day. And then BAM!! Suddenly we are left standing alone.
Brainstorming, Innovation & Creativity: Exercise Your Creativity
Does creativity make brainstorming sessions more productive – or does brainstorming increase creativity? Who cares? Creativity is critical to brainstorming and thinking outside the box.
Be Creative... Stay Curious
Everyone is creative. That said, creativity (or more accurately, giving yourself time to be creative), is a skill that can be nurtured. Sometimes we stifle our creativity because it feels like we are wasting time. It's not a waste of time and should be a core initiative during every planning (or pre-planning), process.
Here are a few short - easy creative exercises that will help you flex your right brain.
Draw something... and don't erase anything. If you want to have real fun, draw the same thing every day, sometimes use your non-dominant hand, sometimes use a pen, sometimes a marker. Colour it in – leave it black and white, draw it in the style of Picasso. Save these as your secret 10-minute fun-break... and look back on your creative drawing every few months.
Choose a word and rearrange the letters in alphabetical order... in your head. Then do another. You can do this almost anytime / almost anywhere... like while sitting in an airport, at your desk or by your pool.
Add all the serial numbers on paper money... in your head. Then do another bill... then another.
Do puzzles... there are so many types.
Take a different route home. Notice everything – stores, people, homes... notice the similarities and differences.
Make dinner tonight without planning – without a recipe. Use only the ingredients you have in your home.
Or one of my favourites... write something.
The phrase 'Thinking outside the box' was popularized by business professionals in the 1970's and 80's and often either the Nine-Dot puzzle and/or Duncker's Candle puzzle were used / referenced to provide a visual connection. Why? Because to solve either puzzle participants literally must think outside of the box.
Be creative and stay curious. I try to get outside my comfort zone at least a few times each week.
When you have a challenge, consider them as is an opportunity. Let go of negativity – see conflict as an opportunity to see through the eyes of someone else who is having an experience that is not IDEAL.
Thinking outside the box not only includes looking at a situation in a new way. Change is inevitable and brainstorming helps you stay in control – stay active. If you are active you can still steer where you are going. Brainstorming and change might mean you feel uncomfortable for a while, but don't worry, soon everything will be better than ever.
Every once in a while, stand still and look at things or situations differently. Stay in control and enjoy the ride.
Happy communicating, motivating... and brainstorming.
Click here to learn more about Bruce Mayhew Consulting. We facilitate including email etiquette training, time management training, leadership development training, generational differences training and more.