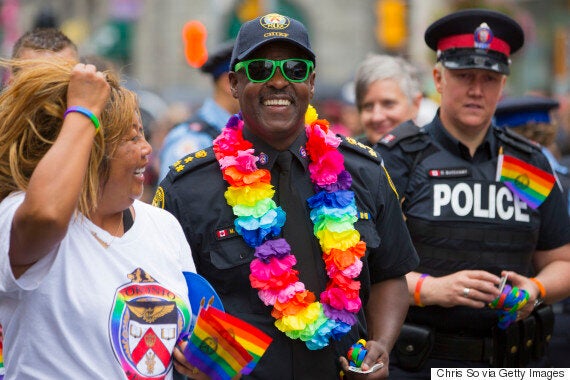 The recent Pride Toronto decision to honour all of Black Lives Matter Toronto's (BLMTO) demands for more inclusiveness has caused quite a stir, partially due to one of the requests being the "exclusion of uniformed police officers marching in the parade." The LGBT community is more fractured as a result of this decision, which was voted in unanimously at the Annual General Meeting (AGM) held on January 17.
The BLMTO list of demands was not on the agenda for the meeting, which was originally set to review the 2016 annual report and financial statements, as well as select new board members. However, many in attendance made it clear they wanted to discuss and resolve the pending concerns of BLMTO that were brought to light during the Pride parade last June.
The chair of the meeting advised the agenda could not be changed without 60 days' notice prior to the meeting, which many in attendance stated they were either not aware or advised of. After an ad hoc vote from the majority in attendance to have the agenda modified, the chair allowed the BLMTO demands to be heard and voted upon.
The LGBT community is more fractured as a result of this decision.
Many are applauding the decision, while others are fully opposed. There are a few things that may have caused this latest difference of opinions. The AGM is open to board members and also to any members of the public who choose to show an interest in the direction the Pride organization takes. Those board members who show up, or vote by proxy in advance, are able to make decisions on behalf of those not in attendance. However, it appears that perhaps the proper protocol might not have been fully followed, so those who were either not aware of the meeting, or chose not to attend, are now opposed to the changes. Either way, these individuals are now vocalizing their displeasure with the results.
Town Hall Meetings and Dispute Resolution Process
There are now a couple petitions online calling for the reversal of this decision, and some asking for corporations to pull sponsorship. Sooner rather than later, Pride Toronto should hold one of its infamous town hall meetings, where the AGM meeting decisions can be discussed in person with all who attend. Everyone will be invited, including members of the Toronto Police Services Board.
At Pride Toronto's town hall meeting last August, the organization had indicated that they would be willing to accept all demands of BLMTO, with the exception of police exclusion, which they suggested would have to go through a Dispute Resolution Process (DRP). After reviewing the Pride Toronto website, there is no mention anywhere that this process actually took place, so perhaps that's the reason BLMTO decided to bring the topic up again earlier this month.
According to the official DRP document, it is meant to "provide an objective, transparent appeal mechanism to review and resolve complaints about participation in the Pride parade and march. It will only consider complaints about the participation or exclusion of a group in the Pride parade or march. A full description with all the details and notes on how to file can be found here. Any community member or organization can request a DRP, via Corrective Action, Mediation, or Arbitration, and it must be submitted within 30 days from the date of the decision being disputed.
So this leaves two questions to be answered. First, was a DRP actually filed after the first town hall meeting to request the exclusion of uniformed police, and secondly, could someone now file a DRP to request a reinstatement for the inclusion of uniformed police?
New Board Members and AGM Aftermath
The following individuals were voted in as the Board of Directors for the 2016-2019 term: Sarah Cooper, Nicole Desoyners, Akio Maroon, Elijah Monroe, Kevin Rambally.
Since the AGM, Black Lives Matter Toronto have chose to put forth their view of things via a live Facebook feed posted January 23rd. They state they want to amplify the voice of the community at large, and clear up that it's not BLMTO against Pride Toronto, which is incorrectly being stated by many.
Serving With Pride, an organization dedicated to promoting diversity, integrity, awareness, and non-discrimination of LGBT personnel and equity of all persons within policing, emergency and criminal justice professions, as well as within the communities they serve. The organization issued a news release to provide facts from their side.
Take the time to read the news release and watch the video to get a better understanding of both point of views. The flurry of Facebook posts and tweets from supporters on both sides only reinforces the fact that EVERYONE is passionate about what Pride means to them. However, it's time to take this conflicting negativity offline and create a proper dialogue, with a positive outcome for all. It's only six months until Pride season is upon us, so let's resolve all of this now. We can start by stopping the name-calling and labeling as well.
Follow HuffPost Canada Blogs on Facebook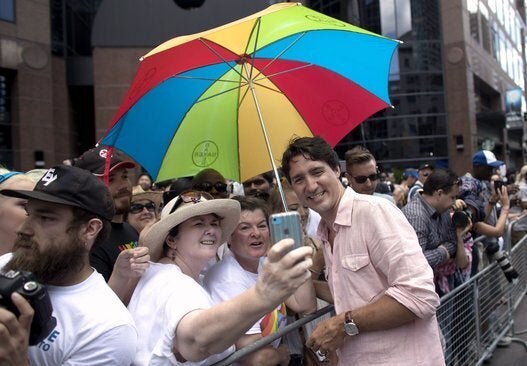 Toronto Pride Parade 2016