Getty
You can find adventure in all four directions you choose to leave from Calgary but if you point your compass to the east, you'll discover yourself in the heart of the Canadian Badlands.
It is rich fertile prairie soil but also rugged. The Canadian Badlands are criss-crossed by dead straight back roads that suddenly descend into ancient valleys.
1. Pretend you're on Tatooine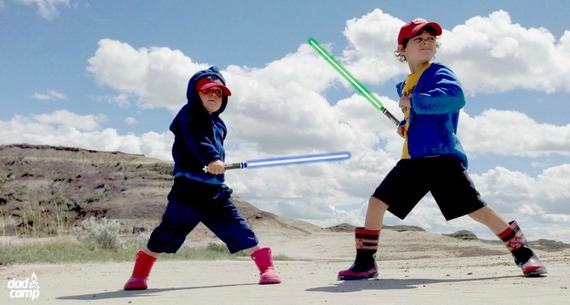 Dinosaur Provincial Park is one of our favorite places to camp in the province. It is home to the largest concentration of Cretaceous fossils on the planet and it is surrounded by dry hoodoos. The boys like to climb and wander and pretend they're on Tatooine while I add in the light sabers later.
2. Ride the free Bleriot Ferry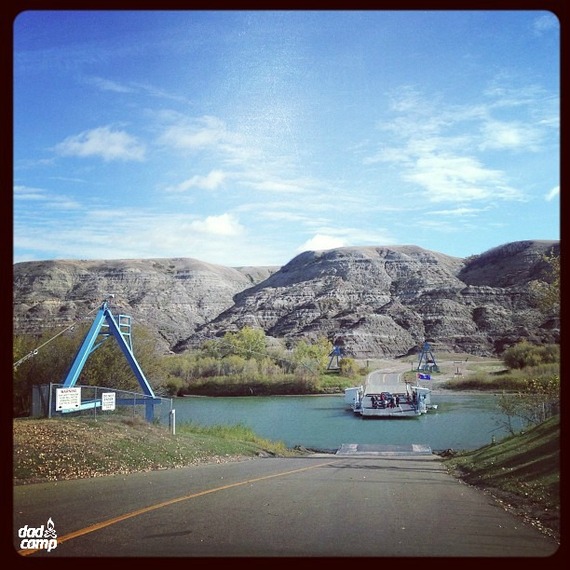 If you take the scenic, longer route from Calgary to the Royal Tyrrel Museum near Drumheller, you can take this unique ferry in the heart of a badland valley.
The Bleriot Ferry was commissioned in 1913 and runs on a cable across the Red Deer River.
3. Hunt for geocaches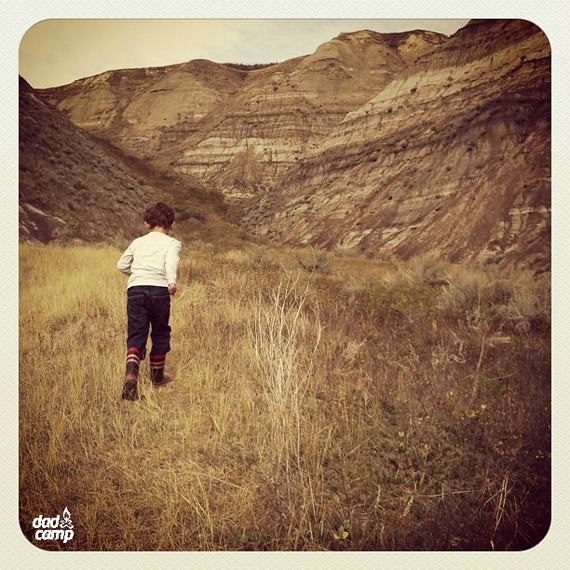 A daytrip through the Canadian Badlands can be as long or as short as you want it to be. You can drive right to your destination, or you can stop and explore along the way. We like to stop and treasure hunt. Geocaching gets you out of the car, taking the scenic route, and taking the time to experience your surroundings. There are hundreds of caches in the Canadian Badlands, take some time to find a few of them.
4. Wander the hoodoos
From Dry Island Buffalo Jump to Drumheller to Dinosaur Provincial Park to Writing-on-Stone Provincial Park, the entire badlands are scattered with dramatic hoodoos. You'll drive along the flattest prairie you've ever seen, make a turn and then descend into the valleys of the Red Deer River, Milk River, or a dry coulee and watch as the landscape suddenly changes.
5. Hold an owl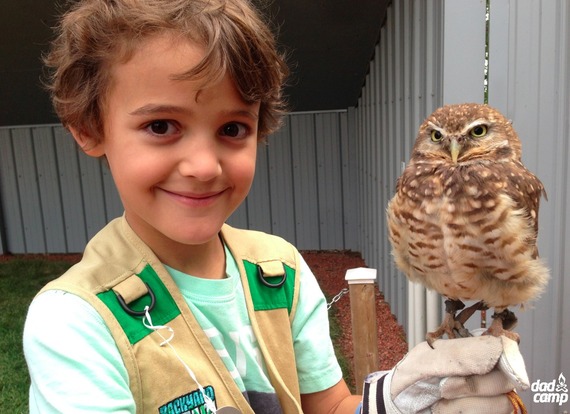 The Alberta Birds of Prey Center in Coaldale (just NE of Lethbridge), is my son's favorite place in the province. It was started in 1982 by Colin Weir and thousands of birds have been through the facility. Zacharie loved seeing the owls, eagles, and hawks.
6. Fire a cannon
Fort Whoop Up in Lethbridge was the heart of trade in southern Alberta in the 1860s popular for buffalo skins, guns, and whisky. The cannon was used to announce new goods had arrived at the fort for trade. Today, their cannon fires twice daily and you just might be lucky enough to put the "fire in the hole!"
7. Taste the best corn of your life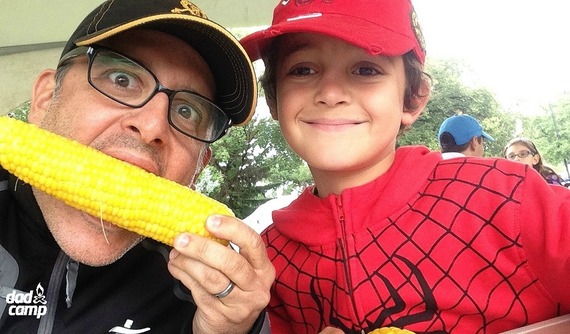 The southeast corner of Alberta is one of the sunniest places on the planet. It is also home to the best corn you will ever have in your life. Ever. Taber is the corn capital of Alberta, it's prized golden kernels the juiciest I've ever had. You can buy Taber corn roadside in much of the Badlands, but if you really want an experience, visit town when CornFest happens in late August.
8. Help stop a train robbery
There used to be a vibrant rail circuit in Alberta. One spur line that still thrives today goes between Stettler and Big Valley. The Alberta Steam Train runs all sorts of themed tours down the line from teddy bear picnics to murder mysteries. Some get a little wild as bandits chase down the train and rob the passengers before being rescued by Metis hero, Gabriel Dumont. All money "robbed" from passengers is donated to local charities.
9. Touch a dinosaur egg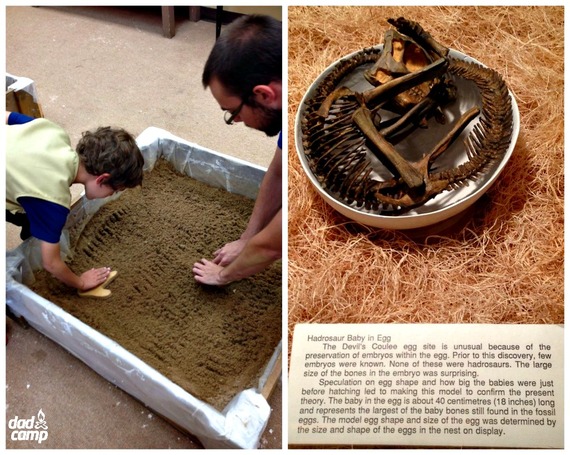 Warner, Alberta was mostly famous for a hockey school until 1987 when Wendy Sloboda found a dinosaur egg nearby. Warner is now worth a stop en route between Writing-on-Stone and Lethbridge to visit the Devil's Coulee Museum. The display is small, but very informative and they have a sandbox in a work room where kids can make their own dinosaur prints and uncover fossils. The discovery of dinosaur eggs has been an important development in understanding hadrosaurs.
10. Collect pictures of grain elevators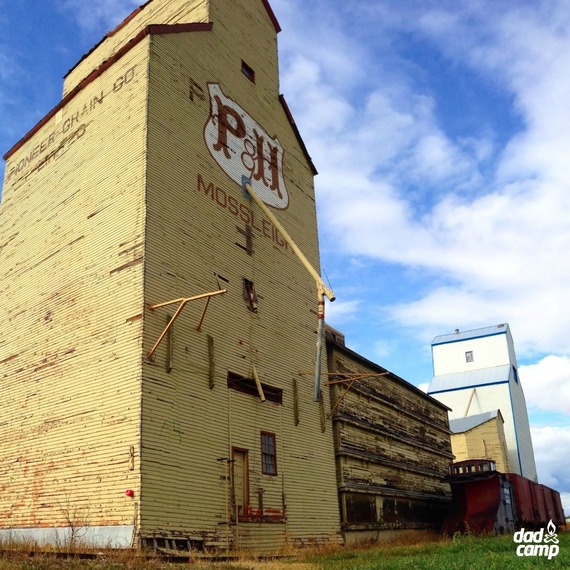 They're not used so much anymore, but these tall sentries of the prairies are still a sight to see. I like to stop and take as many pictures of them as I can.
11. Sit on an old tractor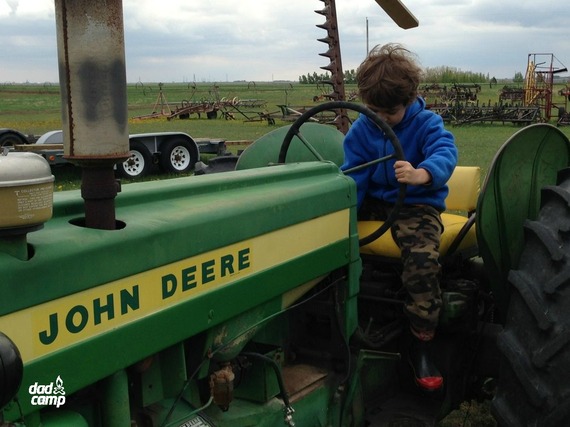 There is no longer a butte to picture in Picture Butte, but you can take a picture of your butt riding an old tractor. Just south of town is the Prairie Tractor and Engineer Club Museum. They're all lying out in the field and you can drive around, wander about or climb in all of them.
12. Find fossils anywhere
Lick your finger, touch a stone. Lick your finger, touch a stone. Like your finger, touch a bone! This lick test really does work to find fossils and if you look hard enough you'll find them everywhere.
13. Shake a rattlesnake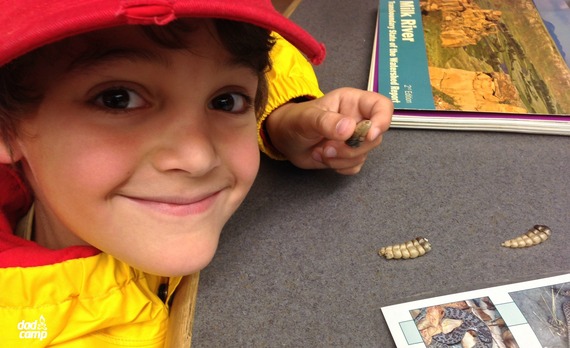 When we stopped at the viewpoint at Dinosaur Provincial Park, we saw a group of people with a bucket hanging around some rocks. They were from a nature group that was counting and monitoring rattle snakes. Rattlers are everywhere in the badlands. Watch your step!
14. Have some BBQ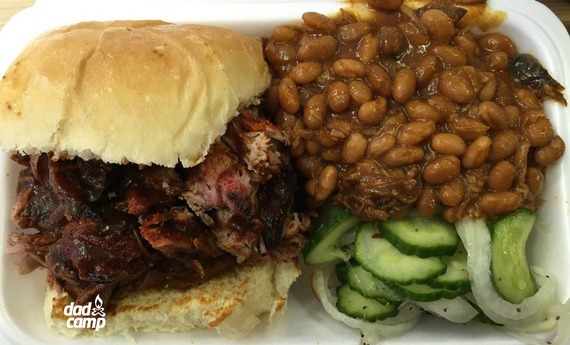 Culinary tourism is a big deal. People will travel for good eats, and in Medicine Hat, you'll find them (along with great old school neon signs). You're far from the deep south, but Skinny's Smokehouse serves up the real deal. The hickory smoke hits you on the way in and your full belly smiles on the way out.
15. Count the gophers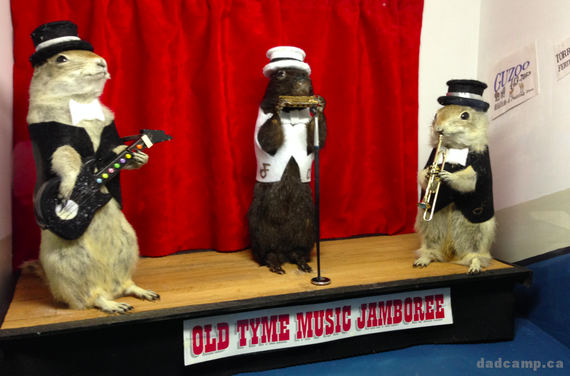 Torrington is a treat. There's no real reason to get off the highway and go there other than ... the gophers. The gopher hole museum is a collection of diaramas that put taxidermied gophers into peculiar situations. They're playing hockey, riding bikes, going to church, getting married and working at the firehall. The World Famous Gopher Hole Museum was created to bring tourism to the town of 200. And it works. Seven thousand people visited last year.
16. Live long and prosper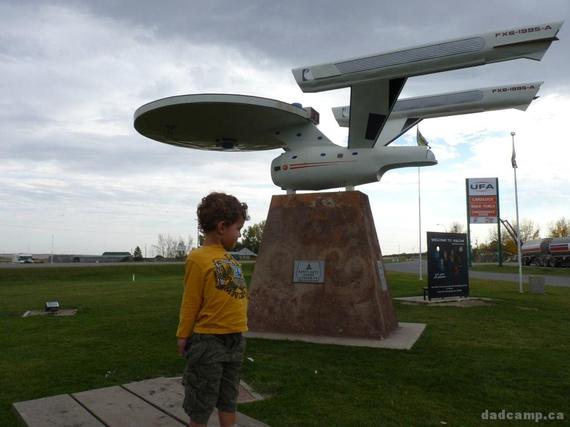 Vulcan, Alberta takes its name from Roman god of fire. That was fine and dandy when the town was incorporated in 1912, but nowadays there's more money in tourism by linking the town's name to Star Trek. In 2010, Leonard Nimoy came "home" to Vulcan in a move that put the small town of 2,000 on the map. They celebrate Spock Days every June, have a Star Trek Walk of Fame and an Enterprise statue to greet visitors.
17. Eat in an old train car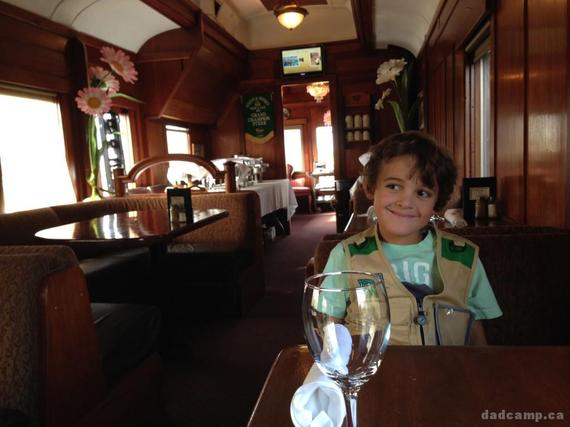 In the 1962 federal election, John Diefenbaker crossed the country by rail to campaign. His business car was an 1887 Pullman car that has now been converted to a dining car. It (and many other rail cars, some converted into hotel rooms) now resides at Aspen Crossing in Mossleigh.
These are just some of the things I've experienced and loved in the badlands. I still haven't been to dinner theatre in Rosebud, gone coal mining in East Coulee, tried to get away at Horsethief Canyon, golfed the toughest course on the continent in Drumheller, paddled the Milk River, searched for the Albertosaurus in Dry Island Buffalo Jump, straddled the border in Cypress Hills or listened to Nickelback in Hanna.
Whether you're taking a daytrip from Calgary or wandering a corner of the province for a long weekend, or a week, there's lots to do with kids in the Canadian Badlands. You can plan your Canadian Badlands adventure here.
Buzz Bishop is a Calgary dad, broadcaster, and writer. You can find his parenting blog at dadcamp.ca and his travel blog at LocalPony.com. You can follow him on Twitter, and on Facebook.
This post originally appeared on DadCAMP.
MORE ON HUFFPOST: