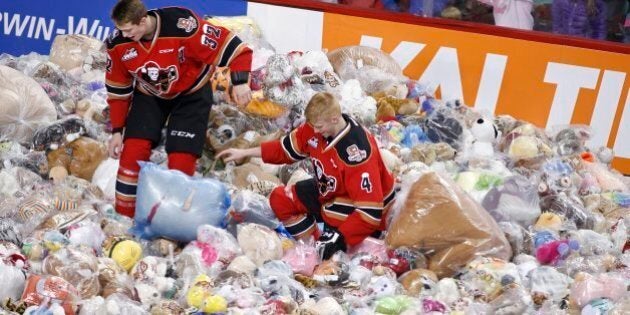 For the 20th year, the Calgary Hitmen have celebrated the holiday season with their 2014 Teddy Bear Toss hockey game.
The concept is simple: Bring a bear, when the home team scores, throw the bear on the ice. The Teddy Bear Toss Hockey Game is world famous, as videos of more than 25,000 bears flying from the stands have repeatedly gone viral.
The 2014 Teddy Bear Toss Hockey Game for the Calgary Hitmen went down on December 7 against the Moose Jaw Warriors.
Ridal Fazleev scored at 1:38 of the first period and then 25,214 teddy bears and other stuffies sailed from the seats to cover the ice and benefit 60 local charities!
They are stuffed in more than 3 000 backpacks for kids starting school, the school board uses them for reading buddies, and the Calgary Boys' and Girls' Club says "the gift of a plush, cuddly teddy bear toss can mean the world on any given day."
Watch the video as more than 25,000 bears hit the ice for the 20th anniversary game:
The 2014 Teddy Bear Toss was our family's third trip to the event, and the boys loved it again. We get great seats in the upper deck right behind the goalie. I'd like to get lower bowl seats and have bears rain down on our heads, but I always seem to buy the tickets too late.
Here's a look at the 2013 Teddy Bear Toss hockey game:
And the 2012 Teddy Bear Toss hockey game:

2012 Teddy Bear Toss At The Saddledom