RomoloTavani via Getty Images
Over the past few months, I have been introducing you to some trailblazing professionals in my ongoing effort to change the perception of the word "millennial." These six adventurers, ground breakers and revolutionaries are changing their industries with their unique views as young professionals. Earlier this year, you met Mitchell Cushman, a Director destined for theatrical greatness, and for my last profile in this series, I have the pleasure to introduce someone I have been very lucky to know for almost two decades....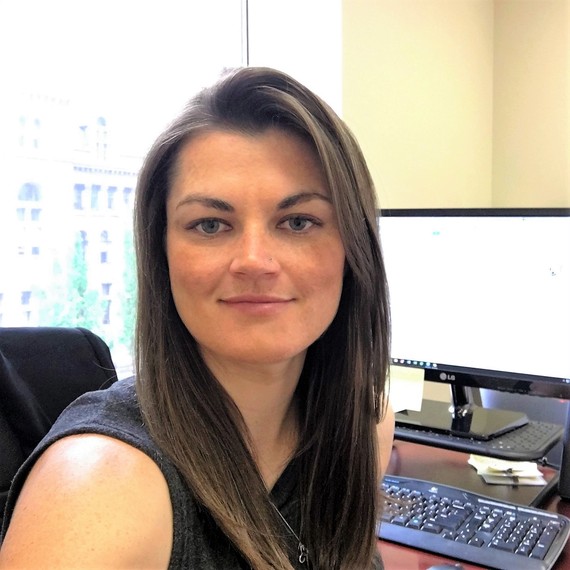 Meet Yolande Gooderham
Portfolio Manager and Shareholder at Coerente Capital Management
Linkedin: https://ca.linkedin.com/in/yolandegooderham
To say that Yolande (or simply "Yo") is in a high stress job is an understatement; she's part of a team that's making million dollar investment decisions before most of us have had our first coffee. But I've never seen anyone wear long hours and extreme pressure better. And in a world that can be dominated by arrogance and chest thumping, there is no ego on Yo. Her clients love her down-to-earth, straight shooting style and so do her peers. That's why when her boss (veteran money manager Len Racioppo) left the firm he'd been at for 25 years to start his own investment counselling firm, Yo was one of the first to join him.
Caitie Drewery: Let's pretend I know very little about the financial industry (not a far stretch). What does an investment counselling firm do?
Yolande Gooderham: Very broadly, they manage discretionary investment portfolios for their clients. At our firm, we offer segregated investment portfolios for high net worth (HNW) clients, private foundations and endowments, and we invest in three asset classes: stocks, bonds and money market securities. In layman's terms, we manage individual client investment accounts where we have the authority to select specific stocks, bonds and money market securities and to determine when to buy and sell those investments.
My job is primarily to ensure client accounts are being invested according to their investment policies, to trade accounts when appropriate, and to keep an open communication with clients. Coerente isn't a big firm though, so I'm also involved in securities research and analysis, compliance, operations and strategy.
CD: So you're basically a financial superhero. What drew you to the financial world?
YG: I'm a practical person and I like numbers so I did a degree in commerce with a major in finance. Between my third and fourth year I got a summer job with a firm called MD Financial Management which provides wealth management services for physicians in Canada. That was my introduction to the wealth management industry and it opened my eyes to the possibility of working on the buy-side (buy-side being firms that buy securities for money-management purposes).
And about a week after I wrote my last university exam, I started working at Jarislowsky, Fraser assisting Len who was the President of the firm at the time and a Portfolio Manager.
CD: And when that President, Len Racioppo, left to start his own firm, it caused quite the stir in the financial world. How did you end up joining him?
YG: I had been at JF for four and a half years when Len and one of the other top executives, Marc Trottier, announced they were leaving to start their own investment management firm. At that time, I'd started exploring what might be next in my career but I hadn't found anything that was the right fit. When Len asked if I would be interested in going with him to help start the new firm I jumped at the opportunity. Since then I've finished the CFA program and earned the Chartered Financial Analyst® (CFA) designation, I've been made a shareholder at the firm, and I've been promoted to the role of Portfolio Manager. It's been an incredibly exciting and rewarding three and a half years!
CD: What sort of challenges did you face in those first couple of years?
YG: Finance remains a male-dominated industry and there's definitely a perception that it's not an equal playing field and not an industry geared to seeing women excel. I'll be the first person to qualify myself as a tomboy and I have pretty thick skin, but even for me, there were moments of doubt. Ultimately, I'm so glad I overcame those doubts. My actual experience has been overwhelmingly positive and I've come to learn that there are a lot of amazing people and organizations putting incredible effort in to supporting women in finance.
CD: How do you think being a millennial gives you an advantage in your industry?
YG: We are seeing some pretty dramatic changes taking place as new products and new investment platforms coupled with changing investor wants/needs are reshaping our industry. I think experience and a track record of success will continue to be of paramount importance, but I also think that as the number of younger HNW individuals grow and technology continues to advance, wealth management firms are going to be forced to make some changes in how they operate. As a member of that next generation of investors who are going to be responsible for driving a lot of that change, I think I'm in a unique position to help ensure our firm adapts successfully.
We represent the next generation of people who will shape the world around us. We're educated, connected, and open to change. We seem to have earned ourselves a bad rap in the minds of some as "lazy, entitled and self-absorbed", but when I look around at some of the incredible things Millennials have accomplished I'd argue that we're actually pretty determined and entrepreneurial. We also value respect and genuinely want to make a difference.
CD: You've seen some great success in an industry that can be tough on young people. Any advice on how to get there?
YG: Be persistent, be open-minded and don't sell yourself short.
Be Persistent - No matter what challenge you're trying to overcome, if you're unwilling to work at it (and to keep at it) you'll almost certainly be unsuccessful.
Be open-minded - The ability to creatively approach problems and a receptiveness to new or different ideas/experiences are critical.
Don't sell yourself short - I can't tell you how many times I've heard somebody talking about a great opportunity, only to have them immediately go on to explain why they aren't a good fit. What?! This is crazy! If an opportunity sounds appealing and you think it's something you could excel at - have confidence in yourself! Don't be your own worst enemy, be your own #1 cheerleader.
And finally, don't be afraid to strike out. As you get your career started you're going to encounter failure. In fact, you're probably going to encounter lots of failure. As long as you learn from it, early failure is a far better teacher than early success.
CD: Bonus question - what show are you binge watching right now?
YG: I'm not really a binge TV watcher but Deadliest Catch seems to be featuring pretty regularly these days. What they go through gives a whole new meaning to a "tough day at the office."
My Top Takeaways
Over the past 5 months, I have had the honour to introduce you to some amazing young people. People who are breaking boundaries, starting rebellions, blazing their own paths, bringing a little magic and dominating their fields. Individually, each one of these millennials is proof that we aren't just entitled, lazy, airheads - and together they represent something even more powerful: change is coming. We might do it differently than generations before, we might need to work harder than some of our superiors, but we have the creative and innovative skills and the ever-advancing technology at our fingertips to make real change. Real change in our industries and real change in the world around us.

So go ahead, call us names. Sticks and stones, my friend -- the monikers and labels we've been given are just fuel for our fire. And we're going to love proving the world wrong, because us millennials, we're always game for a challenge.