To the wolf, it looked like an easy kill.
Silently, he edged closer.
Thinking his stalker was a new playmate, my three-legged dog rolled around playfully on his back in the grass.
I was chopping firewood outside a log cabin when he saw what was happening in a small clearing in the woods about 50 yards away.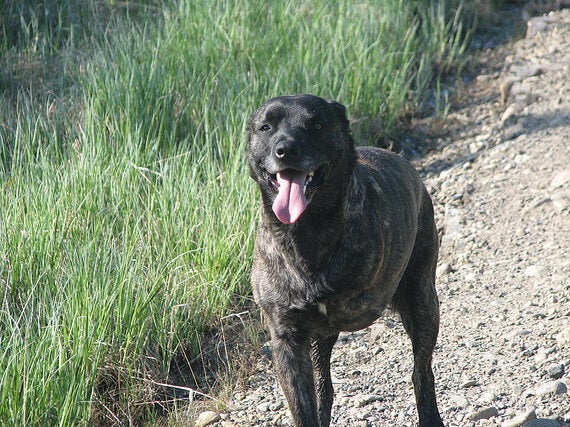 My gentle-natured pitbull terrier, Braveheart, was oblivious to the lethal threat posed by the 120-pound timber wolf; it was more than twice my dog's size.
Braveheart wouldn't know what hit him.
I ran inside to grab my hunting rifle. Shaking with nervousness, I fumbled clumsily -- wasting valuable time -- before managing to load a bullet.
But when I got back to the open doorway and raised my rifle, the deadly encounter was already over. Less than a minute had passed since the fearsome predator had pounced.
He won't go down easily because he's got a hell of a will to live.
I couldn't believe what I saw. My dog was standing over the wolf's lifeless body, shaking like a leaf.
My name is Calvin Hamm. I'm a gold prospector and Braveheart's guardian and inseparable companion.
Braveheart doesn't have a mean bone in his body. But when the wolf pounced, Braveheart had gotten the wolf by the throat and didn't let go. It was a bloody, messy sight.
Wolves sometimes kill dogs just to hone their predatory skills. But Braveheart wasn't going to be one of them. He won't go down easily because he's got a hell of a will to live.
He's even been run over by a semi truck. And he's still here.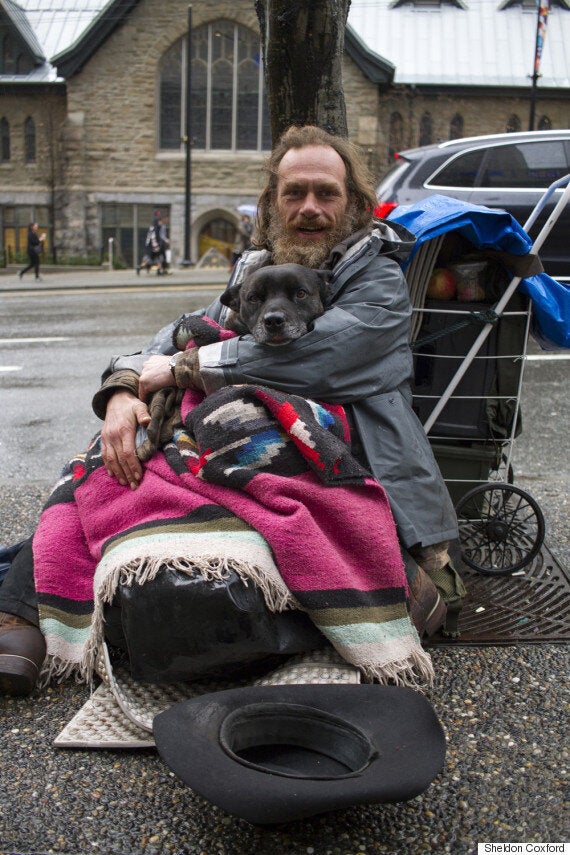 I've been a teetotaller since 2008. And I don't do street drugs. You can find me and Braveheart at this time of year panhandling outside the Royal Centre shopping mall in downtown Vancouver.
Braveheart is always cheerful, no matter how lousy the weather is. And he enjoys meeting friendly passers-by.
I'm a bit of a restless soul. That's why Braveheart and I trudge about 500 to 800 kilometres a year while hitchhiking back and forth between the Yukon and southern B.C.
When I'm not panning for gold in the Yukon eight months of the year, Braveheart and I hunker down for the winter in Vancouver or Victoria.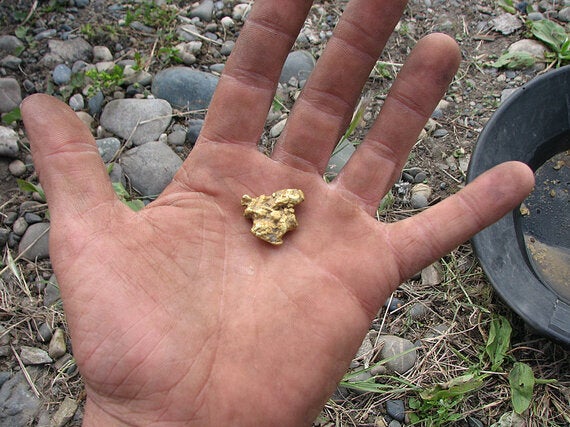 Panning for alluvial gold isn't a great business. I only make about $2,000 or $3,000 a season from the gold flakes and nuggets that I coax out of the sediment in creeks near streams. But that barely covers living expenses.
By the time I get back to city life, I'm often broke. So Braveheart and I are used to sleeping rough under a downtown bridge. Together, we have survived for the last three winters this way.
Frankly, it's hard to get work this time of year in the city because I can't leave Braveheart. He whines if I'm gone for more than 30 minutes. Which means I can't leave him with anyone. He'll drive them crazy.
So we just tough it out as best as we can. It ain't so bad.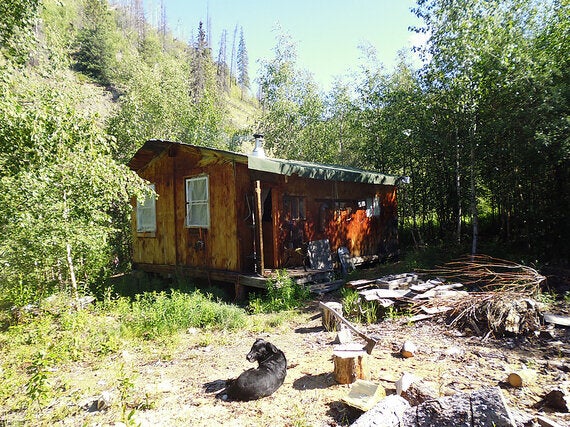 I was married once. But when my wife and I called it quits in 1997, I left my home in Manitoba on a Greyhound bus for Victoria to start afresh and look for work somewhere a lot warmer.
I left my old life behind with nothing but a duffel bag full of clothing and some cash.
For the past 20 years, I've moved around, working here and there. I've been a cook, construction worker, stable hand and done a variety of odd jobs. But I'm always drawn back to the wilderness, where I feel most at home.
All the while, I've remained single and admit I used to get lonely.
That all changed on Christmas Day, 2011. That was when I witnessed Braveheart being born while I was staying with a friend. And it wasn't long before I bonded with the tiny runt in a litter of four. I soon became his new "dad."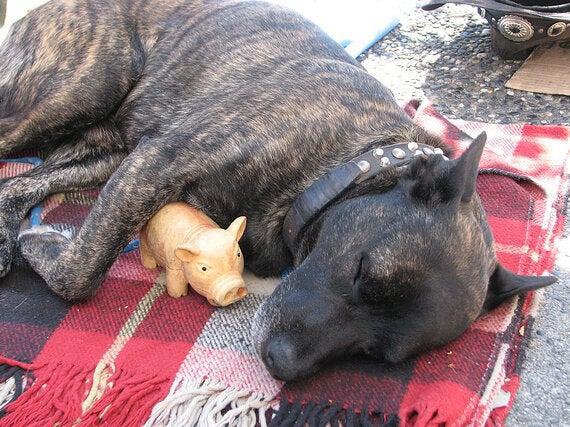 I named him Braveheart because of how he had to wrestle with his much bigger brothers to be able to suckle from his mother. He was courageous from the very start.
But I had no inkling as to how much courage Braveheart would really need one awful day two years later while we were hitchhiking.
Sadly, Braveheart had one of his front legs crushed when a freight truck swerved onto the verge of a road, nearly hitting me, too.
Braveheart stopped breathing. The colour just drained from his eyes, which completely glazed over. And his mouth and nostrils filled up with blood.
So I got on my knees and had to suck the blood out of his nostrils to help get him breathing again. It was such a huge, huge relief when he did.
Thank God Braveheart is still by my side.
Then he came to and started whimpering. That's when I saw the life coming back into his eyes. As I cradled him, I knew he wasn't going to quit on me.
Braveheart's leg was amputated in August 2013. He spent five months recuperating with members of my family in Manitoba.
But when I returned from my travels, Braveheart was back to his old self. And by then, he had learned to cope pretty well with only three legs. It soon seemed to me that Braveheart was yearning to join me again.
And we've been together ever since. That includes the summer day in 2014 when that wolf tested Braveheart's incredible will to live.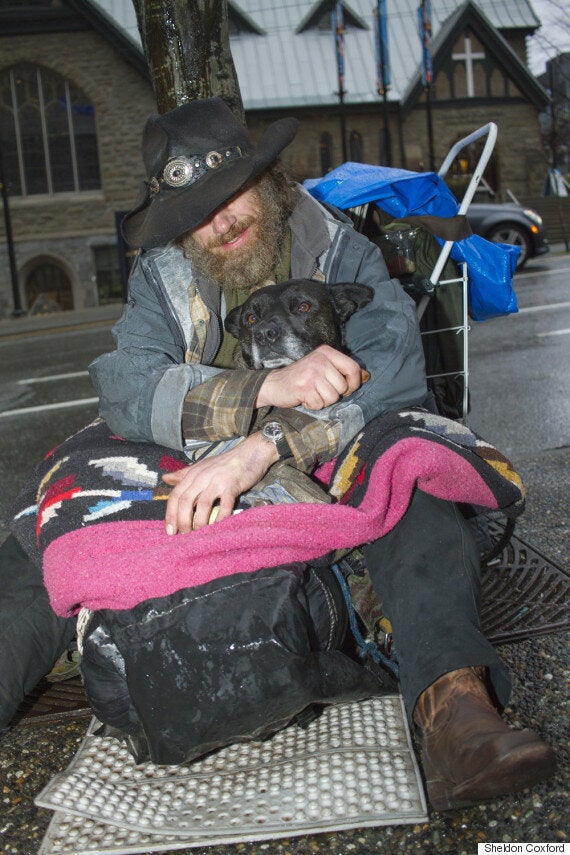 Thank God Braveheart is still by my side. We lift each other's spirits and keep each other safe. Together, we make a great team.
Now we're both hoping to return to the Yukon. If you'd like to help support us, please click here.
Follow HuffPost Canada Blogs on Facebook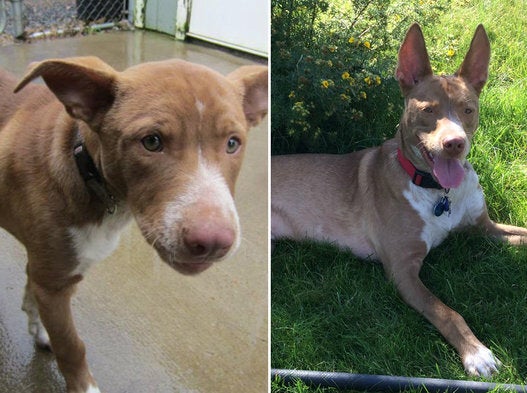 Dogs Before And After Adoption