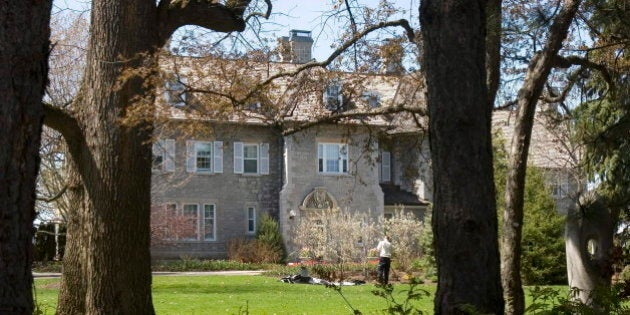 Yesterday, Justin Trudeau was sworn in along with 31 cabinet ministers, including Canada's first officially designated Minister of Environment and Climate Change. It's good news, and a sign that Trudeau is taking climate change way more seriously than his predecessor.
Now, both Trudeau and his new ministers have their work cut out from them when it comes to really getting Canada back on course on climate. That's why today I am outside of Trudeau's home with dozens of other people kicking off what could be largest act of civil disobedience on climate change in Canada's history.
We're not risking arrest because we want to, we're risking arrest because after decades of political inaction on climate change. We need our Prime Minister to understand how important this is. We're risking arrest because we don't have the kind of money big polluters do, and so we're using the best kind of currency we have -- our bodies and our creativity.
The truth is, it's not fair to the new Prime Minister that we're showing up on his doorstep, risking arrest, the day after he starts work, but it's necessary. It's necessary because a decade of Stephen Harper has left us in a massive hole on climate change. It's necessary because Exxon Mobil knew the risks of climate change back in the 1970s and not only failed to act, but bankrolled the climate denial movement.
Although Justin Trudeau is making it clear that he wants to hit the reset button on politics in Canada, we don't have the benefit of a reset button for the damage already done to the climate. At this point, it's going to take bold action, like freezing tar sands expansion, to even press pause on our rising emissions.
The math of climate change is stark, and it not negotiable. We have to leave the majority of fossil fuel reserves underground, including 85 per cent of Canada's tar sands, if we're going to have a shot at staying below two degrees Celsius.
On top of this, Justin Trudeau just inherited Stephen Harper's significant climate debt. We know that Trudeau is saying the right things on climate change and appointing the right people to the right positions, the next step is to walk his talk.
Why is this so important? Late last week the United Nations released a new report detailing the gap between what's on the table in Paris and what the science says we need. According to the report, Canada is one of those nations with the longest distance to go to get our plan in line with the agreed on two degrees Celsius warming limit. That's why we can't afford to adopt a "wait and see" attitude when it comes to this government and climate change.
The first piece of legislation of its kind, the bill would ban fossil fuel extraction on all public lands in the United States, effectively preventing "the release of 90 per cent of the potential emissions from federal fossil fuels." This bill is the kind of leadership that is listening to what climate science is saying -- exactly what we need Justin Trudeau to do.
I celebrated when Stephen Harper was defeated, and I'm genuinely hopeful that with Justin Trudeau in power we will have a shot at changing Canada's course on climate change. I also know that it takes more than words to solve climate change, it takes bold action. Canada's new Prime Minister is taking the right steps, but we need him to run. More than ever, we need him to walk his talk on climate and I, for one, intend to make sure he gets there.