In a world where urbanization is growing and where only a fortunate few live in rural North America, we operate in a society that is both generationally and geographically removed from farms, food production and the pioneering fortitude that built this continent. Some would even argue that the western lifestyle - the one that so many of us are working to preserve - is dying. And with it... the authentic, legendary cowboy.
In pop culture, cowboys have often been represented as solitary figures; they are tight-lipped and leathery; they are heroes and outlaws. In real life, today, cowboys embody the soul of the 'western lifestyle' a little differently than in the past - and in any of a number of ways. They are family / career men, rodeo competitors, ranchers, riders, singers, and artists and so much more.
Is the authentic, legendary cowboy a dying breed, destined to be something of folklore and urbanized out of existence? Maybe. And maybe a way to revive the 'legend' and to preserve history is to share the stories of an authentic cowboy.
JW Campbell (AKA Bear-man) is one such cowboy. He's a calf-roper, outfitter, environmentalist, dog trainer, trapper and a colourful story-teller. I met JW when he was competing at the Tie Down Classic in High River in 2011. I was there taking candid event photos for event organizer, Craig FitzPatrick.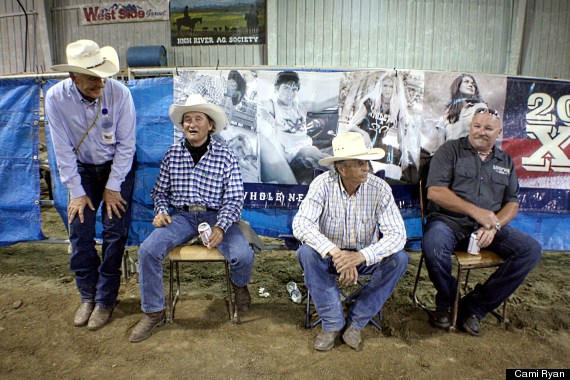 JW, I soon discovered, was an incorrigible flirt. We enjoyed an easy banter, JW and I, that first day we met and ever since. It was that day in 2011 that I got the idea that I needed to somehow record the life and experiences of this interesting man. So, I made a proposition and JW accepted.
Thus began a series of trips to JW's property north of Calgary and east of Sundre and west of Olds. I am hopelessly direction-challenged. So, after a series of wrong turns, I made it to JW's place late in the morning on a crisp, cool winter day in 2012 - to the first of many meetings we would have.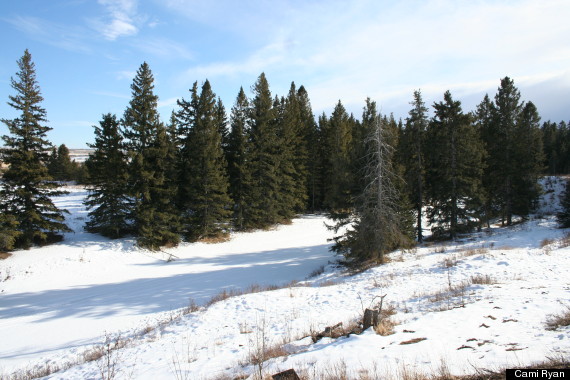 JW's property is dotted with outbuildings and bunkhouses and all sizes and manner of equipment. Beyond the machinery and man-made buildings, the property is picturesque; right out of a Norman Rockwell painting. The creek that cuts across the back of the quarter is hugged by evergreen trees and brush. I hear the piercing cry of a hawk before I see it swoop over the eastern expanse of trees. Amidst this paradise, JW's place has a well-lived-in look about it. The house is modest - built in the 70s. It replaced an older house that once rested on its very foundation; the house that JW grew up in.
The man, himself, greets me on the porch sporting a ball cap perched over snapping blue eyes with a silk kerchief tied at his throat. JW nods and touches the brim of his hat:
"How are ya doing you handsome woman, you!" [this is how all of our conversations start, in-person and on the phone]
"Just fine, JW, and how have you been?"
"Well, I've been busier than a one-armed man taking fly-[expletive] off wallpaper with a boxing glove on. But I'm sure looking forward to our visit!"
JW takes me inside and gives me a tour of his charmingly-cluttered bachelor pad. According to JW, "...it's not home you live in. It is the life and living within the house that matters most..." Wise words.
With that, JW gestures towards the south wall of the kitchen. From ceiling to floor, there must have been a hundred of them; photos of him with one or more persons. So began JW's story-telling - - - frame-by-frame. Each photo had a story; some humorous, some poignant and some tragic.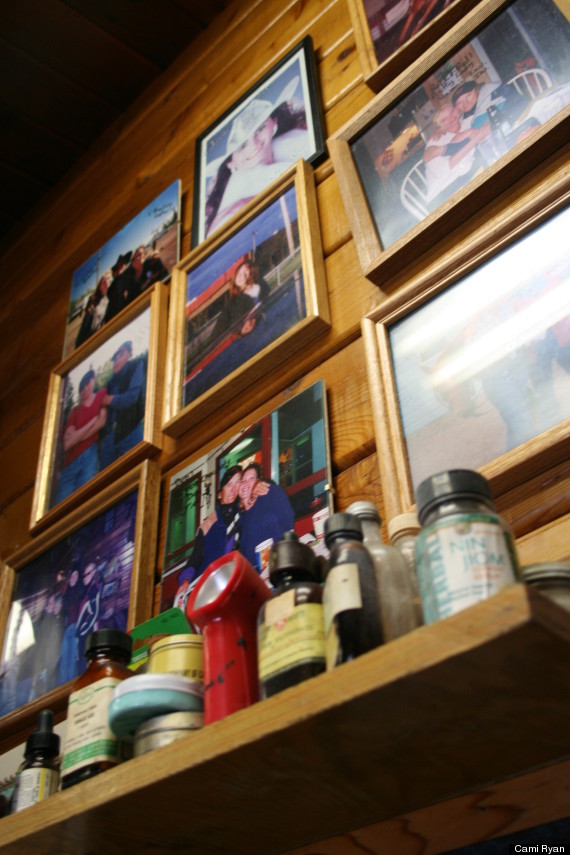 James Wilburn ("JW") Campbell was born in Beardale in the late 1930s. His mother was from Colorado and his father from Michigan. As an only child, JW - for all accounts - lived an idyllic childhood. His parents were married late in life and they spent much of their time doting on the young boy. It is evident that JW has a deep and abiding respect for his parents, who, as he tells it, instilled in him a strong set of morals and values. Together, the elder Campbells broke saddle horses and teams. Their work ethic and commitment to one another shaped JW into the man he grew to be. JW's face lights up when he talks about his mother, Agnes. She was, among other things, an excellent shot:
"My mother would pull out the pump action Winchester 22 and shoot two eggs at a time as they were thrown up in the air."
Not to be outdone by his own mother, young JW snuck the Winchester out and did the same. He practiced to the point where his mother was wondering why it seemed the chickens weren't laying anymore.
JW was an outfitter for years. He is unabashedly passionate about nature and his environmental interests pushed him into organizing efforts to preserve the Bighorn. In an article he wrote for the Alberta Wilderness Association in 2002, JW urged people to get in touch with their MLAs and lobby for change stating that the Bighorn "one of the last strongholds for the grizzly bear" and that "we need to save [the Bighorn] for our children." That back country, according to JW is "...is very, very precious...there's got to be something set aside."
Near and dear to JW's heart are his horses. His favorite horse of all time was a hamburger-eating equine named Junior (that's another story for another time). Junior had his own successful roping career. He competed for well over 15 years and was awarded Best Rope Horse at the Calgary Stampede in 1973. Then there was the cool-headed three-year old horse that JW rode into a bar years ago. A broad, mischievous smile breaks across the old cowboy's face as he relays the story.
He says, "I just leaned down from the saddle, signed my name and took my case of beer."
As it turned out, the Mounties showed up at JW's place a couple of weeks later: "JW, did you ride a horse into the bar?"
"Yeah, well..." JW said to the officers with a grin. "...I hate walking."
JW started roping at age sixteen and hasn't stopped since. I ask him how things have changed in calf roping over the years:
"I mean there's been a hundred ropers there and a lot of great horses. Always has been great horses and just the calves were different. You know instead of tying them in 7 or 8 seconds you were tying them in 10 and 11 'cause they were big buggers and you had to tie them right from scratch you know."
With a sparkle in a startling blue eye, JW speaks fondly of friends like Canadian saddle bronc champion, Tom Bews and then there is Denton Moffat, a multi-time cutting horse champ. Then there is 8 times champion bullrider Donnie Gay and we can't forget Junior Garrison (National Rodeo Champion in calf tie-down roping in 1966 and 1970) for whom JW's hamburger-eating horse was named.
In 2006, JW shared some more humorous stories with radio host Hugh McLennan on "The Spirit of the West" program. A particularly funny one is when his lab/hound cross ate his lucky shirt at a rodeo. And JW's celebrity doesn't end with radio or in the competition arena. Ivan Daines wrote a song about him called "The Bear-man".
Want to find JW? Well, for sure you can catch him roping calves at any one of number of events - he's still incredibly agile for one so 'young'. Also, you might want to drop by the Swamp Donkeys Pub in Sundre on Wednesday nights where JW, an avid music lover, is sure to be taking in the jam with some local musicians.
The sun is setting on the horizon and I'm ready to head home, so JW and I slip outside. There's not a breath of a wind. Silence falls between us to the ground below. As JW's colourful words and stories tumble about my gray matter, I am suddenly painfully aware of the shine on my boots and humbled by the wondrous wear of his own. And I am reminded how lost I am in the modern ilk of a society that is so quickly losing touch with its roots. I attempt to obliterate the thought with the toe of my boot, crushing it like the heated tip of a discarded cigarette.
"Well, I sure do appreciate you takin' time to come and visit me. Come again, I have lots more stories for ya!"
Of that, I have no doubt.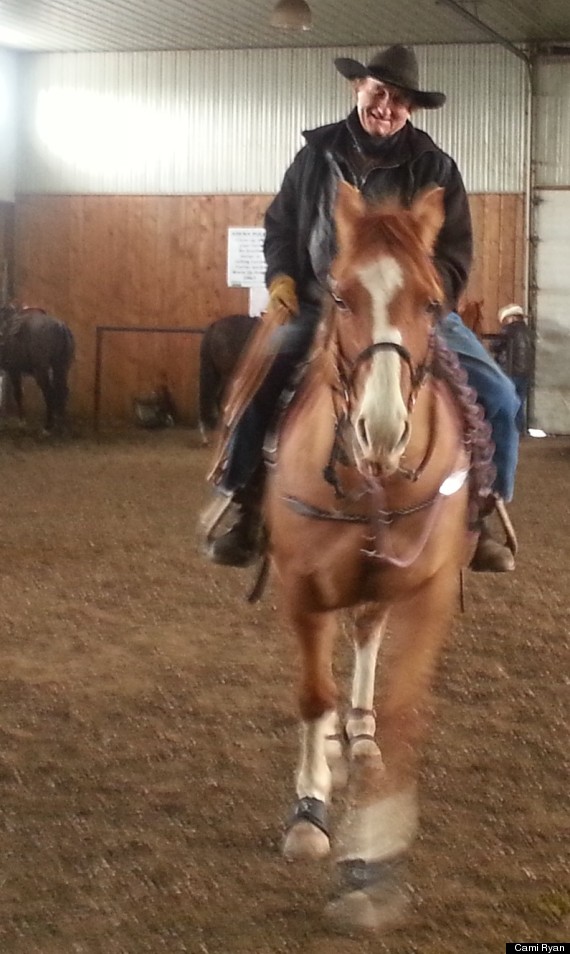 - JW on "Last Chance Rodeo" at the Canadian Senior Pro Rodeo, High River, April 2013
JW Campbell - AKA 'Bear-man' - is a consummate 'word-smither'; a weaver of words and crafter of stories. He is a lover of animals and the environment, a witty and charming conversationalist. Most of all, he is a straight-shooter and completely unapologetic about it.
I heard a saying once, "We humans are perishable items, so we must live accordingly."
I think that JW lives accordingly.