Chantal and Jeff moved into their 1960s era house a few years ago with two kids, loads of energy, and big plans to start renovating. But soon after settling in they found out they were expecting child number three. When little James came into the world with serious heart complications, renovations were put on hold and all energies went into to supporting their youngest son.
Fast forward two years and James (nicknamed "Beats" because of his boundless energy) is stronger than ever. Chantal and Jeff decided the time was right for a redesign and decided to start with the busiest room in their home -- the kitchen. The house's original kitchen was small, cramped and not very practical for a mom who spends a lot of time cooking for three kids who "eat around the clock." So I brought in my crew to get the couple's reno plans back on track and create a functional and stylish, family-friendly space.
The kitchen was adjacent to a family room in which the kids love to play; it also looked out onto the backyard where the kids spend summers splashing in the pool. But there wasn't much visibility into the family room or backyard from the kitchen, and Chantal and Jeff wanted to be able keep an eye on the kids from all angles.
So to give mom and dad greater "kid visibility," I knocked down the wall between the kitchen and family room and created one large space. I separated the two areas with a long kitchen island with a granite counter, a dark wood base, funky bar stools, and two overhanging pendants lights. I also enlarged the kitchen window and created large sliding doors in the family room so the backyard is in direct view. I then painted all of the walls in a creamy shade and put down hard-wearing walnut flooring throughout the space.
Although I was working with a big open space, I still wanted to maintain some visual separation between the kitchen and family room zones. I wanted a light and airy look in the kitchen, so I used cream paint with a strie finish for much of the cabinetry, and cream and mottled quartz for the restaurant-quality countertops.
To add a bit of excitement, I put up a backsplash in hand-crafted, multi-coloured glass tile that is the perfect complement to the countertops and cabinetry. I then installed gorgeous new appliances, including two stoves, a double-door panelled fridge and a cast iron sink.
In the family room, I created one whole wall of dark walnut cabinetry that has open and closed storage, and contains both a great family entertainment system and a cool bar area with a satellite sink and fridge. I then put in a grouping of furniture, including a brown, L-shaped sectional, two comfy patterned chairs and a wood coffee table. At the nearby patio doors, I put down an area of tile for wet little feet, and put up beautiful linen drapes with darker brown edges to hide wee fingerprints.
After a few more accents and accessories -- family photos, a fabulous throw, tons of pillows and an area rug -- this family-friendly kitchen/family room was complete.
By using an eclectic mixture of dark and light cabinetry, quartz and granite counters, and traditional and modern accents, this once cramped and chaotic kitchen got a space-expanding spruce up and is now kid-proof and parent-approved.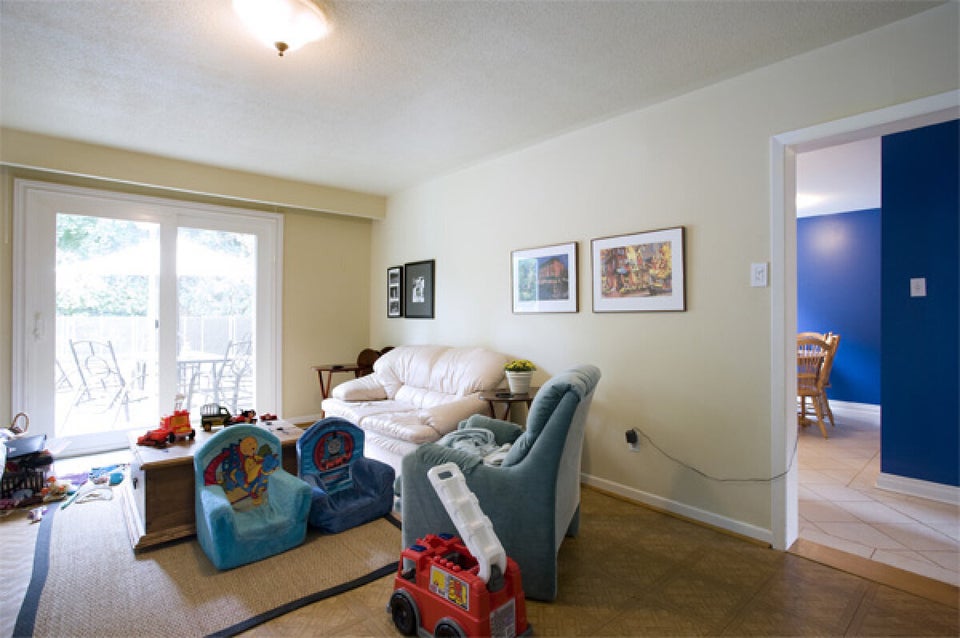 BEFORE AND AFTER PICTURES