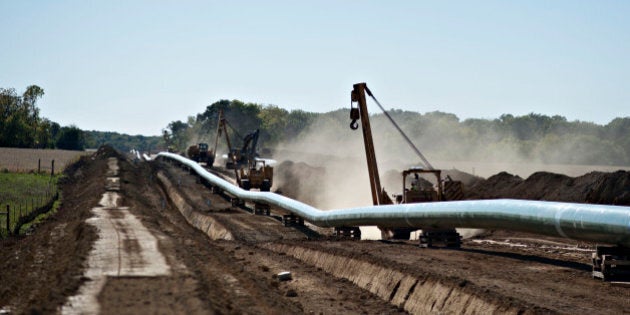 After President Obama quietly killed the Keystone XL pipeline in early November, the announcement subtly faded away in the roar of the nonstop news cycle, probably because for seven interminable years the star-crossed scheme had environmentalists chaining themselves to significant inanimate objects, rabid right-wing types in Canada shrieking about getting "our product" to tidewater like teenage drug dealers talking about weed and rabid right-wing types in the U.S. invoking the bible as justification for the pipeline and bemoaning lost jobs.
But said right-wingers clearly weren't privy to -- or, much more likely, willfully ignored -- a report from the State Department that said Keystone would spawn only a fraction of permanent, operational jobs in the U.S. that the Republicans claimed would be created. In 2013 President Obama cocked an eyebrow on these claims saying that after it is built, "...we're talking about somewhere between 50 and 100 jobs in an economy of 150 million working people."
But that's just my guess for the unusual tranquility surrounding Obama's long-telegraphed cancellation of the project that prompted then-prime minister Stephen Harper to impertinently assert to the most powerful man in the world that XL was a "no-brainer."
But the death knell sounded only for the northern cross-border portion. TransCanada quietly began construction of the southern leg of the controversial pipeline in August 2013 near Livingston, Texas. Hollywood actress Daryl Hannah was arrested alongside Eleanor Fairchild, a 78-year-old great-grandmother. Hannah stood by Fairchild as bulldozers and excavators razed her 300-acre East Texas farm and its natural springs that produced more than 400 gallons of fresh water per minute. But Eleanor and Daryl would have gone ballistic had they known that there is already a Keystone pipeline carrying Alberta bitumen. Launched into service in June 2010, Keystone 1 is a narrower pipe than the controversial XL version. And it is very leaky: no fewer than 14 spills since the taps were turned on.
Most of the incidents were small, except for the spill early one morning in May 2011, when 20,000 gallons of crude exploded into the tiny town of Cogswell, North Dakota.
And there may be many more Cogswells in the future because Calgary's Enbridge Pipelines [shudder] has been pumping tar sands oil from Alberta to Texas since December 2014 through a daisy chain of pipelines that are a clone of Keystone XL.
Yes you read that right. The Canadian company that killed Michigan's Kalamazoo River in the most expensive inland oil spill in U.S. history are pumping hundreds of thousands of barrels of toxic tar sands bitumen the length of the U.S. every day.
A full-blown inquiry conducted after the Kalamazoo spill laid bare the full extent of Enbridge's crimes. Upon hearing that it took the company 17 hours and 19 minutes -- three full shifts -- to turn off the gush of oil after a gas company employee notified them, Deborah Hersman, the chairperson of the inquiry into the spill said, "...you can't help but think of the Keystone Kops [there's that word again]. Why didn't they recognize what was happening? What took so long?"
Apparently incompetence and an almost criminal lack of initiative were what took so long. The inquiry found operators were confused about the warning alarms or how they were to respond. They not only failed to diagnose the breach, but twice tried to restart the pipeline with alarms sounding repeatedly. Enbridge started a costly cleanup -- a billion dollars and counting because five years on, the Kalamazoo is still filthy -- and will be so for the foreseeable future because the Environmental Protection Agency says the river is so fouled that additional cleanup might do more harm than good.
As the debate raged and the cross-border rhetoric went nuclear over Keystone XL, the good folks at Enbridge were craftily and quietly shipping hundreds of thousands of barrels per day of tar sands bitumen from Alberta. This line, cavalierly called the Alberta Clipper, which at first shipped 450,000 barrels a day from the tar sands is designed to carry an astounding 800,000 barrels a day to Illinois.
From there, the bitumen crawls into the so-called "pipeline crossroads of the world" in Cushing, Oklahoma and finally onto the terminus at Port Arthur, Texas and then to the global markets.
Keystone opponents scored a massive victory when President Obama killed TransCanada's Keystone XL, but it looks like they have an Enbridge clone to kill, too.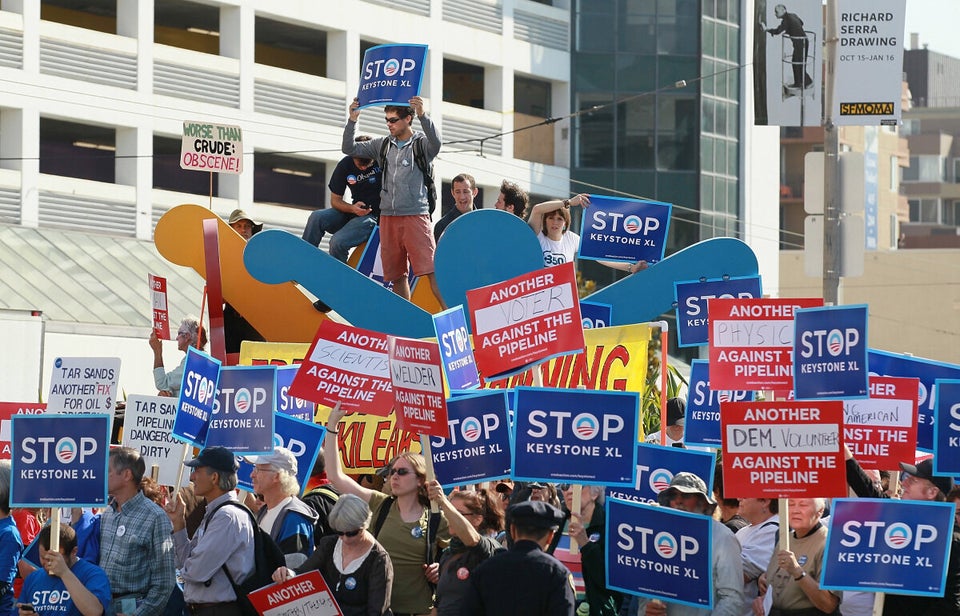 Keystone Protest Retrospective