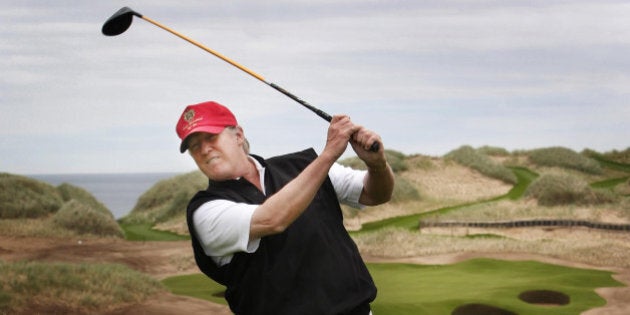 The world is watching the U.S. elections with horrified fascination as Donald Trump continues his assault on American democratic traditions, fair play in political campaigning and all-around decency. Trump is a running joke on late-night comedy shows and waffles, bluffs and bullies his way past serious questions about economic and foreign policy.
His jingoistic views on NATO, for example, are closely aligned with those of three of the most authoritarian leaders in the world: Russia's Vladimir Putin, the petulant Kim Jong Un of North Korea and Xi Jinping, China's expansionist-minded president.
So it's not surprising that there's not a green bone in his body. The online environmental magazine Grist is one of the many publications having a field day with Trump. "Trump is still a brainless climate science denier with a far-right economic program and a desire to eviscerate the Environmental Protection Agency. He's also a lying racist who is completely unserious about policymaking," reads an article by Ben Adler.
Trump has made his billions developing huge, gleaming office towers and gaudy casinos with little opposition, but he's recently run into stout, Scottish hearts when he set about building a golf course in Scotland.
In March 2013, the Scottish government gave the green light to its most controversial wind project proposal. It wasn't controversial because it was near an environmentally sensitive area so unique that it has been called "Scotland's Amazon," but for its proximity to Trump International Golf Links.
The man with the orange mane howled that the proposed project near Aberdeen would ruin the scenic coastal views from his latest monument to hubris and that "the reckless installation of these monsters [...] will single-handedly have done more damage to Scotland than virtually any event in Scottish history."
The leading contender for the Republican Party presidential nomination claimed that the wind farm would cause the destruction of Scotland's coastline.
The European Offshore Wind Deployment Centre will generate 100 megawatts, enough to power for almost half of Aberdeen's homes. Energy Minister Fergus Ewing said that "offshore renewables represent a huge opportunity for Scotland -- an opportunity to build up new industries and to deliver on our ambitious renewable energy and carbon reduction targets."
When the project went live in March 2016, the press release crowed that "after a run in with Donald Drumpf, the European Offshore Wind Deployment Centre has seen the beginning of offshore works start this month."
Trump accepted the defeat with his customary grace: "It will be like looking through the bars of a prison and the Scottish citizens will be the prisoners. Luckily, tourists will not suffer because there will be none as they will be going to other countries that had the foresight to use other forms of energy," said Trump before making his most outrageous comment of all. "I am doing this to save Scotland."
A fragile and irreplaceable "mosaic of habitats" and "the crown jewels of Scotland's natural heritage" was transformed into a muddy, messy construction site.
Trump International Golf Links opened in July 2012. Sprawling over 1,235 acres, there are two 18-hole golf courses, a 450-room hotel and 1,500 luxury homes in a residential village. A few weeks after the gaudy, over-the-top opening, Trump's much-hyped magic course was largely empty, as if the witches from Shakespeare's "Macbeth" had put a curse on it.
And if tourists want to go, they must make their own way to and from the star-crossed place, as the guided golf tour companies will not deal with the tribute to Trump's shockingly callous excess.
A documentary film told entirely without narration was made about the whole tragic saga. You've Been Trumped won critical acclaim and awards all over the world and was named top Scottish feature film in 2011.
The film echoes 1983's Local Hero, which tells the story of a Texas billionaire who tries to buy a small Scottish fishing village to drill for oil in the North Sea. In You've Been Trumped, we see Trump trying to steamroll the farmers and fishermen in nearby Balmedie, a town of 3,000, into selling their property.
When farmer Michael Forbes refuses to sell, Trump declares his modest but orderly property a slum and a pigsty. Forbes loses his electricity and water and huge mounds of dirt and sand appear near his neighbourhood.
The locals were in court constantly to fight nuisance boundary disputes. The area, described by one environmentalist as a fragile and irreplaceable "mosaic of habitats" and "the crown jewels of Scotland's natural heritage" was transformed into a muddy, messy construction site.
Sadly, as in many cases around the world like Brazil's ruinous Belo Monte dam on the Amazon and the Trans-Oceanic canal tearing apart Lake Nicaragua, the authorities were blinded by the promise of jobs and made no effort to support the residents as they fought for their homes and way of life.
Trump claimed that more than 6,000 jobs would be created in the economically depressed region, but the lion's share of them were short-term construction jobs. The creators of You've Been Trumped, Anthony Baxter and Richard Phinney, were arrested in September 2010 for breach of the peace. The Trump organisation accused them of entering its offices at the site and filming documents without permission.
Trump was awarded an honorary degree in business administration in 2010 from Aberdeen's Robert Gordon University, which prompted a previous honoree, the Scottish environmentalist David Kennedy, to return his degree. It was a noble but futile gesture as the guests of MacTrump the Meanie shoot birdies rather than watch them on the sadly civilized site of Scotland's Amazon.
Follow HuffPost Canada Blogs on Facebook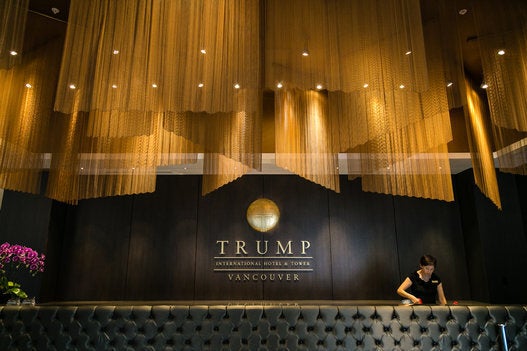 Vancouver Trump International Hotel & Tower